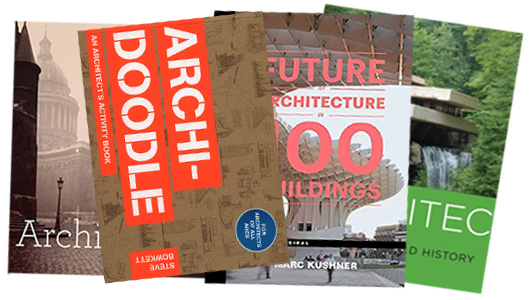 Working at an architecture firm is never dull. Certainly not! But there are special times in the year – birthdays, engagements, weddings, anniversaries – when non-Architects such as this person tapping away at the keyboard right now has to think: what do you buy an Architect who has their dream job and a keen eye for detail?
We therefore thought it might be a fun idea to take a break from talking all things architecture and 3D visualization to take a look at some of the items out there that may just make the busy Architect stop and, hopefully, smile.
Here goes…
---
BOOKS, BOOKS, BOOKS….
Okay, so it's true that the Architect has spent almost a decade studying books and online materials simply to get to the first rung of the professional ladder, but that brain still needs feeding. We're therefore sure that an Architect would always appreciate being given a book – whether print or on Kindle – to inspire and interest that big brain.
Another certainty is that you aren't spoilt for choice when browsing architecture related books via online stores such as amazon.com.
Architectural history… Modern Architecture… How to improve design and drawing techniques… Biographies of Architects past and present… Yes, folks. Every architecture book you could possibly conceive is available in store and online.
And who knows… Maybe one day the Architect in your life may be the author of subject of one such book.
---
ONE FOR THE COFFEE BREAK
Okay, let's be honest: we all enjoy our coffee and tea breaks. Hard working and, yes, ever so slightly stressed Architects don't always take enough breaks, but even the busiest Architect couldn't resist enjoying a quick drink in one of the many mugs on the market which are directed firmly towards them.
Whether it's a tribute to the late, great Architect Frank Lloyd Wright or a cool nod to the tools of an Architect, such as a blueprint, you'll find yourself spoilt for choice.
Cheers!
---
TOYS FOR THE BOYS (and girls!)
Did you know that it's a fact that many Architects first showed their propensity for designing buildings by playing with a Lego set of building blocks whilst a child?
And so it is that the company has released some amazing (but pricey) boxed sets of Lego Architecture depicting some of the world's most celebrated architecture, including the Houses of Parliament in England, the stunning New York City skyline, and the Sydney Opera House in Australia.
Just don't blame us if you can't catch your Architect's eye as he builds his or her latest real estate project on the kitchen table!
---
WATCH THE TIME
While the old joke that you can spot a male Architect from ten paces because he'll be wearing all black may not always be true, we're sure any style conscious Architect would love this minimalist watch from minimalissio.com (above).
If your Architect is more quirky than stylish, however, then you might want to check out this less costly, but increasingly hard to find, design: a watch from outlets such as amazon.co.uk that features the tools of the Architect's trade on the clock face.
---
CUFF LINKS
Speaking of stylish Architects… If your Architect is a he rather than a she, encourage him to look even more dapper when he's next making an important presentation by wearing a pair of cuff links perfectly suited for the job.
Whether it's a nod to the blueprints and mathematics of architecture, or the window or door style shapes (below) which play such an integral part on the architectural blueprints, we're sure you'll find a boxed pair of cuff links to ensure it's not only the presentation that stands out when your Architect stands up to speak.
---
KEY RINGS
As we've already seen with the cuff links, you don't have to be on the wage of a 'Starchitect' to buy a present for an Architect.
Flitting as they do from one place to another, a key ring will always be a welcome addition to the Architect's pocket. From the key ring that depicts yet another of the Architect's tools in the form of a caliper (above), to mini depictions of such historic buildings as the Eiffel Tower, your options for smaller and cheaper gifts such as this are endless and would definitely be something to think about if a child is looking to buy a present from their pocket money for Mummy or Daddy Architect.
---
THE PERFECT PRESENT?
Now, there's one gift which the spouse of any Architect likely wants to give… If only the 24/7 schedule of the busy Architect would ever allow it.
The perfect present for an Architect?
A holiday!
And believe us when we say it doesn't have to be the once-in-lifetime, hugely costly holiday that sees the Architect enjoying peace and paradise on a Caribbean beach.
No. Whether it's just a weekend break or even a 24-hour break, the fact is that the creative juices will flow even more if the overworked Architect would just allow a loved one to whisk them away for a few hours to enjoy life away from the drawing boards, blueprints, and computer screens.
Good luck, though, with making that happen!
---