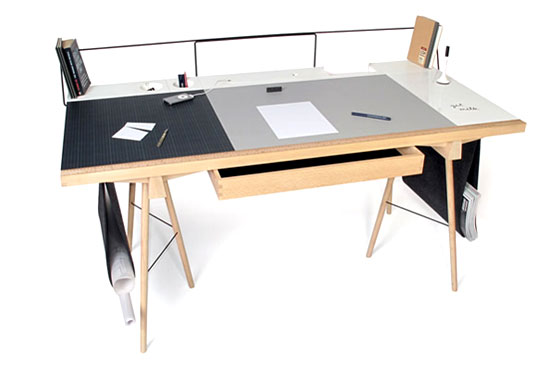 Every architect has their favourite kind of computer or suite of software, from the PC to the Apple Mac, and Sketchup Vray to 3ds Max Vray. Equally important, though, are some of the other essentials that make up the architect's office and workspace.
Here we offer up our thoughts on seven things every architect needs to help them be even more productive and successful.
1.

The

chair – More comfort equals more productivity
Architects and 3D visualization artists invariably spend far too many hours at their desk. It's therefore essential that you invest in the most comfortable chair you can find. After all, if you're uncomfortable at your desk then you're not going to produce your very best work, and, in turn, you won't be as productive as you need to be.
Each of our architects have their own ideas as to which chair is the most comfortable, but the undoubted favourite around here is the Steelcase Leap chair. It offers good support, especially to the spine, and – something any architect is bound to appreciate – is also a stylish, beautiful design.
2.

The

workstation – Where your ideas come to life
When choosing a desk you need to consider whether you would prefer a large working area which allows you to spread out. This is especially handy when working on large blueprints or across several monitors.
Or would you be better served by a smaller, more intimate, workspace? The main pro to having a small desk is there's no danger of you being too messy, for a cluttered desk can result in a cluttered mind.
From our experience, we find that most of the architects we know have opted for the larger desk. After all, the desk that can take a lot can also take a little, but a desk that can only take a little cannot take a lot.
Although everyone is different, we believe that the perfect solution is a workstation with some storage already incorporated as this means you can keep your space organised and tidy… Well, most of the time!
Another factor to consider is whether you will need a table where you can manually sketch and review drawings on large format papers.
Your workspace is one of the most important purchases – and also possibly one of the costliest – you will make at the start of what will hopefully be a lifelong career in architecture. Don't rush to any hasty judgments.
3. Shelving/File Storage – Somewhere to keep the paperwork
The general consensus is that much of our lives is increasingly to be found on computer hard drives and in online clouds. However, the harsh reality is an architect will always need more rather than less storage.
Priority should definitely be given to purchasing a safe (preferably lockable) in which to store all of the paperwork, in particular the contracts and other legal documents associated with the architecture industry. Remember: Such legally binding documents need to be safe and easily retrievable for literally years to come.
The paperwork is easily tripled if you set up your own architecture firm. Then you will be in charge of all kinds of documents, including bills and receipts, employee contracts, paperwork sent to you by present and potential clients, as well as CVs sent in by prospective employees. That's aside from the increasingly large portfolio of your work which it's imperative you regularly update and store as a printed record of your professional life.
You would also be well advised to install some shelving for the many architecture books and manuals you'll regularly turn to for extra help or inspiration.
4.

A sm

artphone – Taking the office outdoors
The past decade has obviously seen the smartphone become so much more than a link to the outside world. As professional architects who like to keep up with modern technology, we use numerous mobile phone facilities in our daily work. These include email, web browsers, file sharing, markup and sketching apps, to specific applications such as WhatsApp. This is especially good for staying in touch with colleagues when in the field or on the road and it also does wonders in helping keep team morale strong, even on the toughest of days.
Of course, one of the most important elements of the smartphone for the professional architect and visualizer is the in-built camera on which to take quick and discreet snaps on building sites and elsewhere.
It's advisable to invest in the very best mobile phone you can afford, as each release of the likes of Apple's iPhone or the Samsung Galaxy allows the user to record increasingly high-quality video. This is especially useful in the architecture industry as this facility means we can review the scene of our latest project – be it a construction-in-progress, a residential home fitting-out, or a site recon survey – once back at our desks.
5.

Q

uality pens, pencils and a notebook
We know that it goes almost unsaid as to why it's essential that the architect's office has a good range of quality pens and pencils available, as well as ample paper in the form of notebooks.
However, no architect ever forgets the sheer agony of the moment they were hit by inspiration only to find they had nowhere to make a quick drawing or note.
Don't ever be that pained architect as, really, it's not a good look.
All architects have a favourite brand of pen and pencils. Our preferred writing/sketching tool is the black Schneider Topliner pen, which we refer to as the 'Magic Pen' in the studio. We especially like the fact this brand of pen has a Stainless Steel tip which results in even and fine lines on sketches.
6.

Tra

cing paper
As a modern architect who likely uses CAD you may think this is an odd inclusion in our list. Trust us. Even a 21st Century office needs to have rolls of tracing paper readily available.
You know it makes sense and so that's why we know we needn't explain further.
7.

 Str

ess relievers
A healthy mind is essential to anyone whose profession relies on mental agility and flashes of inspiration. That's why it's never an idle waste of time to reach for any one of the hundreds of stress relievers – the more challenging the better – which are popular in offices right across the globe.
One of the most popular stress relievers is the puzzle which first found global popularity in the 1980s: the humble Rubik's Cube. Just don't ask an architect to show you whether they can solve it with a few flicks of the wrist in 5.00004 seconds, or whatever the current world record is, as that's a surefire way to raise rather than lower their anxiety levels!
A stress ball is also an effective choice for anyone looking to buy a gift for the overworked executive in their life. In contrast to the Rubik's Cube, malleable stress balls are purely therapeutic. Research shows that touching and squeezing a soft stress ball helps relieve tension by focusing the brain away from the more demanding intellectual channel and onto the sensory channel via which we also take in sights, sounds, and smells.
Although there are literally hundreds of stress relieving novelties available to buy – from quirky desktop punchbags to hand grips and face masks – another item that enjoys enduring popularity is the Newton's Cradle.
Named after the English physicist and mathematician Sir Isaac Newton, this executive 'toy' consists of a line of identical silver coloured balls which hang from a bar. As you can see in the video above, upon pulling back one or more balls a demonstration takes place of the conservation of energy and momentum. Equally mesmerising for the onlooker is the rhythmic clicking sounds made as the balls make contact with each other.
The Newton's Cradle would no doubt be a welcome addition to the office of the design-conscious architect who also likes to ponder life, the universe, and just about everything else in between.
So there you have it. The essentials of the architect's office. But have we missed any items that you think you just couldn't do without? And do you have any tips for solving that darn Rubik's Cube? If so, drop us a comment below and we'll be sure to respond.