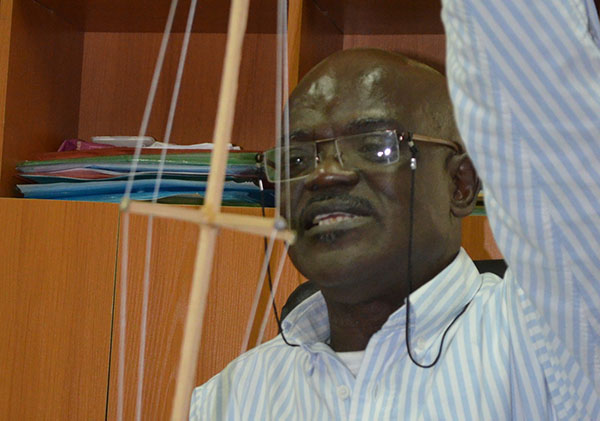 Continuing our profiles of some of Nigeria's most celebrated architects, this week the Chronos Studeos team is proud to highlight the work of Professor Olumide Obafemi Olusanya.
Having earned a B.sc in Architecture from the University of Oregon and a Masters degree in Architecture from the University of Washington, Professor Olusanya has enjoyed a long and distinguished career in the industry.
A renowned Urban and Systems Building Consultant who has studied and taught in both Nigeria and America, the Professor is currently educating the next generation of Nigerian architects in his position as Professor of Architecture at the University of Lagos.
Away from the lecture hall, Professor Olusanya has been the Consultant Architect on numerous public and private sector housing projects in Nigeria. He has also worked in research relating to the critical issue of housing the ever growing population in the West African nation. It was thanks in part to this work that the Professor ultimately pioneered the housing co-operative initiative.
Although his decades-long career has seen him involved with numerous projects, to those in Nigeria in particular, Professor Olusanya is perhaps most associated with designing the City of David RCCG Parish in Lagos.
Professor Olusanya, thank you so much for taking time to share your story with ourselves and our many blog readers. You've written extensively in educational journals on the subject of architecture. How do you view your dual role as an architect who is also an academic?
The real advantage of architecture is it's visible. It is easy for successive classes to build on. You don't have that advantage in chemistry, or physics. The work that is coming out, you can see it so you can build on it.
I believe I am doing some very, very important work. I just don't teach. I have methods of teaching. I develop methods of teaching, so I am enjoying myself. I came into academia because I wanted to make an impact. I believe that I am making that impact, and I'm really humbled and thankful.
How important do you feel research is in the combined worlds of academia and architecture?
As an academic, you're supposed to be doing research and publishing, and the problem that I have found is that a lot of so-called 'research' is what people use to get a promotion.
The reason I came into education in the first place is that I studied in the U.S and the tradition there is that the top architects are the professors in the top schools. So Harvard professors are winning all kinds of prizes, you know, and, in fact, Harvard has more of its faculties that have won the Pritzker Prize. They have more alumni that have won it, than any other institution. By far.
So, those are the kind of prizes and awards that faculties win in those kinds of places. That is what I grew up with. That is what I understand, that you are an architect, you are an academic, and you are doing research as a basis for the work that you are doing, not just some research that is not very useful to anybody. So it is a translation of design, of research, into cutting edge architecture.
So it makes you a better architect and it makes you a better researcher because the design process in itself is a kind of R&D (research and development) process. It's experimental. You are working out solutions, information, and so that is one of the reasons that I chose the academic path. It is to make me a better architect and it is to enable me to make a difference to my generation, to make a real contribution. I want to help to make this country better than I found it. And I thank God, because the work that I am doing on housing, I believe, is actually making a difference. It's pointing to new possibilities of what is possible in Nigeria.
There is no progress in any country unless you are building the records of work that is going on, and learning from the past.
You're clearly proud not only of your heritage but also your students, as was clear by the enthusiasm you displayed as you showed us the high quality of work undertaken by your students.
This is such a good architecture. If you were to see a structure like this [pointing at an example of a student's work] standing anywhere in the world… it is good architecture. Simple. So to be able to get this kind of work out of Year 2 students, it is extremely rewarding.
Are there any negatives to being a lecturer?
I have had to stop and ask myself several times, "Am I doing this work for them? Am I sure that I am impacting?" Now many lecturers don't know the difference and they tend to force students to think about what they are thinking, so I always have to be very careful.
I let my students have a free hand in their designs. I do, however, guide them through with problem-solving methodologies, and you will be amazed at the genius results within the minds of these students.
We know you as someone who is driven by solving what are, to the majority, often complex problems and we know this is why you chose to become involved in work relating to the issue of traffic and congestion in Lagos. Can you tell us more about your work on a problem which daily impacts millions of Nigerians?
Traffic is also an environmental design issue, really. I really hate being in traffic. As well as having a problem-solving attitude to things I also have one gift.  I see things that others don't, and it is a gift. I thank God for it.
If you have enough information, enough skill, and enough perseverance, you will come up with a solution.
But what I found consistently is I see something and, as I said, it is a gift. I just see it and it's self-evident. I see the possibilities. There is a set of people that just see it.  They have it pointed out and it just becomes, "Okay, that is true." And sometimes not only do they see, but they're also able to help and even make contributions. Because sometimes the first person that sees, sometimes they are too close to the project. And usually, you can collaborate with those kinds of people to make it.
That has essentially happened with the traffic in the Lagos metropolis because when I made the presentation to the governor he just contributed and then directed that the commissioners, the management, should work with me. And invariably what you find is that with the Lagos State civil service structures you will find some engineers that just flow with me and all that you have seen in terms of all those solutions. It's because some people contribute and they have worked to support. Because the governor got it we've been able to railroad all opposition because there is always that group who do not see.  They will not see. What is interesting about those types of groups is some of them, when they now see the solution up and running, they keep quiet, but there will always be those who stand their ground. With some of them, it is that they are in a different camp from you and they just oppose you. Somehow your achievements make them jealous, you know, invokes envy.
But there is also, within that, the third group. Within that third group, there are those who are professionals and who have been trained one way, and who have taken a position, and with those people, there is not a problem. And those are the worst type because they have some education.
We know from our own lives that it's never dull being an architect. How does your average day play out?
For many people, the average day is not as busy or packed as mine. It is just that mine is more varied. That's all. I'm teaching. I do research. It's just that my passions are multiple. I'm busy with different kinds of things. Being a lecturer rather than having a formal architectural office also gives me a lot of flexibility in terms of my time.
As architects, we find concepts such as the interlocking block invention fascinating. How did this come about?
I didn't invent it. My own contribution is being able to develop technology within this. For instance, many people just either buy Hydraform, or take the Hydraform machine, and copy it. This one I have had to develop the technology populating it. But tomorrow there are still people arguing about it and they have seen it work.
Why do you think there is such opposition to what is clearly progress in our field of work?
Some of these things are the problem of an underdeveloped country. You see, with underdeveloped countries there is not a problem with individuals. It' the culture. The problem is the collective, or, let's say, a malfunctioning culture because development is simply a culture.
Underdevelopment is a culture. It's just really that simple.
So, the culture of underdevelopment? Generally, it's not that there are no solutions. It is just that the people and the state institutions, they are suffering. And there are those within the institution, where there is suffering, that benefit from the status quo. Now, when they benefit from the status quo they are simply blinded. Perfectly intelligent people, they are simply blinded.
Now, I also found that corruption can cause blindness. People benefit from the way this thing is being done. It solves their own problems. The larger purpose is not solved and they would just resist it.
Are there any structures in the world that have especially impressed you in their design and build?
The San Francisco Bay Bridge in America. The Golden Gate Bridge is more noted just because of its pure elegance, but the Bay Bridge, in terms of its technicalities, is an amazing piece of engineering.
The Golden Gate Bridge is simple architecture. Simple.
You clearly relish your job but, as architects in Nigeria, we undoubtedly face more challenges than those working in, say, America or Europe. How do you feel about this?
I enjoy my work tremendously. I am having a feast. Some people say, "You studied in the U.S." I say, "Yes." By the grace of God, I'm going to the U.S on Thursday. I've not been back there in thirty years. Some people say, "Do you regret coming back?"  I say, "No. Not for one moment."
Look, there are problems to be solved here. My colleagues at Berkeley do not have this kind of advantage  My colleagues at the University of California, Berkeley who are doing very important work, have small degrees of problems to solve. Here you can run. For someone wanting to solve problems, this is the place to be.
Nigeria is a great place to be.
Professor Olusanya, we thank you for your time and wish you all the very best in your future endeavours.
Not that this will be the last you hear of Professor Olusanya here on Chronos Studeos, for we are honoured to be poised to bring you a selection of the original sketches the Professor produced as architect on the City of David RCCG Parish project in Lagos.