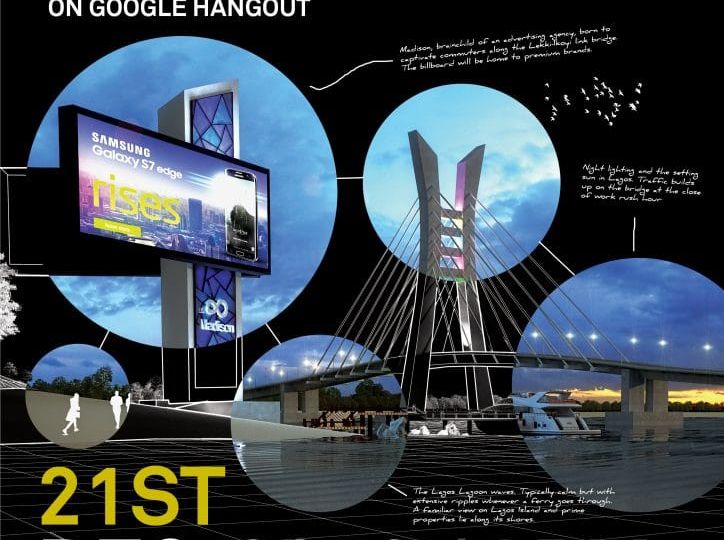 Livestream Here. Click to Watch
It has been an eventful year really and it is drawing to an end. Now, we're here to announce our architecture firm's annual Google+ Hangouts live discussion about all things 3D visualization.
So, if you want to chat and interact with visualization professionals, follow our instructions below on how you can grab yourself a front-row seat which will allow you to actively participate.
You can watch previous editions from 2014 & 2015 here
---
THE TIME?
9pm Nigerian time (GMT+1)
Wednesday 21st December 2016
---
THE HOSTS?
Anifowose Hassan (Co-founder at Chronos Studeos)

I will be speaking about the Making of Madison in Lekki-Ikoyi. The modelling of the link bridge and the surrounding cityscape alongside the Lagoon simulation with modifiers in 3DsMax. The project was designed to appeal to all users of the Lekki-Ikoyi Link bridge as the billboard would host premium advertisement for a major advertising agency in Lagos, Nigeria.
Owolabi Akano (CEO, Ways Studios)

I will be speaking and showcasing the works done on Crimson Court at Jericho, Ibadan. Project is a 12 luxury terrace home, 3 blocks with 4 units each on an approximate 4500 sq meters. The most interesting part of the project was that the Client is an Architect with eye for detail and we had to do every design to precise detail to exactly how it would be built both interiors and exterior.
Olayinka Jil (3D visualizer at Mixmat Studeos)

I will be speaking about the post-production works on the Madison Billboard Project done by Chronos Studeos in Photoshop
---
WHY SHOULD I ATTEND?
It's going to be an online hangout, with the following features:
Discuss and share new tips and tricks in the Architectural 3D visualization industry
Live screen share where you can see how detailed renderings are produced (The making of Madison) – Never showcased before
Live screen share where you can see how detailed renderings are produced (The making of Crimson Court Animation) – Never showcased before
Questions and answers session between 3D visualizers, Architects & Developers
Meet other 3D visualizers
Unlimited access to published worksheets
---
WHAT IF I CAN'T JOIN THE ONLINE EVENT PRESENTATION ROOM?
It's ok, you won't miss out.
For those who can't join the online presentation room, you'll still be able to watch what is happening in there via this live stream.
---
HOW DO I SIGN UP TO ATTEND?
To actively participate in the Presentation Room (with voice and video), You will be able to Voice Chat, Interact and Ask Questions, please reserve a free seat below. You will receive an activation link and subsequently, we will send you the link to enter the Presentation Room Online before the Event Starts:
SEAT RESERVATION CLOSED
You should Subscribe to the Chronos Studeos You Tube channel (optional).
A web browser installed on your computer (Google Chrome preferably), or the Google Hangout app installed on a smartphone with video-enabled.
Good internet connection.
Be on seat 10 minutes before the 9 pm start time.
Remember: Due to the rules surrounding live video streaming on Google Hangouts, limited seats are available for the interactive aspect of the event, so we urge you to sign up just as soon as you're sure you will attend.
If you are unable to get a seat (hurry now), you can follow a live stream of the event here on the Chronos Studeos blog.
Alternatively, WATCH LIVE VIDEO STREAM  (you will only be able to Live Chat and Ask Questions – We won't hear or see you)
We'll keep you informed in the days ahead of how to sign up, plus any news and reminders, but in the meantime, we'll sign off by saying…
If you have any questions you would like to be addressed during the event, please post them in the comments below.
WE'LL SEE YOU THERE!
---