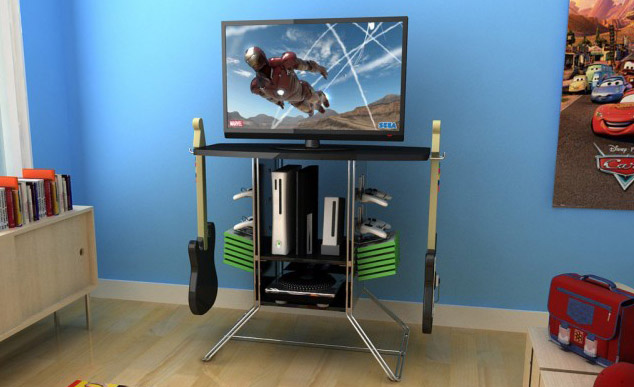 We all love our home entertainment. With flat screen TVs now coming with an eye-watering price tag, it's essential to house that gorgeous widescreen TV and its equally pricey accessories, such as an Xbox or PS3/PS4, in a home fit for such valuable possessions.
The school or working day over, it's time to relax in front of a favourite TV series or a new movie or video game.
In contrast to most design, the reality is that most TV units today conform to the same old rectangular and boxed shapes. Nevertheless, and considering just how much time we spend with them, we thought we'd put TV home entertainment units in the spotlight.
So, in no particular order, here are four home entertainment units which caught the eye of Chronos Studeos' Interior Designers:
---
TRADITIONAL STYLE MEETS MODERN TECHNOLOGY
As Architects and Interior Designers we're used to seeing all kinds of wonderful and, yes, sometimes whacky proposals and designs. Even we, however, were pleasantly surprised to find this ingenious TV cabinet which combines the coziness of a roaring fire with the cool and confidence of the Hollywood stars who'll be gracing our TV screens.
We're not sure, however, whether the vision of a roaring fire won't render us so relaxed as to send us to sleep well before the conclusion of our favourite box set or movie!
---
THE GUITAR HERO TV STAND
If space is limited and you're someone who'd much prefer to use a PC monitor than a full blown widescreen TV, then we'd suggest this is the perfect entertainment unit for you.
Admittedly, this stand by Atlantic is not the biggest, coming in as it does at just 26 inches wide. However, it's the perfect entertainment solution if you or a loved one fancies becoming a real life Guitar Hero.
As you can see, as well as space for an XBox, Playstation and a TV box, this unique stand also features storage sections for two guitars, as well as space for several boxed video games and controllers.
---
THE STEP ONE ENTERTAINMENT UNIT
This South Shore Step One TV stand features (as the name suggests) a lower, stepped cut out section, meaning it would be a great choice for an attic room or any other space which has a sloping roof.
A far more traditional furniture design, this stand encapsulates everything we all came to see as we moved into a new age of technology in which it was necessary to hide away numerous cables and games consoles.
The brown version of this South Shore Step One TV unit would sit perfectly in a room featuring an autumnal colour scheme with shades of deep browns and oranges. We would advise you choose the black version if you have a more modern interior design scheme as black goes well with any colour, especially white and also bright blocks of colour incorporated into a primary colour scheme, the likes of which we'd usually associate with the rooms of a younger generation of TV viewers and gamers.
---
SWEDISH STYLE
The Besta entertainment unit by the globally famous Ikea features the clean lines and ease of function for which the Swedish based brand has become synonymous.
Designed to be mounted on the wall, thereby ensuring easy access to both the floor below (making it perfect for cleaning), the Besta entertainment unit is a great choice for those who prefer their games consoles and accessories to be hidden from view in a modern setting.
With Ikea now boasting stores in all corners of the globe, this is one TV unit we're sure will be attracting admiring glances in millions of homes.
---