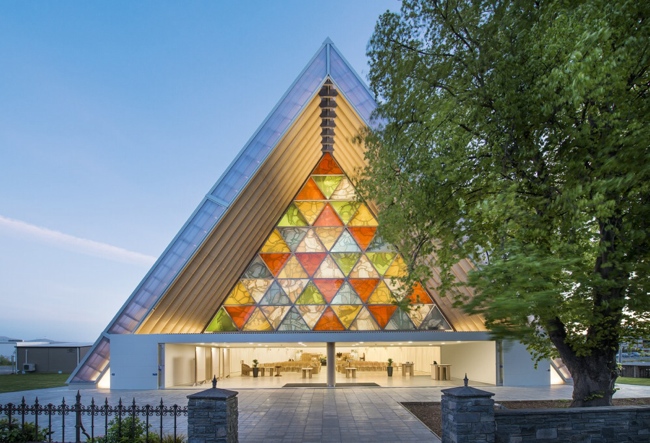 Japanese architect Shigeru Ban, who is famed for designing temporary structures which give vital shelter to people suffering in the aftermath of natural or man-made disasters, has been named the 2014 recipient of the most prestigious award in architecture, The Pritzker Prize.
First presented in 1979, and sponsored by the billionaire Pritzker family of the American city of Chicago, the annual award recognises "consistent and significant contributions to humanity and the built environment through the art of architecture."
This year's recipient is the seventh Japanese architect to be honoured by the eight-man panel, the most recent from the Far East nation being professional partners Kazuyo Sejima and Ryue Nishizawa, who shared the award in 2010.
Shigeru Ban originally became known for using his architectural skills to design temporary structures which offer both dignity and shelter to those who are suffering because of such horrors as civil war and genocide, or devastation wreaked by the Earth itself, such as tsunamis and earthquakes.
It was in 1994, eight years after he first exhibited a paper tubes design as a cheap alternative to wood, that Shigeru Ban was moved to use this very concept to design temporary shelter for victims of the civil war and genocide in Rwanda in Central Africa.
In 1995, the devastation was much closer to home for Shigeru Ban. In response to the devastating earthquake that hit Kobe in Japan, the architect designed what came to be known as the 'Paper Log House'.
Resembling a log cabin, this ingenious design for temporary housing consisted of high-strength cardboard tubes being rested vertically on a foundation of beer crates filled with sandbags. Canvas was also incorporated into the design to form the roof.
This design was further modified and implemented following a 1999 earthquake in Turkey and, just two years later, an earthquake in India.
Further supporting his reputation as an architect with a genuine social conscience, in 1994 Shigeru Ban founded The Voluntary Architects' Network. This non-profit organization unites experts from across the globe in designing buildings which will aid victims of disaster. The Network also raises funds and provides the necessary materials for these literally life saving and life enhancing structures.
Today, Shigeru Ban Architects has offices in Tokyo, Paris, and New York.
Alongside his humanitarian-led work, Shigeru Ban's portfolio includes the Naked House in Japan, the stunning Centre Pompidou-Metz in France, and the Tamedia Building in Zurich, Switzerland.
In 2013, Shigeru Ban made headlines around the world with the unveiling of his transitional Cardboard Cathedral in Christchurch, New Zealand. The structure of the permanent Christchurch Cathedral, which stands just a few blocks away, suffered significant damage in the 2011 earthquake.
Responding to news of his Pritzker Prize, Shigeru Ban said: "Receiving this prize is a great honor, and with it, I must be careful. I must continue to listen to the people I work for, in my private residential commissions and in my disaster relief work. I see this prize as encouragement for me to keep doing what I am doing – not to change what I am doing, but to grow."
Shigeru Ban will be presented with The Pritzker Prize at a formal ceremony at the Rijksmuseum in Amsterdam in The Netherlands on June 13th, 2014.