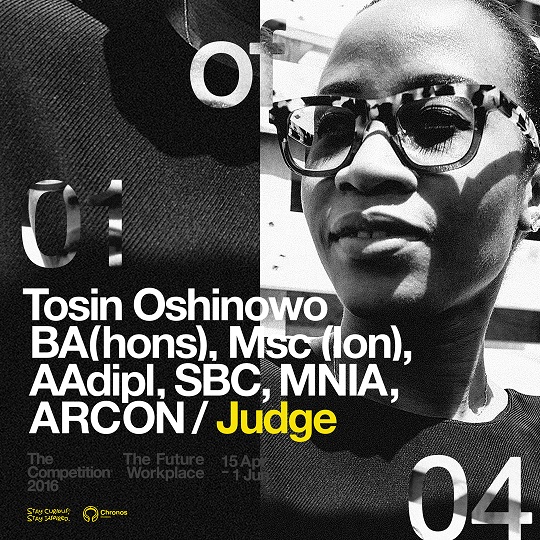 The Competition 2016 started five weeks ago on the 15th April 2016 and as we will have it – four of the finest architecture icons will be on the stand to examine each and every submission entry that is made. Due to the varying University calendars, entries will still be received up until June 15th on the submission portal where you can create a new client. Read more about The Competition 2016 FAQs here.
Please meet the esteemed judges(in no particular order):
---
TOSIN OSHINOWO
Tosin Oshinowo is a registered architect in Nigeria and since 2012 has been lead Architect at cmDesign Atelier (cmD+A), an architecture design consultancy practice based in Lagos, executing notable projects in the city such as Maryland Mall, which is due to open in June 2016. She completed her Architecture Education at the prestigious Architecture Association London and also holds a Master's Degree in Urban Design from the Bartlett School of Architecture, University College London.
Her interests are in architectural history and socially responsive approaches in design, architecture and urbanism.
---
MAURICIO AMADO
A Conceptual Designer and Project Manager, Mauricio Amado, graduated with a Bachelor's Degree from the Universidad del Valle de Mexico in 1987, a Master of Architecture from the University of Idaho in 1992, and a Masters of Business Administration from Louisiana State University in 2005.
He has practiced architecture for the last 29 years in the United States, Latin America, Asia, Africa, the Middle East, and the Asian Sub continent. Mauricio has participated in conferences as a speaker in the United States, Latin America, Asia, and Africa, allowing him to get a global perspective of the profession.
For the last 15 years he has simultaneously enriched his knowledge of architecture as member of the Design faculty at graduate and undergraduate level in universities of the countries where he has practiced sharing his experience and developing study abroad programs for Japan, Turkey, Cambodia, Spain, France, and Germany.
He is currently Senior Design Director and Studio Manager for a Design firm in Mumbai, India.
---
OSUNDOLIRE IFELANWA
Osundolire Ifelanwa is a director at Goth Ltd. – a company based in Lagos that offers real estate development advisory and property value addition services to a wide variety of clients. With over 8 years working in real estate development – he has worked in close partnership with other developers on affordable housing projects in Lagos, particularly the Public Private Partnership model with the Lagos State Government, promoting the innovative Rent-To-Own idea, which offers housing to a demographic which ordinarily wouldn't have been able to qualify under the traditional mortgage system.
Osundolire Ifelanwa is an alumnus of the Yaba College of Technology and Obafemi Awolowo University, where he bagged a diploma and bachelor degrees in Architecture respectively. He is a winner of the prestigious innovation 3600 awards from the British Council in Nigeria. He is also an alumnus of the Birmingham City University, Birmingham England – the first full scholarship beneficiary in the history of the University. He won recommendation as an international student leading a team of software developers and Faculty lecturers to execute an original idea developed for Birmingham City University to create a virtual property trading game to enhance the understanding of property valuation.
---
TITI ADELEYE
Titi Adeleye is an experienced architect and CEO of Eden group of Companies. With over 25 years experience, she has extensive experience in building design and construction, property development project management and interior design. She has been actively involved in the implementation and execution of a wide range of projects in private, government and institutional sectors. She is a chartered member of the Nigerian Institute of Architects and currently serves as the Vice President of the Lagos State Chapter. She has received awards for consistent excellence in Academic performance during her education years.
Her book 'Who is the Architect?' is a popular publication in the Architecture industry. She is a Fellow at International Centre for Research and Training in Management of Large Projects (CIDA) Montreal, Canada with a whopping 102 listed projects she has worked on.
---
We will keep you abreast the judging processes as it will be showcased in video. Meanwhile, we look forward to hosting you at Creative Architects 2016 at Muson Centre on July 14th. Seat reservation will soon open.