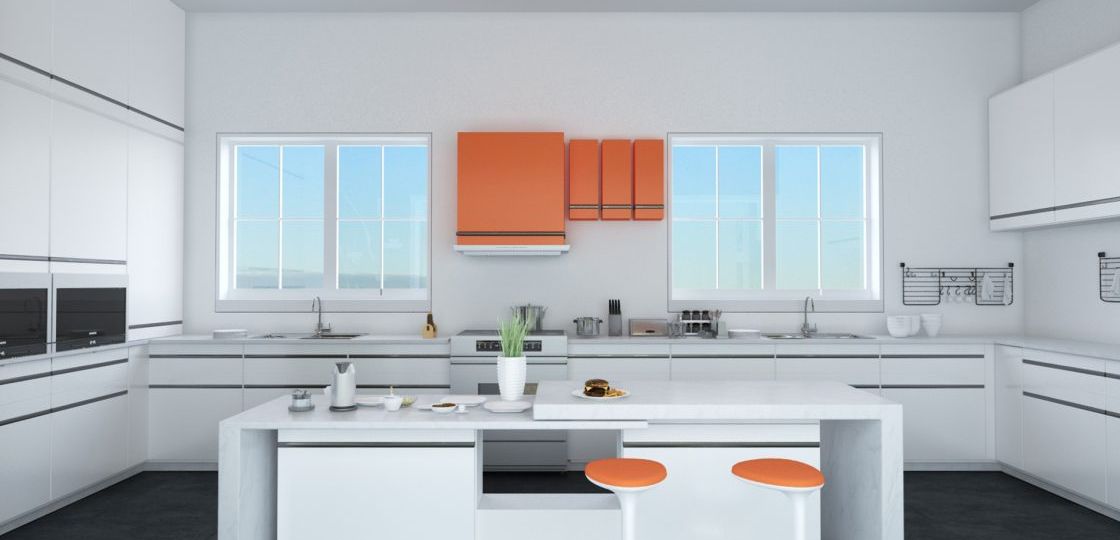 The kitchen. It's the scene of family gatherings, from shared breakfasts to anniversary celebrations, such as birthdays.
However, for Chronos Studeos Architects, visualizers and interior designers, the concept of a new kitchen starts out as a plain canvas upon which to convey the style and quality finishes for which we're known by clients in Africa and beyond.
One of our most recent completed projects was the Asiko luxury residence close to Oniru beach in Lagos.
A block of 14 fully serviced residential apartments offering three and four-bedroom options, the Asiko complex boasts only the best facilities, including a swimming pool, gym, spa and sauna, laundry services, top level security and even its own water treatment plant.
In this post, we will be sharing the process which our architects employed in making the 3D visualization images of the Kitchen.
As you can see in these final renders, the kitchen truly is stunning. No room here for more than two primary colours – ivory white and orange, both of which are beautifully complemented by the chrome utensils & black cabinet strips.
As my colleagues from the media team work to update the Chronos Studeos portfolio of works with more from the Asiko project, I am here to respond to requests from our blog readers to share more tips and insights into how we make high end 3d architectural visualizations.
---
 FROM CONCEPT TO RENDERING
by Hassan Anifowose
Chronos Studeos Architect & Animation Supervisor
Modelling
Most of our 3D visualizations are first modelled in architectural visualization software i.e. ArchiCAD and Autodesk Revit. In this case Revit was used to model the hard elements (i.e. walls, doors, windows, ceilings) thereby generating physically accurate models and simplifying the rest of the modelling process in 3dsMax. The files are then imported into 3dsMax using the dwg export-import option with the settings shown in the image above.
To continue the modelling process, rather than use maps, we use geometry floor tiles to further enhance realism. Each tile edge is bevelled to and then instanced across the scene. This means whatever change is made on one tile affects the others. See image below.
Lighting
Adding lights to the scene involves the popular vray planes around windows and other openings. See settings in image below. Booster lights are added to the scene from the other end (with the sliding door) as the windows are too small to create a lot of illumination without burning out surfaces in the scene.
To add overall ambience to the scene, a plane background is used with vray light material. This gives off a gentle lighting solution to the scene and also serves as background image.
While making test renderings, the values of the vray light material can be quickly changed to see varying results. In the image above, a vray dome is created for general scene illumination and an HDRI map is assigned to it to further enhance realism in atmospheric calculations, and reflections.
The remaining part of the modelling is completed i.e kitchen island, cabinets, drawers, shelving and artefacts. The scene is subsequently populated with kitchen elements, particularly from Evermotion archmodels. This saves a lot of time in the project timeline. Test renders are made and cameras are placed in desired spots.
We particularly enjoy using vray cameras for our interior scenes as they are really flexible and easy to manipulate (provided one understands each setting).
 Render Settings
So here you go, you might want to try out these configuration in your interior scenes. Do drop your comments and questions below and be sure to get a response.
Thank you for reading this making of. We hope to bring more of these to you as we continue with our 3D visualizations works in Nigeria and beyond.