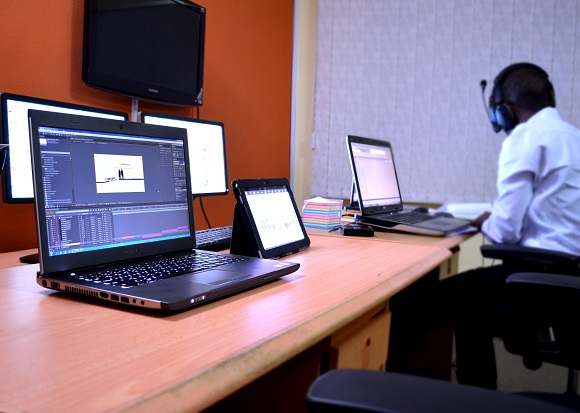 Tell anybody "I'm an architect" and you'll likely earn instant respect and plaudits, even from those who may be silently thinking, "Nice! But what does an architect actually DO all day?"
Deemed to be more a calling akin to that of an artist than a job borne of a desire to earn the big bucks, architects have even been voted number one in a poll of 'The Sexiest Professionals'.
But returning to that bystander's silent thought: if you are a student yet to enter the profession, or maybe just a fan of architectural design and art, you may like to hear direct from someone who lives and breathes architecture.
We thought we'd try to answer your questions with a relaxed Q&A with Chronos Studeos architect and 3D Animator and Supervisor Hassan Anifowose.
Wish me luck as if this goes wrong I could find myself writing out my CV for a new job tomorrow!
So,

Hassan

, architecture: is it a profession or a calling for you?
Hmm. Tough question. Well, architecture is a calling for me as well as a profession, but I guess they are mingled together. I fell in love with architecture 15 years ago whilst studying building plans produced by a local draughtsman (a friend of my father). As a matter of fact, before I went to University to study architecture, I designed a 3-floor hospital (floor plans only), which I was really proud of and cherished so much. I always tried my very best in my studies and activities and I derive boundless joy by simply thinking. Because I'm so busy with work I'm no longer such a big fan of novels but I read a lot about architectural designs and leadership.
Can you tell us a little about Chronos Studeos? How and when did you strike out on your own?
The genesis of Chronos Studeos came when I noticed that only a few firms were providing CAD services well integrated with multimedia and 3D visualizations. So I asked myself, "If this is not really happening, why can't I make it happen?" So, gradually, I built up a team of young, vibrant and creative guys and we started delivering visualization services for architectural companies.
It took three more years of intense, behind-the-scenes work, never giving up on the dreams, during which I worked in a first generation bank's corporate marketing department and a design and construction company.
Harnessing all the knowledge I could, I ventured out, signing up the very best possible hands I could find, and yes, they continue to be the greatest hands.
As a team of architects who have shared the highs and lows of our profession, and recognise in each other a real energy and passion for what we do, we love and respect each other more every day.
How many people work at Chronos Studeos and what does it feel like for you, working alongside a team?
The team at Chronos Studeos has consistently grown over the past few years as we are always working to expand both the team and the company. At the moment, we number a little over a dozen employees.
Hmmm.. working with a team is a well-emphasized subject in architecture, plus 3D visualization, and with the team here at Chronos Studeos it is an incredible feeling to know that one is working alongside highly capable brains, and we all preach great team spirit, which is incredibly important.
The team in our London office is also growing and it is a great working experience synchronizing our works and ideas across continents, and we bond by coming together to both work and play.
You studied the work of

Sir Richard Rogers

at the Federal University of Technology, Akure. Is he your professional hero or is there another whose work most inspires you?
Richard Rogers is an amazing architect and, yes, I have read a lot about his work. However, he isn't the only professional hero I have my eyes on.
I also admire Rem Koolhas and Mies Van de Rohe, plus I've enjoyed the honour of working with Nsimah Emediong, Mauricio Amado and Professor Olumide Olusanya. I've learnt a great deal from their various experiences and styles of architecture, all of which I highly respect.
Except for your primary role as a Director at Chronos Studeos – a fact which reminds me to ask are you comfortable and can I get you a drink, sir? – how would you describe your average day? You specialise in CAD and 3D animations, yes?
A drink, yes. Maybe a Lemonade, a Soda, a glass of Mojito or Pina Colada. [Laughter]. In all seriousness, though, since the tasks we undertake are mentally challenging and require maximum endurance – and because the day doesn't follow the usual office hours of starting work at 9 am and finishing at 5 pm – the aroma of coffee is one enjoyed in the atmosphere of our office.
Yes, we specialize in 3D visualizations and animations. My average day is really quite busy with just a few minutes break here and there as, alongside my other work I also attend project review meetings with the team and clients.
I often spend the early hours overseeing works from other team members and reviewing progress, as well as checking up on our online presence before settling down at my desk for my visualization works. All projects must undergo our strict quality control and assurance levels before final delivery to clients.
On average, how long does a project take from the first sketch drawings to completion?
Project delivery times vary according to the scale of works. Some 3D visualization-only projects take a couple of days to complete, while others take weeks. It really depends on the scope of work and deliverables, which can range from producing high-end still shots, to compiling them in interactive multimedia formats. Animations can take from weeks to months (animation storyboarding, key framing and render time inclusive) and this means we are working at full capacity.
What aspect of your job do you find most rewarding?
Clients' honest feedback. Hearing a client on the 'phone, or reading their facial expressions, and seeing how impressed they are about a submission is really the key and, yes, any business would be lying if they didn't say they enjoy seeing the cheques roll in for a completed job.
A satisfied client helps you define a new standard for subsequent works and also, it is just another assurance that there might be a referral from him.
And if you weren't an architect what would you be? A rock singer, an actor? Any hidden talents you want to share with us?
I've lost my dancing skills over the past few years, but I could do the Michael Jackson moonwalk (I bet we all tried that out when we were kids), and I could also do some street dance. However, I have practically hidden that part of me since I became much busier in the profession. [Laughter].
Really, if I could not be an architect, I would be more likely to pursue a career in motion graphics, computer programming or computer engineering. I could survive with some skills in that field for a non-professional like myself, till date.
Click here to enjoy So You Want To Be An Architect? Part 2 in which Hassan Anifowose talks CAD visualization, the most fulfilling parts of the life of an architect, and the value of technology in the workplace. 
In the meantime, you can learn more about Chronos Studeos architect and CAD animator Hassan Anifowose at LinkedIn