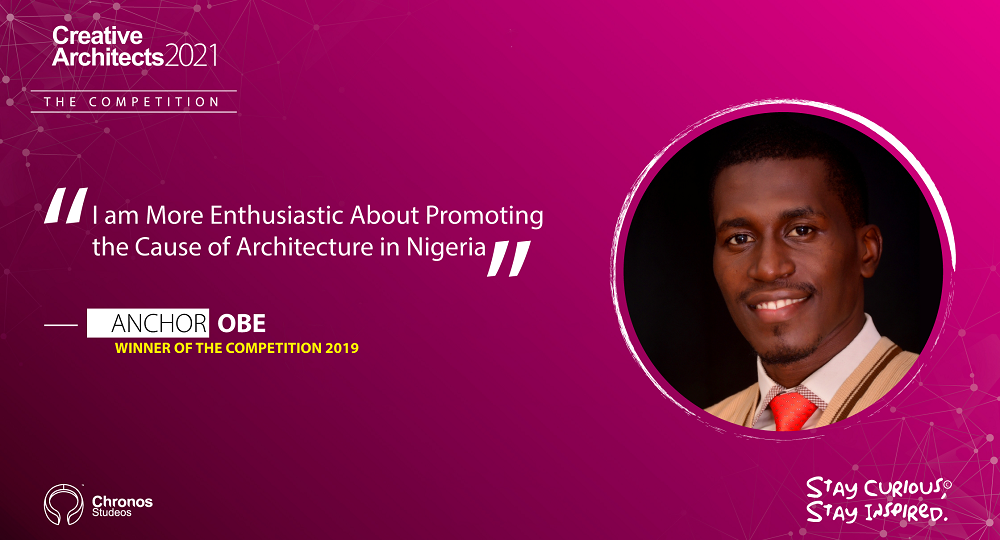 Anchor Obe emerged with the second winning entry at "The Competition 2019". His design was a student project – A design of The Muson performing arts theatre with highlight features like the 4000 capacity bowl, ample parking spaces, exquisite landscaping, a sky lobby, an amphitheater, and more.  He shares his inspiration, story, and advice for prospective participants of upcoming competitions.
---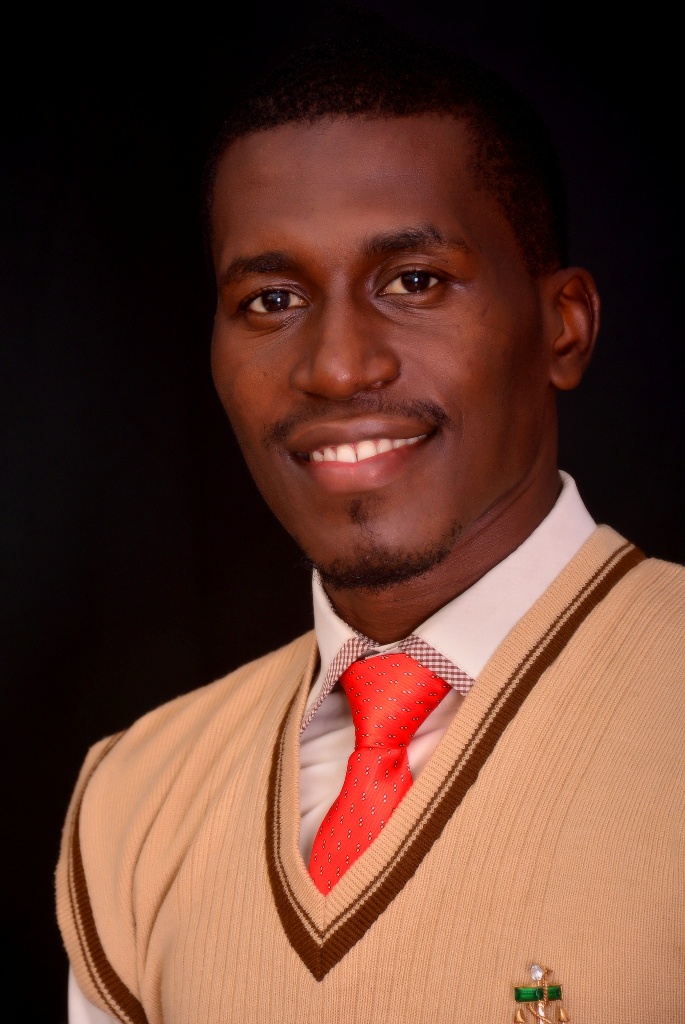 Tell us a little about yourself (your name, background, and so on)
I must start with gratitude to God and the Chronos Studeos Team. You are an invaluable gift to the architecture community. I  appreciate the effort you put in to see advancement in the cause of architecture and for giving back to the student community.
My name is Anchor Obe, I had my undergraduate studies in architecture at the Federal University of Technology, Akure, after which I proceeded to obtain a Master of Technology degree in Architecture at the same institute.
Beyond just design, I like to see architecture as storytelling, essentially, a way to present your design both with pictures (3D renders) and videos. This concept spurred my interest greatly in architecture animations and presentations. Thus, I groomed myself as a public speaker in school, taking on all possible opportunities to grow in that aspect. This effort, on graduation, landed me the prize of the best presenter in my class.
I also have an immense love for nature photography and decent music, and I am a gentleman. Lol.
Why did you enter "The Competition 2019"?
Sometime in 2013, at the first creative architects' event at 2 in 1 lecture theatre, FUTA, I got inspired to hone CAD-related skills. I took notes that day in a small red jotter. I still have it to date. My passion to promote the use of CAD and broaden the design approach of other students in my institution drove me to co-pioneer an architecture student group called Team Pulcher.
This enthusiasm motivated every step I took, thus, every year I saw the competition announcement, I had a rush. In 2019, the competition flyer had this caption, "The ultimate inspiration is the deadline." To date, that statement gets my blood pumping.
My anticipation for each year built from the end of one competition to the commencement of another. Thus, every time the invitation to participate was made, for 5 years, I never avoided giving it a shot. I came back each year better than the last with my eye fixed on the top spot. 
I still remember vividly on one occasion at the creative architect's event when I sat in the middle of the hall, and Architect Hassan Said 'who knows, you might be the one standing here next year as a winner', it felt like he was talking to me. Turns out he actually was, because I ran with those words till I got the spotlight. The competition for me was a huge challenge and much more, an opportunity to evaluate my work beyond school-related juries.
The Chronos Studeos competition kept getting really competitive with each successive year, hence, I pushed harder for competence, not just creativity. I recall congratulating the winners of the creative architects' event 2018, and saying, "Let's do it back-to-back for our institution." I never knew it would hold true, the very next year, and it did. I look forward to seeing many more step up to this challenge.
What did you think about the brief given and what were your challenges during the competition?
Speaking of the winning entry, I almost did not want to put in for the competition (solo entry), but a friend spurred me on, insisting that if I was the one on the encouraging end, I would enforce making an attempt. I remember my teammates, (Bayode Jude and Ajibowu Michael) calling me up and saying this was going to be our last shot at the Chronos competition, and after that, we move! 
Each year's competition briefs were always so creatively put together and really compelling, so I never found it hard to connect with. The deadlines, however, were both a motivation and a challenge. Putting my sheets together to meet up with the deadline, alongside working (NYSC), wasn't as easy as writing ABC but it was definitely worth it. I recall doing a 48 hour stretch for the last two days before submission. The deadline is the ultimate inspiration. That maxim holds true.
What Inspired your design choice?
I must first acknowledge the divine inspiration.
At the time, this was the most extensive project I had done and the competition served as a platform to freely express myself. Hence, having the opportunity to learn and explore at the same time, inspired me to let out all my pent-up ideas. I utilized available software, experimenting with new features. When it comes to software, I consider myself an early adopter.
I am passionate about the design process and the analysis involved, including exploration of different forms, to work within the design constraints and site standards which I extensively considered in this project. These factors put together made me pick that specific project.
What has changed about your life and approach to design since you won "The Competition 2019"?
Traveling to Dubai (wow!), the exposure I gained and the invaluable interactions with Architect Hassan have kept me inspired and pushing for more. I am much more enthusiastic about promoting the cause of Architecture in Nigeria.
Did my confidence shoot through the roof? Yes of course! Plus being a source of inspiration to many. That's something I really value.
The competition redefined and refined my architectural workflow. I also began to pay close attention to the end-user experience of any design (especially from the thought-provoking Dubai experience). This makes me more cohesive in my design approach.
Getting recommended to handle interesting projects was a plus I got from winning the competition.
I can now, more than ever, consider my contributions to any design as valid. Furthermore, I am pro-teamwork. It gets you through creativity dips. You hold through. Smiles.
What advice would you give to prospective contestants of "The competition"?
Look for opportunities to challenge yourself creatively. Making attempts to improve oneself in any way no matter how little, is rewarding. It always has a compounding effect.
Teamwork and collaboration are key. Allow other people to constructively criticize and influence your design ideas. A little inspiration could go a long way.
In the year 2016, I led a design team to victory at the RCCG organized Coastline Auditorium design competition. After that, I and a few colleagues have participated in several competitions, both foreign and local. But specifically, in the process of tackling the Chronos competition 2019, I learned something about very demanding fields that require decisive precision and no chances of error, like in aviation and medical surgery. They employ the use of checklists to ensure every task is done and in the right order. I still use this to date. Break down the task to the smallest bits, write them out in the correct order, and… Action!
I personally believe that at some point every architecture student should unfailingly participate in an architecture competition. This helps you explore your ideas and creativity beyond the design philosophy of your immediate institution. It also allows you to compete with others from different schools of thought, workflows, and skill levels. 
You get the opportunity to connect with others, this also offers an invaluable learning experience you might rarely get through any other means. I also believe students should give it a try, even If they feel like their design may not get them in the spotlight. There is so much to learn from participating in a competition, who knows, it could be you standing in the spotlight on the podium at the next creative architect's event! Don't give up!
We appreciate you. Thank you for your time
I really appreciate the opportunity to have this chat with you and I'm super grateful to Chronos Studeos and other partners who support the creative architect's event. You are amazing. I advocate that more competitions like this should be organized by more organizations. I must also acknowledge the support of friends and family. A win for one is a win for all. I am so excited, glory!!
---
We totally agree with his take on teamwork and collaboration. It's been 2 years since his participation in the competition, his story is a true inspiration, not only for the prospects but for our team too. This gives us a reason to keep it going.
The Competition 2021 is currently ongoing, we can't wait to see who our next winners are!  Check out our interview with the two other winners: Akanu Nduka Olaleye and Ankinyelure Temitayo.
---
Click the button below if you wish to our support mission to enable young architects make great moves in the design and construction industry. Our sponsors also get an option to showcase their brands at The Creative Architects event.