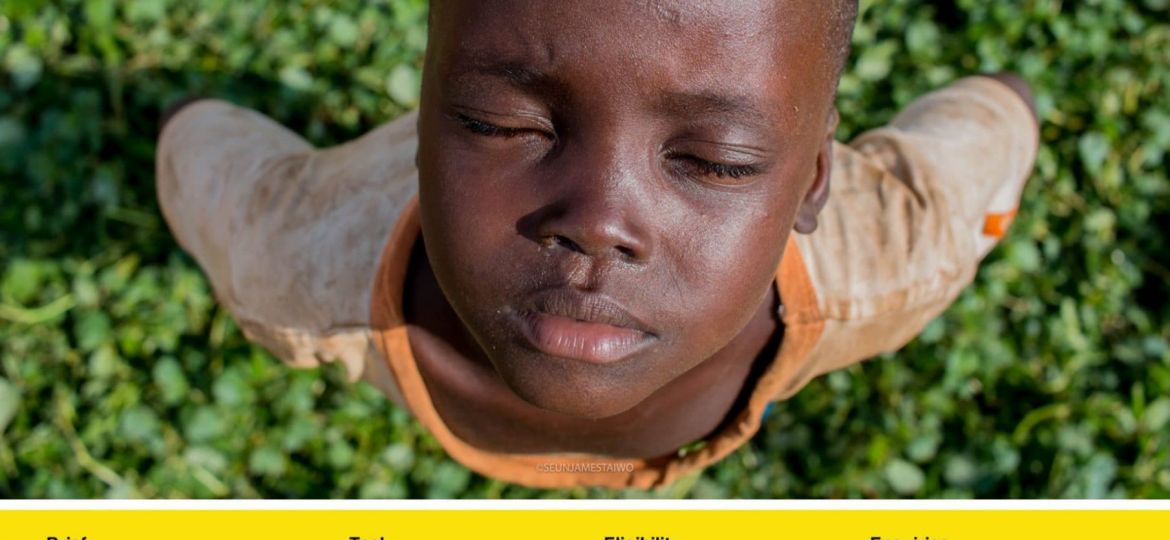 Yes, everyone at Chronos Studeos is very excited to work on this year's edition of The Competition as we team up with a host of amazing figures and brands to celebrate and promote the talent of the next generation of Architects & Interior Designers.
Read on to discover what you need to do to enter The Competition 2017. Who knows, all too soon it could be YOU up on stage receiving our top prize and setting off on a plane with our Co-Founder, Hassan Anifowose to the West Africa Architecture Festival slated for the 2nd half of 2017.
---
The Brief
Greatness lies within each of us. But how great can we be without an enabling environment. We shape our environment, and our environment in turn shapes us. What this basically means is this: we are greatly influenced by our immediate environments.
Over the years, War, Natural Disaster and Terrorism have deprived millions of children the opportunity to be raised under good conditions. IDP (Internally displaced persons) Camps and Disaster Shelters are not meeting the expectations of helping the homeless live a decent life. Children raised under these conditions are growing and will integrate into the society eventually. As an Architect and Designer, the future of the society now lies in your hands as you can shape the Environment they live in, thereby shaping their psychology and waking their potential for greatness.
The aim of this exercise is to design a quick-to-fabricate shelter/home prototype well suited for any Nigerian climate region that you may choose/specify in your design, which can successfully be constructed and inhabited in 2 weeks. This shelter/home which can be adopted by the Federal Government, will be established as a national standard for natural disaster housing or IDP Camp Housing across its specific region in the Country.
The basic needs of IDPs are Accommodation, Health, Education and Mental Rehabilitation and it's important to understand that today's IDPs, if left unattended without contextual help, are the potential threats to societal peace tomorrow. (Source – Seun James Taiwo – IDP Photographer).
---
Task
Your client is the Federal Government of Nigeria. There is a problem in your society, Children and Families are evicted from their homes by War, Natural Disasters, or Slum Eviction. There is a need to 'Give them Home'.
As part of his research methodology, the Government intends to build these building prototypes, which can be any of the following; Shelter/Homes, Schools, Clinics, Playgrounds. You are required to design at least one of the above-mentioned prototypes and specifically analyse how they are designed, how they will be built.
Your submission, which must have a potential to be adopted by the Government, must to take the following into consideration:
The building(s) will NOT be mechanically cooled (must be naturally ventilated)
If you are designing a playground, ensure that your design concept follows the brief
Elements of nature (greenery, views etc.) should be incorporated in your design
The materials to be used for construction must be as environmentally friendly as possible, locally sourced and in abundant supply
The landscaping and site should utilize naturally occurring materials for its finishing as much as possible and should be nature-themed
Your design should exhibit the Nigerian culture of the region it represents
Finally, as stated in the aim above, the proposed design is to be built in a record time of 2 weeks so it can be inhabited for a maximum period of 1 year before they are successfully integrated to permanent homes.
---
Procedural Rules and Conditions
Teamwork: Each submission can be an individual or a group. Each group should be comprised of not more than 2 or 3 participants and each participant's name must be clearly stated in the online registration and entry submission email.
Participants are free to generate their prototype drawings to their design tastes.
Versatility: Your choice of software is unlimited. It is important that you generate clean and precise presentation drawings and 3D images to express your ideas. The judges will look out for your creativity and ability to use the software tools to achieve the task to good submission standards.
---
Eligibility
The competition is open to –
Graduate Architects in Nigeria (with not more than 2-years post-NYSC/University Education/Work Experience). Ensure to indicate your Current Place of Work in the Registration Form.
Architecture Students in selected Nigerian Tertiary Institutions. Please check the registration page to see if your Institution is listed. Entries shall be accepted from students in all levels (OND/HND/Undergraduates and Postgraduate/Masters).
---
Submission Requirements
Upon registration, you will receive links to set up a username and password to our secure submission portal and you can also create it by clicking here
Completed presentation drawings must include sheets showing analysis, concept design & ideas, planned spaces, furnished spaces (It is an advantage to have an Interior Designer person on your team), computer-generated perspectives (3D) imagery is required (as much images as necessary to express your idea)
You must upload your submission files to the online portal before Midnight on July 31st, 2017
The physical model is not required.
3D Animation is not compulsory.
Apart from your submission files uploaded to the online portal, a short 3minutes video introducing you (single entry) or your team (team entry) and their roles in your submission are necessary. Please upload your video to youtube email the link to thecompetition@chronos-studeos.com.
---
Dates and Deadlines
The commencement date is Wednesday 28th June 2017. All online submissions must be made here latest on Monday 31st July 2017 by Midnight.
3 winning entries will be announced at the Creative Architects Event on Tuesday, 8th August 2017 (Lagos) and 10th August 2017 (Abuja)
Download the Creative Architects App and reserve a seat to attend the Creative Architects Event.
---
Awards
The winning entries shall be announced at the Creative Architects Event. They will be displayed in print.
Download the Creative Architects App to receive information and updates about The Competition 2017 and The Creative Architects Event.


The best entry (individual/group) shall receive their cash prize NGN150,000, and return flight tickets to 2017 West African Architecture Festival
The two runner-ups shall receive their cash prizes at the event NGN90,000 & NGN75,000
All selected top entries will be published on chronos-studeos.com/blog
REGISTRATION CLOSED
---
Past Winning Entries
Enquiries
We will be glad to answer any questions you may have concerning the competition. All enquiries should be directed to Mosun@chronos-studeos.com
---
For those of you who'll be at the Creative Architects Event please download the App on Google PlayStore and Apple Appstore.
We hope you'll have your smiles at the ready for the people from, BezalelForce Studios whom we've commissioned as the Official Photographer for the Creative Architects Event.