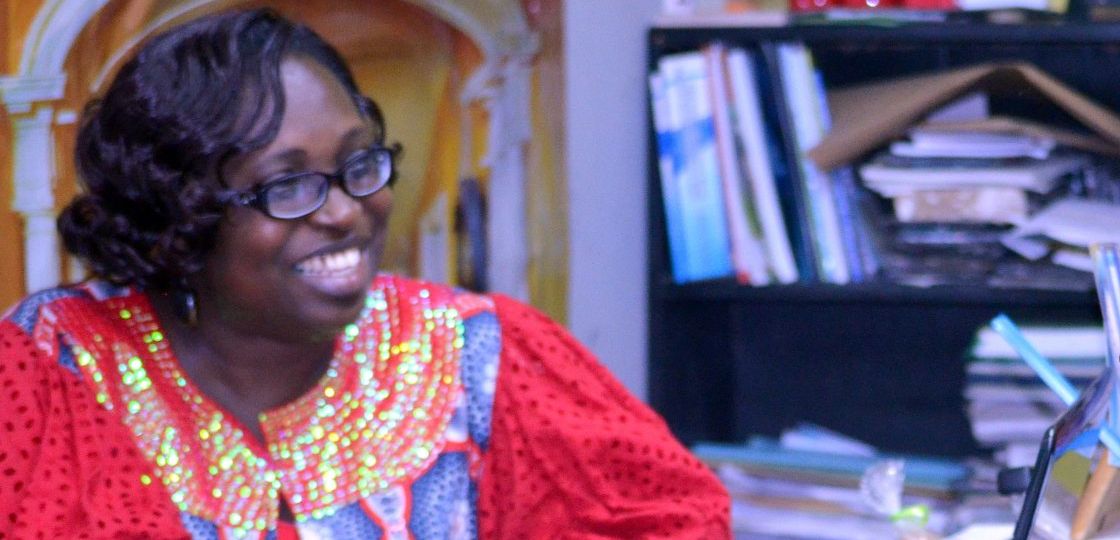 Despite being the boss of Designedscapes Limited, a company of chartered architects, landscape architects and interior designers, and a respected lecturer at the University of Lagos, Nigerian architect Mrs Uduma-Olugu kindly found time to sit down with us to discuss her life and work.
And, as you'll see in our profile, this proud member of the Nigerian Institute of Architects offers some valuable insights for those of you who already are architects and those studying to join us in the fast-moving and stimulating profession.
I am a wife. I am a mother. I'm an assistant pastor. I'm an architect. I'm a landscape architect. I'm the Vice President of the Society of Landscape Architects of Nigeria. I'm a PhD student. I'm a lecturer.
Mrs Uduma-Olugu, thank you so much for your time. Can we begin by you giving our readers a little insight into your early life?

My father [Ochea Uduma Ikpa] was an Ambassador. He was a trailblazer in his time. He was fearless. He made a way where people said there was no way. All through his life. He was an Ambassador and he fought on the Biafran side of the civil war in Nigeria. He was very strong on Biafra until he died. And my mother brought us up (her kids) alongside some other members of our extended family. She was a headmistress, and my father, being a traditionalist even though he had all his education, lived with the values of a big African family. I grew up in a home where good values, hard work, and dedication were embedded in each of us.
How did you become a professional architect? Did you study in Nigeria or overseas?
I studied both in Nigeria and Canada. I did both my B.Sc and M.Sc in Architecture in Nigeria, at the University of Nigeria in Nsukka, before proceeding to do a Masters degree in Landscape Architecture (M.LA) in the University of Manitoba, in Winnipeg, Canada.
Is there anyone who personally inspired or influenced you in your desire to be an architect?
My walk with God has been phenomenal through the years, even as a teenager. God's unseen hand guided me even at that age.
I always had an innate desire to study an art-related course as I was very good at sketching. The clincher came when one of my distant cousins, who was an architect, came to visit us and he had a physical model of a building with him. I was thoroughly fascinated and made up my mind that it had to be architecture or nothing else.
Do you have any professional heroes or heroines from the world of architecture?
Frank Lloyd Wright, Le Corbusier, Kenzo Tange, Alvar Aalto, Jane Drew and Zaha Hadid internationally, and Sunday Alabi (Habitat Associates) and Wale Okubadejo (OAC Architects) in Nigeria.
For Landscape Architecture, Fredrick Law Olmstead, Emilio Ambasz, Ian McHarg, Rorberto Burle Max, Susan Jellicoe, Foster Ndubuisi and Luis Baragan internationally, and Jerry Obiefuna in Nigeria.
You live life at an amazing pace. How do you fill your average day?
When I get up in a morning, after I have done my daily things with God, I ask myself, "Which one is coming first? Which one is next? Family or work?" Family of course [Laughter], I am a wife and a mother, I take care of my family before proceeding to my daily work.
I know you've previously mentioned to us that you often would work from 5am to 10 pm, yes?

I used to do much more than that, but after a while, it just occurred to me I had no rest. And then when I get to the site I work. I don't sit down. I don't sit down after pointing. I take the shovel from them and show them how to do it.

So you lead by example, even at the sites at which your landscape architecture designs are moving from paper to reality?
I do the work. Yesterday, I was in my jeans. I was with a shovel and I was there with them. This is how to do it, because, I mean, they are not going to do an imperfect job for me, because I want to have every bit and piece in the right place. They always have to get it right. So, I participate a lot on the site, so not just drawing.  I'm passionate about getting it done right too.

So what do you do when you don't have a pencil or a shovel in your hand?
It is a lot of work. And, you know, sometimes it's a thankless job. And I don't have patience. So, it had to get to a point where I said to myself, "Why, exactly, are you here? Why are you here and what have you achieved?"
So I love to travel. I love to read. I love detective novels – Agatha Christie, Dick Francis. I love music, and I also watch movies.
How do you feel about being labelled as "a female architect"?
I honestly do not believe that you should be a male to be an architect. An architect is an architect. I am female. My dress and my clothing, I'm all that. But when you come to architecture there is no male or female.
Do you feel there is any aspect of the job which a female architect can do better than a male counterpart?
Really, by our training, there is technically no gender in architecture. So, I would say they can both function equally well depending on each individual's idiosyncrasies and special gifts, or capabilities. It can, however, be said that women, by virtue of their nature, are very creative and can give attention to details, so I would say they will probably excel more in the actual design and detailing than in other aspects of the profession.
I know you always strive to do your absolute best for every project, but is there one of which you are most proud?
What do you feel are the best and worst aspects of life as an architect?
It can be disillusioning when clients do not properly remunerate architects for work done. However, the feeling an architect gets when a project has been completed as conceptualised more than makes up for all the troubles.
As well as being a professional architect, you lecture in the subject at the University of Lagos. Can you tell us about this aspect of your life?
At the time I got here, they wanted to start the landscape programme. That's what brought me here. It's not architecture. While I was on a Commonwealth scholarship programme, I had always promised myself that I would give back when I returned [to Nigeria], so I knew I would teach, but I felt it would be after I'd made a lot of money. Since I got here, I have been to many conferences and presented papers. Within five years of getting into the academic system, I have been to South Africa, Newcastle, Kenya and I have travelled to so many other places.
What would you advise to those people reading this post who are saying, 'Oh, I want to be an architect too'?
Passion and hard work. Be passionate about what you are doing, or what you can be.
When I wanted to study architecture I knew I could draw. I could always sketch. I knew that I loved architecture. I still love architecture. I love design. I generally design what I wear.
If I am going to be involved I will do it well. If I won't be involved, that's it. If I give you my word I am going to do this, it's done. But if I say, "I'm not doing it, I'm not giving any commitment. That's it." But once I say I'm doing it it will be done excellently.
And finally, instead of patiently answering our questions, if you could be visiting any architectural site – famous or not – anywhere in the world right now, where would you be and why?
Without a doubt, Frank Lloyd Wright's Fallingwater in Pennsylvania. It excellently links my two professions (Architecture and Landscape Architecture) effortlessly. It reveals what man can do when working in tandem with nature to create a building that is so aptly fitted to its natural surrounding environment that it becomes difficult to imagine the place without the building. It's an excellent example of the integration of the interior with the exterior, architecture's oneness with its landscape in beautiful synergy!
Mrs Uduma-Olugu, everyone at Chronos Studeos would like to thank you again for your generous time and insights into your life and work, and we all wish you well in the future.