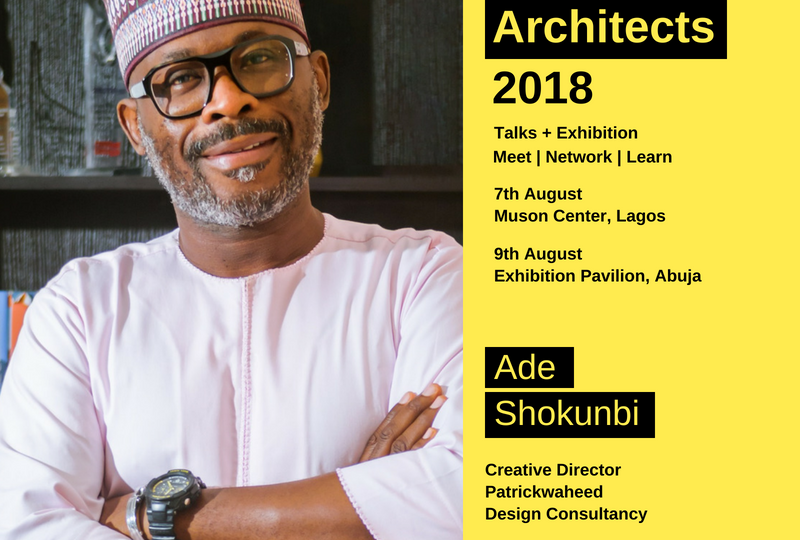 The Creative Architects 2018 event held in Lagos and Abuja on the 7th and 9th of August, respectively, will have our audience witness life-changing and professional talks and exhibitions.
As a company, we are bound to always provide excellence in whatever we do. This is why we have chosen selected notable icons in the Architectural and Business industry to bring to us a load full of knowledge about winning in the industry.
Ade Shokunbi is a British-trained architect. With educational degrees in 1988 and 1992.
He worked for several UK architectural firms before setting up an architecture and interior design firm called CFA Interiors Ltd. He specializes in the design and building of high-end new build and refurbishment projects in the commercial and private sector across the UK.
He relocated to Lagos in 2006, setting up Patrickwaheed design Consultancy, (pwdc) with Patrick Koshoni in the same year.
Since then, he has been involved in a wide range of architecture and interior design projects throughout the country that spans different typologies and scales. Ade's expertise extends to the making process of his architecture.
He is involved in every stage and phase. His unique hands-on approach sets him up in the circle of 'architectural craftsmanship' and establishes his name in the Nigerian building sphere. Ade is a chartered architect and a member of the Nigerian Institute of Architects.
Saadiya Aliyu-Aminu a mother, a wife, and a boss lady was raised in a small town in Northern Nigeria. She's ascended to COO of the Real Estate Empire that is Urban Shelter LTD. Saadiya attended secondary school in Sussex, London. She went on to obtain a degree in Economics from Brunel University and ultimately a Masters in Finance and Development from University College London – School of Orient and African Studies.
Sa'adiya has had a varied career in several roles, bringing her characteristic drive and interpersonal skills to every position she has occupied. Before starting work, she received a BSc in Economics from Brunel University, following that up with an MSc in Finance and development from the School of African Studies (SOAS) in London.
In 2009, Sa'adiya joined Urban Shelter Limited as a Senior Manager to the Chairman's office. Her ambition for Urban Shelter includes affordable housing – for which she has a particular passion – and she seeks to provide innovative means for the delivery and payment of these structures.
Sa'adiya is a board director in many companies, including Shelter Suites & Hotels Ltd and Urban Shelter Infrastructure Ltd. She is passionate about gender equality and lends her voice to some NGOs as part of her civic duties.
---
Arc Abdulrazaq Olarenwaju Adio is a Partner (Director) and the Lead Architect at Sazak Acres Biloque Company (SABC) Limited, a leading construction company in Abuja which he co-founded in 2007.
He previously worked as a project Architect and Associate Architect with Associated Real Estate Development Consultants (ARDC) Abuja.
Arc Adio has over 18 years of experience practicing as an architect. At SABC Limited, he leads the team of architects who have designed and managed several high profile projects some of which include the construction of the National College of Petroleum Studies Library Complex, Kaduna funded by the Petroleum Development Technology Fund (PTDF) and the construction of the Deputy Governor's Office in Makurdi, Benue State.
He is presently a postgraduate student at the University of Liverpool where he is studying for an M.Sc. in Project Management. He is a member of the Nigeria Institute of Architects (NIA).
---
Arch. Abdul Jaleel Sodangi graduated from Bahcesehir University. Subsequently pursued a path in Fashion and enrolled at Istanbul Moda Academy to study Footwear Design. Currently studying MSc. Building Architecture in Politecnico Di Milano.
A diverse-oriented architect/ designer appreciates architecture and all forms of art, ranging from beauty, food, clothing, music, and technology.
A good listener, and always learning and striving to understand the nature of things. I easily co-exist with people in terms of business and work environment.
---
Jamila holds a Bachelor of Science Degree in Building, from the Ahmadu Bello University, Samaru, Zaria. She is a graduate member of the Nigerian Institute of Building (NIOB).
She has attended many training programs both locally and internationally including Building Businesses in Turbulent Times (BBTT) at the Harvard Business School, Boston, MA in the United States of America, and Project Management training in CPMS, Lagos. She is presently undergoing training for the PMP with the Project Management Institute.
She joined the company in 2005 and has served in various capacities as a Planning Engineer, Project Manager, Operations Manager, and currently the Chief Operating Officer, M & E Kaiser Limited (The Mechanical, Electrical & Plumbing Installation Unit of the Kaiser Family).
---
Hassan Anifowose – is a Serial Entrepreneur, Architect, and 3D Visualization artist. He is Architect and Co-Founder at Chronos Studeos and continues to occupy strategic positions in 4 Enterprises while employing teeming Nigerian youths and building a fast-growing and popular brand name.
Keen to encourage young entrepreneurs who harbor a similar talent and passion for these subjects, Hassan regularly hires new young minds to join the constantly expanding Chronos teams as they undertake projects for clients in Africa and beyond.
---
Lagos – Register here
Tuesday, August 7th at the Agip Recital Hall, Muson Center, Onikan, Lagos Island
Thursday,

August 9th

at the

Exhibition Pavilion, Opposite Radio House, Area 10, Garki, Abuja
---
Time
The exhibition Starts at 8:30 am
Speakers Start 9 am
Our Sponsors
Our Partners