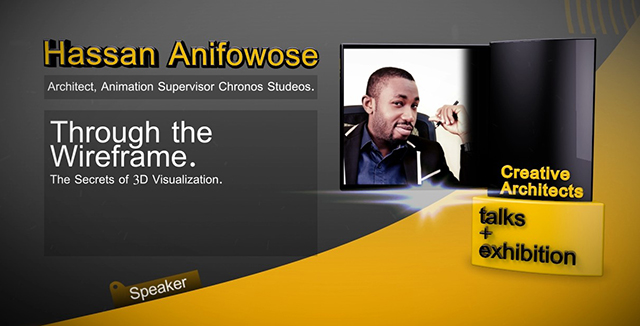 In our latest video presentation from Creative Architects: Talks + Exhibition, Architect, visualization artist and co-founder of Chronos Studeos, Hassan Anifowose speaks about every aspect of the architectural visualization process and takes questions from his audience of University of Lagos students.
Accompanied by numerous slides, including renders from various stages of a project, Hassan offers valuable tips and insights, the likes of which are a testament to his years of experience working for clients across Africa and overseas.
Click the button below to download the presentation slides.
Please be sure to return here in the days ahead for our third and final Creative Architects video with the full talk, plus a question and answer session, with Lineguage Studios animator Chris Okonkwo on The "Art" of Presentation.
In the meantime don't miss our previous video presentation in which Gregg Ihenyen (Architect and Executive Director and co-founder of Interarchtiv Media) focused on The Business of Architecture – A Young Architect's Earning Potential.