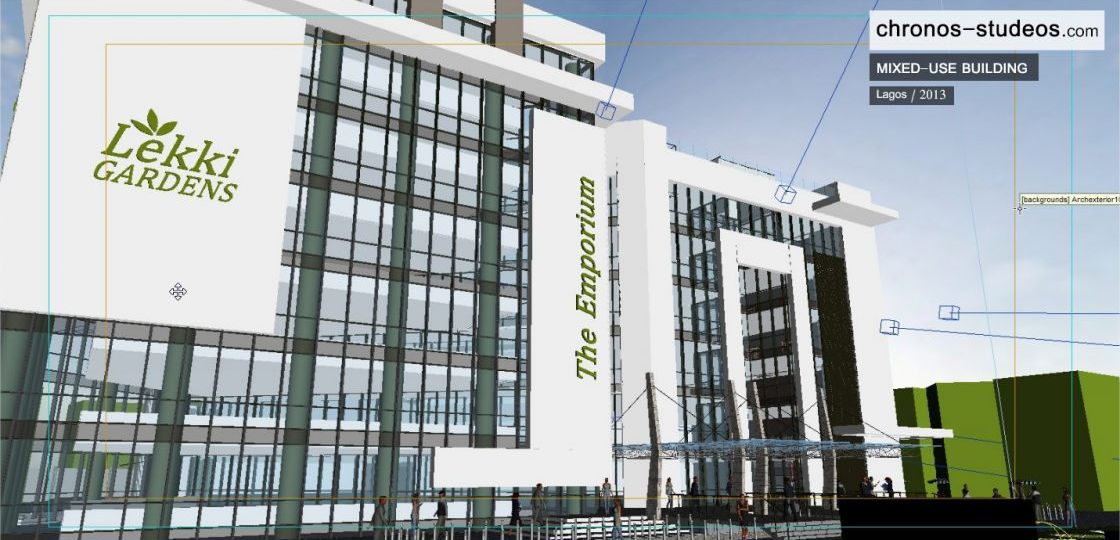 On Tuesday (13th May 2014) the Judges and Speakers at Creative Architects: Talks + Exhibition will be turning their attention to you as we all gather at the University of Lagos to celebrate the industries of architecture and CG animation in Nigeria and, ultimately, applaud all those who have entered their works into The Competition 2014.
In the meantime, though, we thought we'd turn the spotlight on some of the portfolios of works of the three guest speakers who will be sharing with you their tips and personal experiences about their daily lives as professionals in their respective areas of expertise.
---
Speaker #1

>>

 

Gregg Ihenyen

 
"I recently started work in a small architecture practice on a flexible arrangement (for now). Besides little finishing jobs, we are currently involved with two major projects."
"One is the RCCG International Information Gateway (below), which is the hub of all data to be transmitted from Redeemed Christian Church locally and internationally. The second is a 9-storey block of 27 apartments belonging to O'odua Group."

"My joy is that this unique job has given me full exposure to a practical learning cycle, while also applying theories learnt in school without necessarily lagging behind in any. For this I am grateful."

"Separately, and as a personal passion, I co-founded Interarchtiv Media (below) which is simply an aggregation of news, people, events and places with a goal to make architecture social. We created Interarchtiv Media in order to bridge the gap between architects and those that need them."
"The main aim is to ensure that information about architecture and the environment is shared seamlessly between students, professionals, clients, potential clients and users of the built environment. Today's clients and users are becoming very aware and knowledgeable of what they want, how they want it and when they can get it, and as such we have to adequately adapt to meet their needs while earning a living."
GREGG IHENYEN (Architect, Entrepreneur and Executive Director and Co-founder of InterARCHtiv Media) will present The Business of Architecture: Young Architects' Earning Potentials.
---
Speaker #2

>>

Chris Okonkwo
Well-respected in the digital arts field, Nigerian Chris is the CEO and Founder of Lineguage Studios Ltd., and co-founder and former creative director of Kuluya.com, an online and mobile game development company in Lagos, Nigeria.
As the man behind a vast, constantly expanding portfolio of work spanning many years and industries including Games, Fine Arts, Digital Arts, and advertising, Chris often signs off his work under the professional pseudonym of Jydekris. See below, what Chris has to say.
"I have been commissioned directly and indirectly to work on projects relating to several leading brands in Nigeria and beyond. My experience in pre-visualization and digital art painting synchronized with presentations is worth sharing as I look forward to speaking at this event."
"I am passionately committed to my work and the industry in which I more or less discovered myself, and as I have trod along my chosen part, I have so many innovative ideas and unique facts about digital painting and visual presentation which I will be sharing with my audience during my presentation at Creative Architects: Talks + Exhibition."
CHRIS OKONKWO (Creative Director, founder and CEO of Lineguage Studios Ltd.) will present The "Art" of Presentation: A Showcase of Lineguage's Works.
---
Speaker #3

>>

Hassan Anifowose
"As my friends and colleagues know, I'm totally committed to my work as an Architect and Animation Supervisor at Chronos Studeos, which  I co-founded with Femi Osewa and Hussein Anifowose and I feel constantly blessed to be able to say I enjoy my job."
"I'm glad to say I'll be standing on familiar ground when I speak at the Creative Architects event as it was at the University of Lagos that I studied to earn my Masters in Architecture."
"Although I'm constantly involved in pretty much all aspects of the architecture industry my main area of expertise is 3D visualization. It never fails to excite me and I'm constantly thankful for and eager to experience the improvements we regularly see right across the industry, the most obvious being the increased capabilities of the software and hardware we all rely on to produce top quality visualizations for every client."
"I guess we Architects are most associated with the design and construction of offices and residential buildings, but I know from my own years inside the industry that we never know what new projects which require far more attention, await us and that's just one reason this job is a constant thrill and never anything but exhilarating."
"I'm consistently proud of the work we produce at Chronos Studeos on behalf of our clients. One of the proudest moments in my career so far came in December 2012 when a design I submitted titled 'SOHO Living for Urban Professionals' successfully made it through to the hard-fought second stage of the World Architecture News (WAN) awards."
"I've worked on a wide range of projects (click here to see portfolio) too numerous to mention, primarily in Lagos and Abuja. When I'm not at my desk or out in the field I get great satisfaction from speaking and writing about the many aspects of architectural visualization, including but not limited to the main topic of 3D visualization plus keyframing, 3D concepts, lighting, and animation tips."
"I really look forward to seeing and hopefully meeting some of you at the Creative Architects event and would like to take this opportunity to thank you for the encouragement and support we regularly receive in response to our work."
HASSAN ANIFOWOSE (Co-founder of Chronos Studeos) will present Through the wireframe – The secrets of 3D Visualization.
---
Book for free tickets now to see and hear Gregg Ihenyen, Chris Okonkwo, and Hassan Anifowose, and mingle with a host of other industry figures and students, at Creative Architects: Talks + Exhibition.
The event is taking place from 9 am to approximately 2 pm inside the Julius Berger Hall at the University of Lagos tomorrow (Tuesday, 13th May 2014).