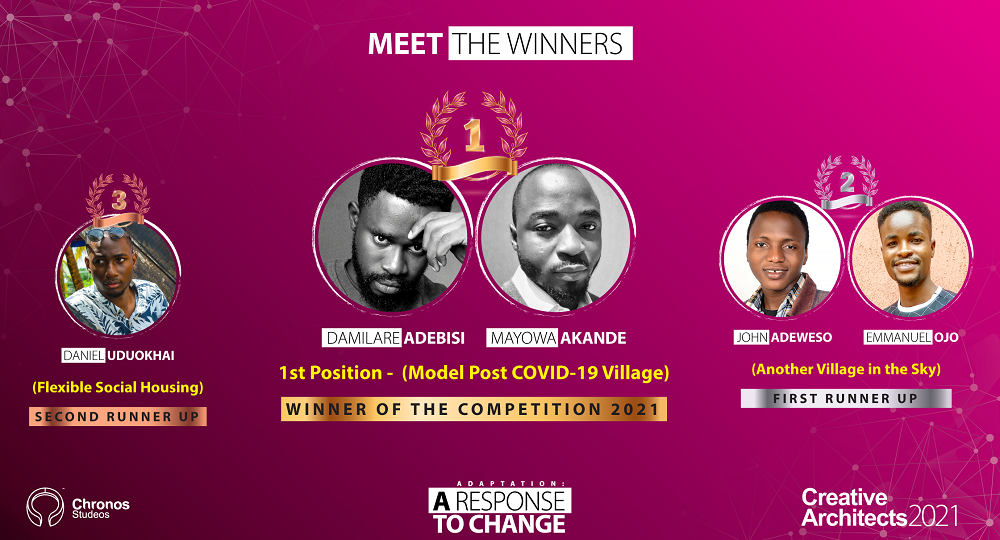 The Competition 2021 definitely took a different turn. Being the 8th edition so far, we had our participants determine the direction of their entries. This time, there were two levels to the competition (The brief and the designs). Those who qualified for the first level moved on to the next and it kept getting better. Keep reading to see the entries and details.
---
Winning Entries
| Top 3 Entries | Total Score (300%) | Position |
| --- | --- | --- |
| Adebisi Damilare | Akande Oluwaseun Mayowa | 251% | 1st |
| Adeweso John Ireoluwade | Ojo Emmanuel Tolulope | 239% | 2nd |
| Uduokhai. O Daniel | Akinnubi Oluwadamisi Cosmas | Adenuga Aderinsola A. | 238% | 3rd |
Total score breakdown – brief 100% | visual clarity  100% |  presentation 100%
---
Worthy Mentions
Buhari Abdulrasheed & Abdul Muhammad – Rebuilding North-East Nigeria
Mercy Aboh – Repurposing a warehouse
Francis Ezeora, Charles Finebone & Daniel Yamah – The Cowry Center, Marina
Oluapelumi Johnson, Ayoyimika Odutayo & Aiyemomi Inioluwa – Kwara Business Hub
---
First Position – Model Post Covid Village
Adebisi Damilare and Akande Oluwaseun Mayowa presented a brief to tackle the challenges introduced by Covid-19 and other viruses that have plagued the earth. Their design promises to create a holistic and futuristic solution to the effect of Covid-19 and climate change.
Excerpt from the brief
"…I will design a model 21st century post covid-19 village in Ede, Osun State. The reason for the project location being in Osun State is due to it being in recent times an emerging hub for young tech enthusiasts who relocate to startup their firms or journey in tech education.
My design will both be a social and infrastructural response as it will juxtapose the psychological response of end users to the structures to be erected with respect to their impact on the earth."
---
Second Position – Another Village in the Sky
Adeweso John Ireoluwade and Ojo Emmanuel Tolulope came with a solution to the problem of affordable housing in urban areas with large populations. They achieved this by creating adaptable buildings that comsume less energy; are more comfortable, and have better space efficiency .
Excerpt from the brief
"…This project would be achieved using prefab technology to create vertical stacking, and with the use of locally sourced materials, create a dwelling that is affordable.

Finally, by using modular volumes, flexible and demountable realties are possible and when integrated with natural environment.
This ''village in the sky'' enabled by modern technology and an appealing aesthetics would transform the city of Lagos, improve the quality of life for urban dwellers, provide more units of dwelling for a given parcel of land, and create a unique identity that can be reproduced but with variety across Nigeria."
---
Third Position – flexible social housing
Uduokhai. O Daniel, Akinnubi Oluwadamisi Cosmas and Adenuga Aderinsola A. tackle the rapid decline in affordable housing, an essential ingredient in urbanization which is missing in recent times. They achieved this by an integration of modularity, sustainability, incremental housing, affordability, low-cost technological innovations, and social integrations.
Excerpt from the brief
"…New approaches to housing typologies and neighborhood design give households the possibility to increase the size of, and otherwise improve, their homes over time. By truly saving on costs, they also enable families to afford a better location.
By integrating flexibility into designs, they allow families to adapt the living spaces to their own specific needs. They also enhance subsidy-targeting mechanisms, as investments are more likely to go to intended beneficiaries."
---
The Competition 2021 ended on the 11th of August, 2021 and 3 major winners emerged. It came with a wave of clever solutions to real life problems. It was amazing to see the flow of thoughts and ideas that came from the brilliant minds of all the participants. Our judges were impressed with the turn up.
---
Our sponsors