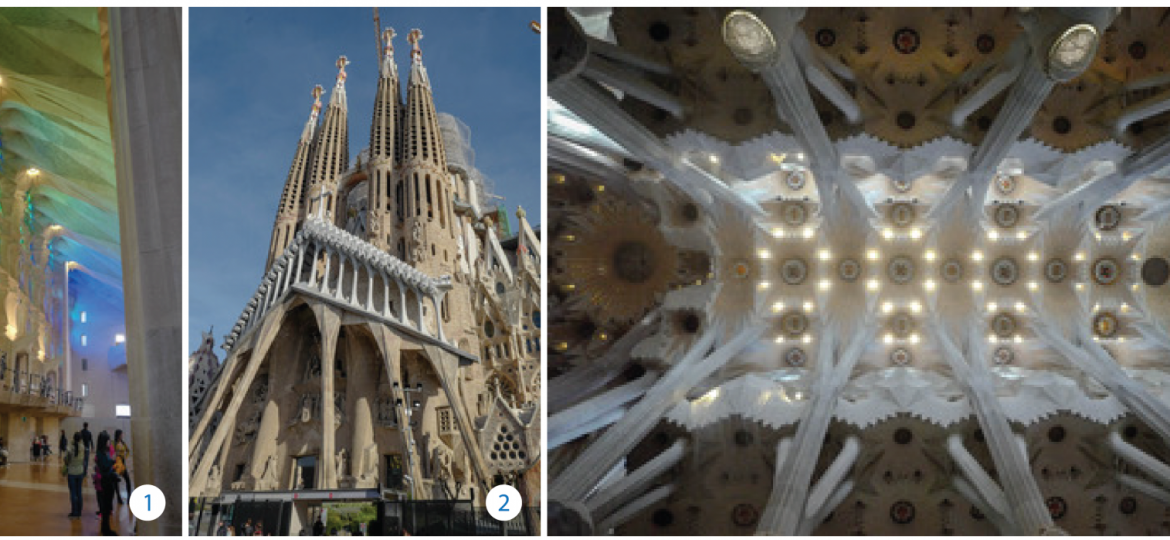 Barcelona
December 2018.
Time… Time… Time…
Today becomes yesterday and tomorrow today…
Everything is left behind. People, places, moments, memories… and then it's all gone.
We look for a way to continue and to remember.
We write, we create, we design, we build.
Design is to remember an individual,
And Building is to remember a time past.
I am writing to remember the time past.
During my recent travels, I had the opportunity to visit Barcelona, the home of Antonio Gaudi. An Architect whose body of work exists mostly in Barcelona but even after 100 years, it has transcended time and place. It is one of the few examples that exist where design remembers an individual as much as the time when they were conceived.
Contemporary of the Art Nouveau movement and creating his own identity, Gaudi continues achieving the dream of many designers; meaning in their life and a footprint that will last longer than most since permanence, like a ripple in the water, is transitory.
Here are some of the works of art he produced that have transcended time:
La Sagrada Familia
The castle-like edifice is one of Gaudi's most well-known masterpieces and is still under construction as a reminder of the Gothic cathedrals that would take hundreds of years to build.
Here are a few photos I took during my time there:
Image 1: dramatic lighting effects from clerestory windows and ceiling structure
Image 2: one of the completed sections of the building
Image 3: ceiling structure: a canopy of architectural wonder and ambiguity
See full images in the slideshow above (click left and right arrows to navigate)
A Few Historical Facts About La Sagrada Familia
The Basilica of the Sagrada Família was the inspiration of a bookseller, Josep Maria Bocabella, founder of Asociación Espiritual de Devotos de San José (Spiritual Association of Devotees of St. Joseph). After a visit to the Vatican in 1872, Bocabella returned from Italy with the intention of building a church inspired by the basilica at Loreto.
Antoni Gaudí began work on the church in 1883, taking over from the previous architect Francisco de Paula del Villar who had resigned that same year but was not appointed Architect Director until 1884. Villar's plan was for a Gothic revival church of a standard form but upon Gaudi's taking up responsibility for the project design, he made a lot of radical changes. When Gaudí died in 1926, the basilica was between 15 and 25% complete.
After Gaudí's death, work continued under the direction of Domenec Sugranes I Gras until interrupted by the Spanish Civil War in 1936. Parts of the unfinished basilica and Gaudí's models and workshop were destroyed during the war by Catalan anarchists.
The present design is based on reconstructed versions of the plans that were burned in a fire as well as on modern adaptations. Since 1940 the architects Francesc Quintana, Isidre Puig Boada, Lluís Bonet I Gari and Francesc Cardoner have carried on the work. The illumination was designed by Carlos Buigas.
La Sagrada Familia Today
The current director and son of Lluís Bonet, Jordi Bonet I Armengol, has been introducing computers into the design and construction process since the 1980s. Barcelona-born Jordi Fauli took over as chief architect in 2012. Fauli announced in October 2015 that construction is 70% complete.
Casa Batillo
In the pictures above, you see another of Gaudi's masterpieces with its incredible use of light and its forgotten neighbour.
Image 1 and 2: façade design: it seems the goal of the designer was to avoid straight lines completely
Image 3: a vertical tunnel of windows, patterned walls and natural light
Image 4: furniture designed by Gaudi on display
Image 5: unique wall and ceiling structure
A Few Historical Facts About Casa Batillo
Casa Batlló is a building in the center of Barcelona. It was designed by Antonio Gaudi, and is considered one of his masterpieces. A remodel of a previously built house, it was redesigned in 1904 by Gaudí and has been refurbished several times after that.
The local name for the building is Casa dels ossos (House of Bones), as it has a visceral, skeletal organic quality. The building that is now Casa Batlló was built in 1877, commissioned by Lluís Sala Sánchez. It was a classical building without remarkable characteristics within the eclecticism traditional by the end of the 19th century. The building had a basement, a ground floor, four other floors and a garden in the back.
It seems that the goal of the designer was to avoid straight lines completely. Much of the facade is decorated with a mosaic made of broken ceramic tiles (trencadis) that starts in shades of golden orange moving into greenish blues. The roof is arched and was likened to the back of a dragon or dinosaur. A common theory about the building is that the rounded feature to the left of centre, terminating at the top in a turret and cross, represents the lance of Saint George (patron saint of Catalonia, Gaudí's home), which has been plunged into the back of the dragon.
I apologize for the limitation and frugality of my thoughts in my writings. My thoughts are limited and brief and by no means are all-encompassing of the understanding of design, light, and beauty that was captured by one man. People spend their lives studying the body of work and life of Antonio Gaudi.
But I know that as I grow older, I begin to understand that WE are architecture. Who we are, our thought, our values, our ideas, and our dreams exist in our daily lives as well as in our designs and in our search for becoming.
Writing and Image Credits: Mauricio Amado
Historical facts: wikipedia.org