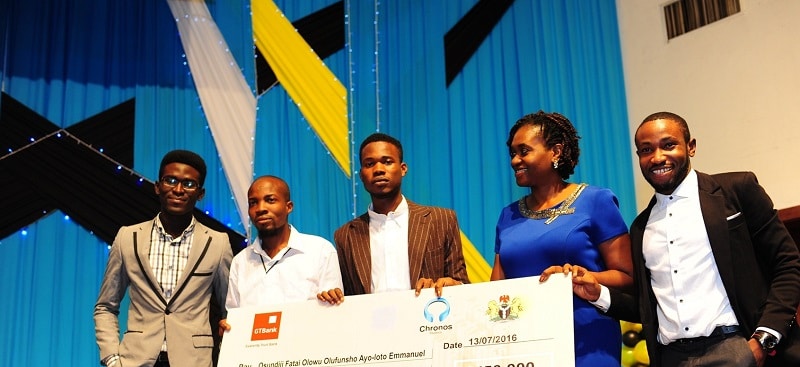 Good evening …. Thank you for granting us this interview out of your busy schedule. Now, moving forward…..Let us get to know the group. We want to know your names and your background
Emmanuel: I'm Emmanuel Ayo-loto currently a Final year student of the Department of Architecture, Obafemi Awolowo University Ile-ife.
Fatai: I'm Fatai Adelekan Osundiji, currently enrolled as a M.Sc. student of Architecture at Obafemi Awolowo University, Ile-Ife.
Funsho: I'm Olowu Funsho T.
We are Team Chroma.
Why did you enter The Competition 2016?
Emmanuel: It was during the holiday, Fatai asked if I could join in
Fatai: My participation in the The Competition 2016, was as a result of my interest in pushing my design and presentation skills a little further beyond the classrooms. I had participated in a few design competitions before, one of which is The Competition 2015 where my entry (De-Code Building) made the top 5 position
Funsho: I attended The Creative Architects at UNILAG a year earlier and I was very much impressed by the program in which one of the highlights was the competition and one of my group members had a submission. I told myself I would compete the next year. Also, the opportunity to put into motion my perspective of design and see what people really think about it motivated me to enter in for the competition.
Emmanuel, Funsho, Fatai with Arc. Adeleye and Hassan (L-R)
What did you think of the brief given and what were your challenges during the Competition 2016?
Fatai: When I first saw the brief and considering the time-frame available for the project, I knew it would be a tough assignment to handle alone. So I, Olowu Funsho and Ayo-loto Emmanuel decided to come together as a team. We were faced with several challenges; like defining the brief, coming up with the design idea and process, outlining the "future" and "futuristic" elements we wanted to include in the design, and how we wanted to present the work. However, a lot of work went into the project, we tried as much as we could to tackle them collectively, which was quite evident in the results.
Funsho: Well, I think the brief was really a good one. It was technically challenging, especially in interpretation and programming of the spaces as spelt out in the brief. I remember the word "futuristic" caused a lot of rancour at group meetings. One person said that 'futuristic' in the context meant "nearly impossible thing". Another person said "futuristic" was talking about just five years from the time. On and on, interpretations flew. So, interpreting the brief was the biggest challenge that we faced.
Emmanuel: It was quite tasking, given the fact that it was a competition. We had to produce something that would stand out, and the process was pretty difficult. We had several plans that didn't come through.
What has changed about your life and design mode since becoming winners in The Competition 2016?
Fatai:  I can say a number of things have changed since winning The Competition 2016. There is this newfound confidence in me…lol. I believe I can now handle design briefs better, without the fear of going overboard or doing less than the expected. Especially when I saw the various amazing entries at the Creative Architects, it shows students of architecture in Nigeria are actually thinking and working more creatively in recent times. This I'm proud of and personally would want to continue doing.
Funsho: Well, the process we went through to produce one of the winning designs has of course not left us the same. Since winning the competition, design for me has been on another level, especially when it comes to brief interpretation (Facility programming or brief taking). Going through those processes activated in me critical thinking and ability to innovate among many things while also discovering new workflow as different software has to come on board to achieve the output
Emmanuel: A lot, it was an opener for me to architecture competitions, we later won the Velux International Award for Student in Architecture: Africa region and that was quite a change in status.
How has it impacted on your attitude to life and success?
Fatai: Winning The Competition 2016, has no doubt turned on a positive and inspiring switch in me. Right from that event day when we were announced winners to this present moment. I truly agree that dedication, hard work and "good" teamwork pays.
Funsho: Considering the level and quality of works that were exhibited by other contestants and me still coming out as one of the top guys in the competition produced a kind of "can do" mentality in me, Now I believe in what I do, my ideas and approach to design have been juried by one of the best in practice and the academic. It makes me feel very confident about what I can do or contribute to the field of architecture
If you had an opportunity to partake in The Competition and work on the same brief again, what would you do differently?
Emmanuel: A lot. We have seen the way some of our competitors approached the brief and that is quite interesting to us. We have been able to learn from the few mistakes that we made
Fatai: We would try and avoid restricting ourselves on the design and focus more on interesting details. Time management too is key, our presentation at the final stages, lacked the required time needed.
Funsho: I will definitely look into my time management. You know we didn't really finish up the work. We felt that we would have won if only we had managed our time well and gone the extra mile.
What has been your proudest moment as an architect?
Emmanuel: Winning the Velux International award for students in Architecture Africa Region
Fatai: After winning the popular Chronos Studeos; The Competition 2016 Award, as an architect and an architecture student, my proudest moment was when I received the call from VELUX, Denmark, informing me that we are Regional Winners in the International VELUX Award 2016 for students of Architecture, Daylight in Buildings Category. Those were indeed amazing moments.
Funsho: Recently, in a consultant meeting for a big national institution which was being built in Kaduna, the opportunity to contribute in brief development, bringing the idea of facility programming and post-occupancy evaluation with my contribution leading to review of some part of the design is by far my proudest moment
Do you have any words of advice for prospective contestants?
Fatai: Yes, and a number of them actually.
The most important advice from me is having the right attitude and a positive spirit. Try to form a dedicated team and start early, putting your very best too. You will be surprised at how much progress you will make on your project in a short while, and will see if your ideas are working or not. Finally, consult references books, the internet, real-life scenarios, they all help a great deal.
Funsho: There are 3 things
 Interpret the brief correctly
 Have a schedule of work for the output
 Think critically or else you will be shocked when you see other works on the day of the event
Emmanuel: It's not as difficult as it looks and starts as early as possible.
We appreciate you, Team Chroma, for this interview. We wish you and your teammates' great success in all your efforts.
Thank You.