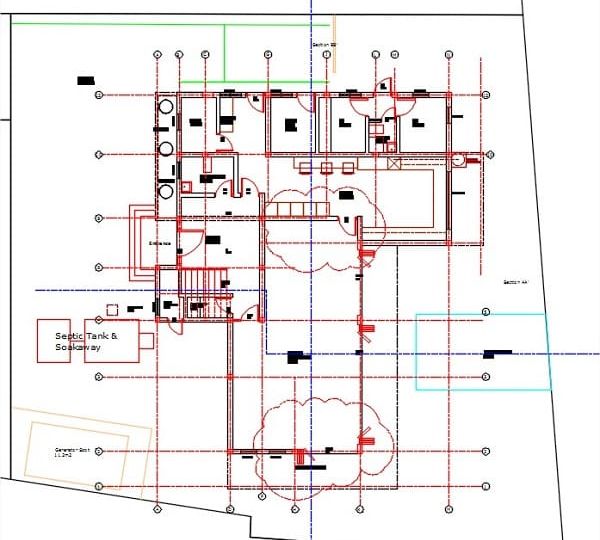 The client approached us, asking for a full set of 3D visuals for a private residence of his project in Ikoyi, Lagos. The primary objective was, to enhance the original AutoCAD drawings he had received from his original Architects and builder (Concept Homes NG) and also aid the construction process such that he already has a preview of what the final building will look like and every party involved in the construction can work towards the final result.
These are the original files by Concept Homes NG received from the client.
Modelling
We started off by choosing the contemporary style for facades and started development in the Architectural Design Software. Working with the original floor plans, we made a few modifications to suit the intended looks and increased floor areas for maximum value. There were two sessions of reviews with the client. A few changes were made at the pool area, and feature walls were identified to give the façade a pop. Downlighting was also proposed at the entrance and however tempting it was to diversify, we made sure to tie the façade elements to speak the same language.
The sketch updates during the reviews
Materials
As far as materials were concerned, the building was predominantly cotton white in colour. However, accent colours like dark grey trowelled concrete and feature walls with cladding (pseudo wood patterns) were introduced to give a distinct identity to the building exterior.
The material slates showing the trowelled concrete and cladding
Lighting
We played much with wall lighting to increase the ambience of the outdoor spaces especially the poolside. Also, we had pole lighting at the entrance along the entrance fence to enhance the home feel.
Lighting locations for the scenes and the setting for the wall lights
Rendering
After the scene was completely populated, as work standards, we carry out test renderings to ensure we have the right light intensities and overall mood, the correct materials and scene composition which includes the landscaping, and surrounding features.
Final Renders
Interiors and Construction
The building is presently under construction and we will showcase how the interior scenes were made in our next writing. It was fun bringing life to this project and that is what we strive to deliver to our clients. Design is everything.