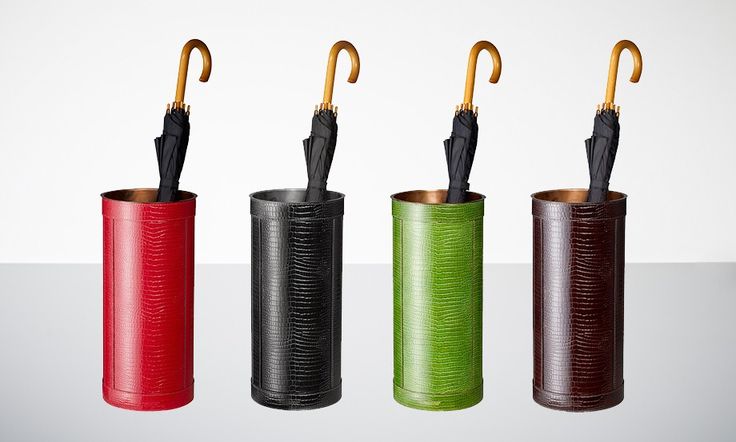 Where do you store your umbrellas? The corridor? Balcony? Your entrance porch or door step?
Soaked and dripping umbrellas are a nuisance at the home or office, so how about incorporating an umbrella stand into your chosen place?
"An umbrella stand, holder or container is a useful storage cabinet for an umbrella and is usually to be found at the entrance hall or building entry point.
The primary purpose is for storage and to prevent unsightly and possibly even dangerous wet patches all over the floor. They come in various shapes, sizes, colour and composition. Styles range from simple boxes to ornate carvings. In addition to being a useful furniture piece, an umbrella stand can serve as an accent or décor piece.
Not into fancy things? As you can see below, a simple, narrow partitioned box will do just fine!
---
WHAT STYLE DO YOU PREFER?
1.

OLD STYLE
This rattan style of umbrella stand definitely has an old English country feel about it, but whilst it would definitely suit a traditional decor, it has a minimalist feel to it that would also make it a good fit for a home or office which goes by the old adage of 'less is best'.
---
2.

NEW STYLE
Yes, even umbrella stands can be fun and funky!
The grey and white versions of these mesh holders would especially suit an office. However, we reckon the brightly coloured variants would make a perfect holder for children who would otherwise be more likely to ignore any stand and throw their sopping wet umbrella on the floor.
---
3.

ANY STYLE
It even works to bring the feel of the outside inside, as with this aluminium bucket style umbrella stand.
The fact is that there are no rights or wrongs here, so don't be afraid to display your own tastes when introducing smaller elements such as an umbrella stand into your home or office interior design scheme.
---
Chronos Interiors brings practical spatial advice to your fingertips. We'd love to see pictures of your holder preference, so do send us pictures of how this works for you by emailing tosin@chronos-studeos.com.
Meanwhile, you can also check out some more of our favourite umbrella holder designs from across the globe by simply clicking the link below:
Follow Chronos Studeos's board Umbrella Stands on Pinterest.
---