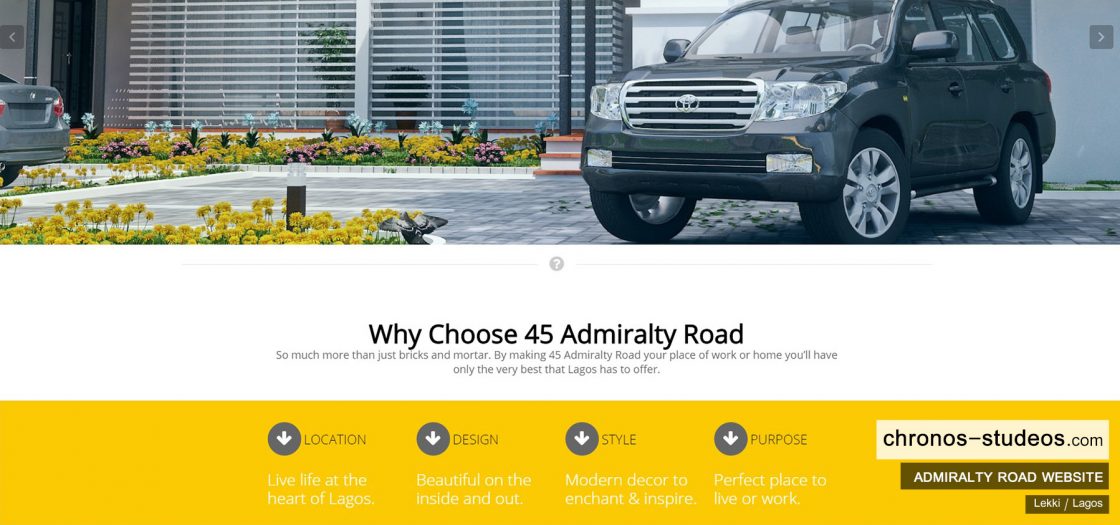 Photo summary of how our works sold the Admiralty Road Project
When we got called up by the client, an Estate Development Company, they were in need of an ultimate solution to complete the residential project and sell it within the shortest possible time to the best possible buyer. We have been hired to enhance the original architectural designs, create detailed drawings, supervise project construction, produce 3D visualizations AND create an interactive and mobile-friendly website to promote and ultimately sell a new build residence originally designed by DKR Associates in the prestigious Lekki area of Lagos".
The timescale: Only six (6) months. Here comes the ultimate question..
How did we do it?
As Architects and Visualizers, we are well used to working crazy hours to succeed in what we do. This time around, though, there were definitely a few raised eyebrows in the Chronos Studeos office when we actively embarked on this triple whammy commission. Sheer commitment, our desire to satisfy our client and a couple of Red Bull drinks did the magic.
Did we succeed? To paraphrase President Barack Obama:
Yes we did!
We, therefore, thought while the building is being completed for occupancy, we'd share with you the highs and the lows of working night and day to help our client achieve their ultimate desire; to sell this property in less time than even we would have thought humanly possible. Below is what the client said about our involvement.
I always knew I chose the right team. Everyone was committed to the goal from the beginning and that was the most amazing thing – KSO (Greer Estates)
---
ARCHITECTURAL DRAWINGS
FROM 3D VISUALIZATION TO REALITY
INTERIOR DESIGN & DETAILS
Chronos Studeos' Architects and Visualizers were so immersed in this project that it's possible we spent more time going in and out of this luxury development than we did our own homes.
Of course, our role didn't end at the front door. As you can see here, we were also committed to producing interior renderings & construction details while the client contemplated on building change of use from residential to commercial. We will however, share only very little of the design details at this point.
– RECEPTION (OFFICE OPTION) –
---
 – OFFICE SUITE OPTION (PENT FLOOR) –
---
PRODUCT BRANDING & INTERACTIVE MEDIA
Once the Architects and other senior members of the team have removed their hard hats and returned to the comfort of their offices, content in the knowledge of a job well done, you'd expect us to file the project as 'Completed'.
However, our role in the story didn't end as while the building construction was ongoing, we had to do our bit in helping sell Admiralty Road.
This is where the Chronos Studeos branding & media team came in and their years of experience at building and maintaining websites was called upon. An mobile-friendly &  interactive website was born.
As you've already seen through our architectural drawings and 3D Visualizations, Admiralty Road is a very modern, hugely appealing property. Our media and design team therefore opted for a bright and equally modern look for the website via which the word would spread about the new property. The chosen yellow/black theme is largely a reflection from the client's corporate branding theme, however, we decided to complement it with white (the universal colour). And so, we got the building ready for purchase and the website went LIVE to prospective buyers. Before we could say JACK, the building was SOLD while our client gazed on with bewilderment at such sales conclusion speed. We have helped him position his product in the best possible way which attracted just the right buyers he needed.
---
SOLD!
We laughingly admit that it's quite possible it took longer to design and implement the website than it did to sell the property! Not that we mind, as it means a job well done.
As the sun sets on our involvement with Admiralty Road, our Architects and Visualizers undoubtedly felt a great sense of accomplishment. More importantly, though, the client was equally happy to see Admiralty Road pass quickly and safely into the hands of the buyer.
One thing we have learnt about this project is summarized below as we haven't only succeeded in completing the project, but we have also earned ourselves a very satisfied & loyal client.
Always give it your best. Your very best..!
As we close the book on our own journey from commission to completion of this project, we're sure we'll continue to feel a deep attachment to the building which we helped turn into a home. No doubt all future journeys we make through Lekki will fill us with a sense of pride and hope for our team and, indeed, local residents of Lagos as this vibrant, bustling city we love continues its march of progress and regeneration.
What do you think about this project. Be kind to comment & share with your friends.
---
 :: MEET OUR TEAM ::
The following Chronos Studeos team mates worked to ensure the success recorded on this project:
Hassan Anifowose
Architect, Visualiser & Animation Supervisor at Chronos Studeos
LinkedIn profile
Femi Osewa
Lead Visualizer, Designer, Strategist at Chronos Studeos
LinkedIn profile
Oyebode Oluwaseyi
Architect & Visualizer at Chronos Studeos
LinkedIn profile
Olumide Oshikoya
Architect at Chronos Studeos
LinkedIn profile
 Oluseyi Olusanya
Graphics Lead at Chronos Studeos
LinkedIn profile
James Adekunle-Eyiaro
Architect at Chronos Studeos
LinkedIn profile