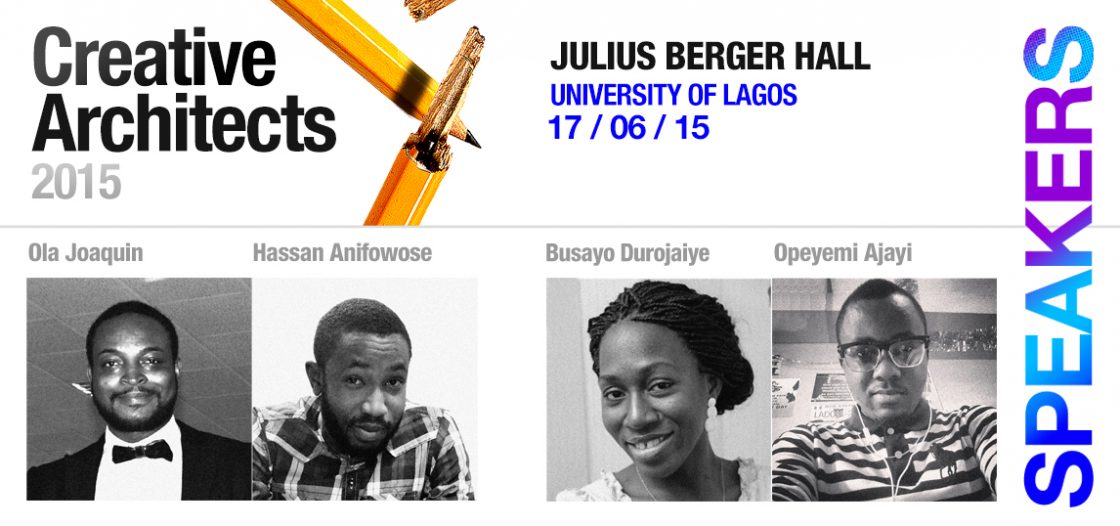 We're excitedly counting down the days to Creative Architects 2015, which will take place inside the Julius Berger Hall at the University of Lagos (UNILAG) on June 17th (9 am to 2 pm).
The second consecutive year we've staged this celebration of the architecture industry in Nigeria, Creative Architects 2015 will once again include talks and a question and answer session with four architecture and design professionals. One of these will be the co-founder of Chronos Studeos, Architect and Animation Supervisor Hassan Anifowose, whom you can watch in this video explaining why you should attend Creative Architects 2015.
.
With your ticket reservations now coming in thick and fast, we now reveal (in no particular order) the names of our guest speakers. We thank them and we thank you for supporting Creative Architects 2015.
---
AJAYI OPEYEMI DANIEL
Ajayi Opeyemi Daniel graduated from the Federal Polytechnic Ede, Osun State, University of Lagos, where he studied Architecture. A perennial seeker of knowledge, Ajayi also attended Nesburg School of Entrepreneurship and Innovation Management, followed by the successful completion of a certificate in entrepreneurship management in Lagos Business school (Pan-Atlantic University). He is also a winner of the Etisalat easy business millionaires hunt programme, founder and Senior Creative Director of DESIGNHIVE INC, a conglomerate of architects, interior designers, 3D visualisation artists, from which stemmed Arc-hive, brand consultants (brand-hive), and product and furniture designers and carpenters (fur-hive).
Ajayi also runs the hive institute, where they teach individuals and corporate individuals software and entrepreneurship for self-empowerment.
Founded design hive inc. from a 50,000naira loan and got to do interior designs & graphic design jobs for the University of Ibadan.
In what downtime he has in his clearly packed professional life, Ajayi describes himself as a "crazy fan of art" and classical music and continues to study and nurture his own self-belief and confidence.
---
BUSAYO DUROJAIYE
Co-founder and Architect at PODEX Associates, based in Lagos, Nigeria. Busayo had her high school education in Federal Government Academy, Suleja, Niger State. (Centre for the Gifted and Talented). Subsequently, she obtained the Bachelor of Science and Master of Environmental Science degrees both in Architecture from the University of Lagos, Nigeria, graduating with First Class Honours and Distinction respectively. She is a full member of the Nigerian Institute of Architects (MNIA) and a chartered member of the Royal Institute of British Architects (RIBA).
In 2014, she participated in TechWomen (an empowerment program by the US Department of State for emerging women leaders from Africa and Middle East) which held in California & Washington DC, where she had an opportunity of mentorship at Autodesk, USA.
When not at work, she can be found swimming, playing tennis, enjoying a community event, volunteer task or thinking up something stirring with her colleagues and friends.
---
OLA' JOAQUIN IYINOLAKAN
Ola' Joaquín Iyinolakan, also known as "Brief", is an architect, creator, innovator and writer. He is the founder of Brief Design, a design think-tank that currently has 3 arms: Brief Design Workshop (BDW), Brief Design Projects (BDP) and Brief Design Awards (BDA).
He is the editor and publisher of Architectural Brief, a design journal he conceived in his 1st year of architecture school and which he began publishing in his 3rd year. The journal has now morphed into a design blog (www.briefdesignworkshop.com/blog).
Ola' co-founded and served as deputy editor-in-chief of Eko Architect (The official journal of the Lagos chapter of the NIA) with Bola Ogunbodede (his lecturer in architecture school). He is currently developing a number of research and design projects, chief of which are www.briefdesignworkshop.com, the online designers' portfolio and archive, as well as the Brief Design Awards and Competition, both of which seek to spur and reward creative momentum in Africa.
Away from the office, Ola' is a fine connoisseur of tea, coffee and wine. He enjoys fervent, intellectual argument, and is very passionate about Africa and loves the city of Lagos.
---
HASSAN ANIFOWOSE
More widely known by the nickname of Cortex, Hassan Anifowose is a young architect and CG visualization artist who, in 2007, set up the architecture, visualization and multimedia firm Chronos Studeos.
Keen to encourage young architects and CG artists who harbour a similar talent and passion for the subject, Hassan regularly hires new young minds to join the constantly expanding Chronos Studeos team as they undertake projects for clients in Africa and beyond.
A Graduate Member of the Nigerian Institute of Architects whose design, 'SOHO Living for Urban Professionals' made it to the 2nd stage of the World Architecture News (WAN) Awards in December 2012, Hassan also regularly contributes articles here on the company website, specialising in 3D visualization, 3D concepts, keyframing, lighting and animation tips.
Amongst the highlights in an increasingly large portfolio of works by the Chronos Studeos team of architects and 3D visualizers, are the Project Monrovia and The Empire, as well 3D visualizations for OFON offshore living quarters, Omega Towers, Twin lakes project, the Nigerian Army armoured personnel carrier(APC), the NCDMB headquarters building and many other private residences.
Hassan constantly looks forward to contributing his expertise on architecture and 3D visualization to the Architectural design & CG world.
When finally away from his desk, Hassan enjoys video games and is a red belt in Taekwondo. He also combines two other great interests: nature and photography.
---
For those of you who'll be at the University of Lagos on June 17th, we hope you'll have your smiles at the ready for the people from, BezalelForce Studios whom we've commissioned as the Official Photographer for the Creative Architects event.
---
[/vc_column_text][/vc_column][/vc_row]