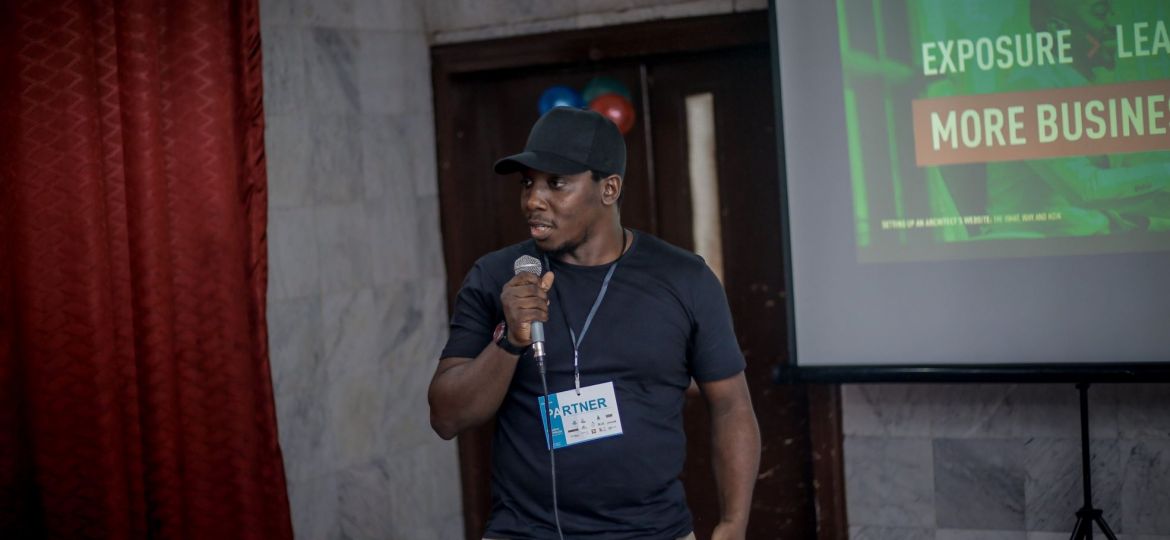 Mr Michael Temidayo Johnson is an architect/entrepreneur who is very passionate about design and the built environment. He is the co-founder and content curator at Livin Spaces (an online architecture and design platform), Livin Spaces Jobs (an online job placement platform), and also serves as the principal creative for Divinity Spark, an indigenous creative services company offering brand strategy, design and implementation services.
ESTABLISH AN ONLINE EXPERIENCE
Mr Michael's workshop was an incredibly insightful guide into how architects can establish an online presence that is not only a proper representation of their practice but one that can help them generate more income. Speaking from his experience as a graphic designer, content writer and years of operating two successful online platforms, Mr Johnson spoke about some core issues a lot of architects seem to be unaware of.
He shared how important having an online presence is, as this will many times lead to referrals, requests, and enquiries that just might land you your next client.
He began by establishing the major purpose why one would choose to build a website- exposure. He also stressed the importance of simplicity in the design of websites.
Your visitors are on your website for one thing- information. It's less about you, and more about them so don't get too carried away with abstract concepts.
You are not building your website for other architects and designers, but for potential clients and existing clients as well. So you must not be pre-occupied with impressing other designers. The rest of his presentation was split into four parts. Below is a run-through those four sub-topics:
What Your Website Must Be
In building an effective website you need to take note of the following key points:
1. Functionality and ease of use.
2. Intuitive navigation
3. Legible, readable texts
4. Clean layout, nice colours and shapes
5. High-quality images: capture and document your work. They are your buildings.
6. Optimization: Your website should be responsive (that is, it must be adaptable to different screen displays on different types of devices).
7. Search Engine Optimization (SEO) and Keywords.
8. Optimize for social media: You cannot be on every platform, so choose the ones that will be most helpful to you.
9. File size: You have to pay attention to the sizes of images in order to prevent your webpages from becoming too "heavy". This will affect the loading time and consequently, user experience. Find ways to compress images without compromising quality.
10. Relevant: Your website must offer information and answer questions.
Websites are about exposure. One way to stay relevant is by writing, and architects are in the best position to write about their work. It is important for you to develop that skill. When you create good content around your work, that's how you generate leads.
What Your Website Must Say
1. Who you are: This isn't just for practices. You can be an individual and have a great website as well. It is important for you to be able to define who you are and say it properly. Also, try to be somewhat personal. Do not be too generic or vague, using phrases like "multi-disciplinary" which is used far too often.
2. What you do: Mr Johnson mentioned a few architects and the types of projects they are known for even though those weren't "niches" they had set out to carve for themselves. In describing your projects, be sure to share the work you have done in areas where you are most competent.
3. How to contact you: Be sure to include a Call-to-Action (CTA) on your home page.
4. Blogging: Your website should say what you know. When clients are looking for information, they are looking for solutions. Write about questions people might be asking in relation to the built environment e.g. "Building approval process in Lagos", "How much it costs to build a 2 bedroom apartment" etc. He also discussed whit is important to offer value for free.
Inform, educate and engage your visitors.
A lot of people who are not in the industry don't even know what an architect does and it really isn't their fault. It is our responsibility to educate them.
He shared how Livin Spaces is not an architectural practice but they often get calls and messages asking if they can handle projects for people. This is because they have put out so much content relating to the built environment that Google searches within our context often lead to their website.
He pointed out this simple rule:
The more content you put out about what you do, the more you educate people about what you do. The more you help them find out about a problem that they're trying to solve, the more likely they are to engage with you as their architect.
How do you build your website?
Below are the 5 basic steps:
1. Purchase and register your domain.
2. Sort out the hosting for your website.
3. Choose a content management system.
4. Choose or buy a theme.
5. Upload content.
It is also important to feature your work on other platforms.
Skills You Must Develop
1. Creative writing
2. Photo editing
3. Graphic design
4. Programming (although not mandatory, but it would be helpful)
For a summary this long, you can probably tell a lot was said between the lines. Download his full presentation for FREE and watch the full video via the links below:
Setting Up an Architect's Website – Michael Temidayo Johnson Speaks at Creative Architects