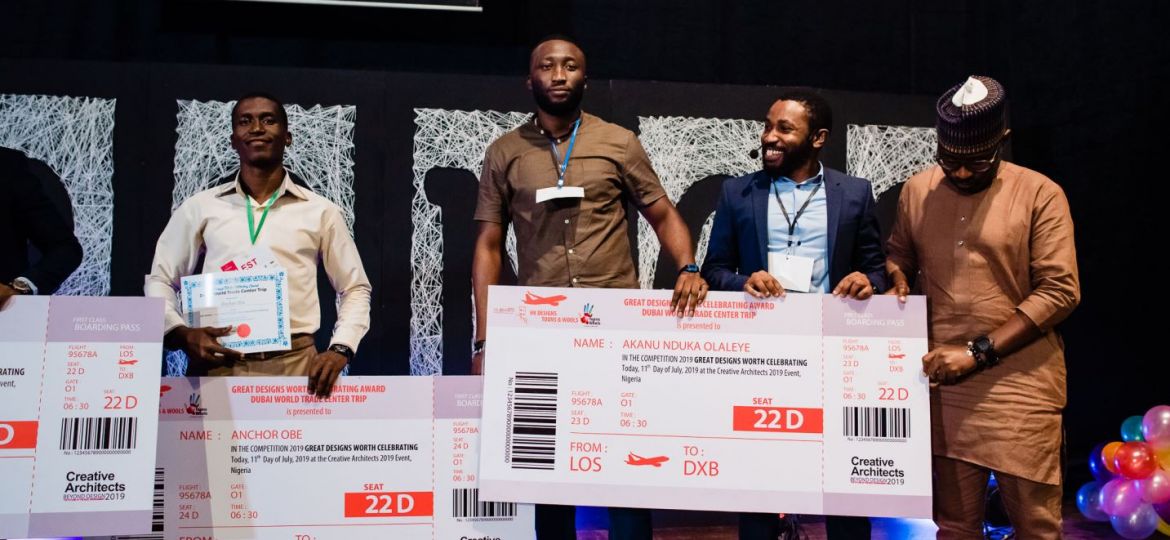 This year, being the 7th edition of The Competition, the design brief was very different from the six preceding editions. This year's theme was: Great Designs Worth Celebrating, and the idea was to allow for almost anyone to participate by sending in exceptional architectural designs whether these were student projects or commissioned work. Participants were even allowed to include site pictures in their submissions, although this was not compulsory.
The Competition 2019, ended on the 7th of July 2019, and the results were announced at the Creative Architects 2019 event on the 11th of July 2019. There were three major winners alongside ten other group and individual submissions recognized for their stellar performance in various categories.
With the support of our Sponsor, Toons and Wools, the winners are attending The Big 5 Exhibition at the Dubai World Trade Center between November 25-28, 2019 – all flight tickets and hotel lodging fully paid.
Winning Entries
Winning Entry 1 – Akanu Nduka Olaleye


Winning Entry 2 – Anchor Obe
Winning Entry 3 – Akinyelure Temidayo



Cash Prizes
Interior Design & Furnishing – Arinze Anozie, Temilola Oyenuga
Modular Consistence – Ajegbile Tayo
Design & Presentation Clarity – Ajibowu Michael, Bayode Jude, Tayo Obe
Best Cinematic Video – Akola Olufemi
Art & Heritage – Olorunfemi Samuel
Worthy Mentions
Design Sketches – Quadri Ahmed Adeyinka
Impressive Solo Entry – Azoom Ngohire
Design Thinking & Socially Equitable Project – Ogunsanya Damilare, Akanu Nduka, Adefemi Folarin, Oyedele Olaoluwa
Best Opening Visual Mood – Onoh Previous, Nwoke Sharon
Material Use – Muhammad Habeeb Abdul
Our Sponsors
Toons and Wools – toonsandwools.com.ng/
Construction Kaiser – constructionkaiser.com/
Formwork Limited – formworklimited.com
Global Property Partners – globalpropertypartners.net/
Hafsat Signatures – hafsat-signature.business.site/
HK Designs Limited
James Cubitts Interiors – jamescubittinteriors.com/
BCube Designs – instagram.com/bcubedesigns/
Our Partners
RyG Designs – rygdesigns.com
Castles Lifestyle – castles.com.ng/
Chronos Stores – chronos-stores.com/
Print my Drawings – printmydrawings.com/ 
Buildace Magazine – facebook.com/bdacemagazine/