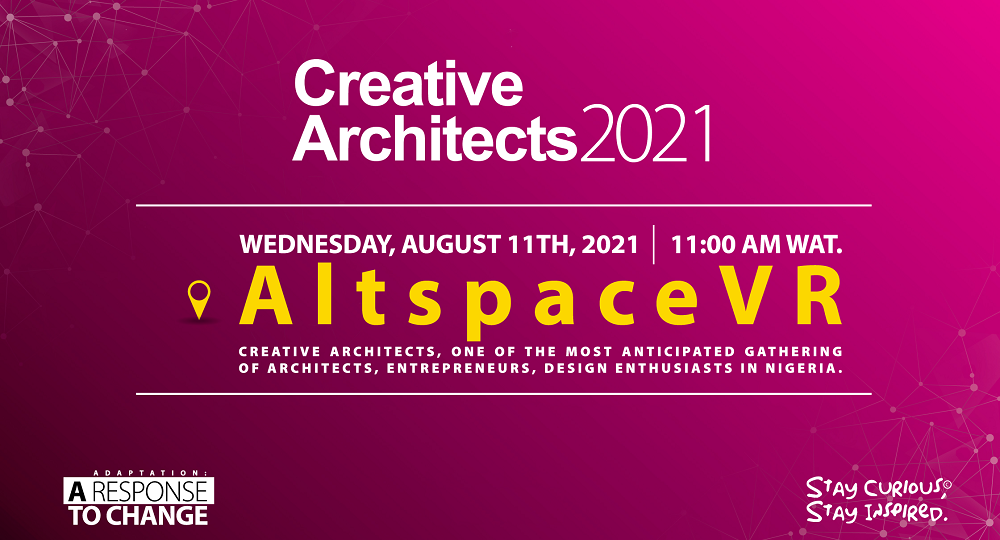 It's coming! The annual event we look forward to hosting and we're sure you look forward to attending…
If you have not attended any Creative Architects Event before now,  you will want to clear your schedule for this one! This is the 8th Edition of the event and the theme is 'Adaptation – A Response to Change'.
We'll focus on exposing design and construction professionals, especially the new generation, to the recent chain of events and how designers can respond to change in the built environment. The discussions will cover the trends that existing design practices should be mindful of, concerning challenges, opportunities, and processes for adaptation.
Inspire, Connect, Educate
Why Creative Architects?
 Creative Architects aims to create connections and foster growth amongst stakeholders in the Built Environment Sector in Nigeria. We saw these gaps and decided to fill them. Since 2013, this community has grown and expanded beyond the city of Lagos drawing attendees, partners, sponsors, and jurors for the design competition, from different locations within and outside Nigeria.
BRIDGE THE GAP
Creative Architects also brings architects-in-training— especially those still in school— together to listen to professionals discuss real problems within the built environment; share how they can be different (ethically and creatively) and thrive in Nigeria's challenging economic landscape. It is also a deliberate exposure to new technologies and possibilities in design and construction, that provides the direction(s) the younger generation needs to make strides in the industry.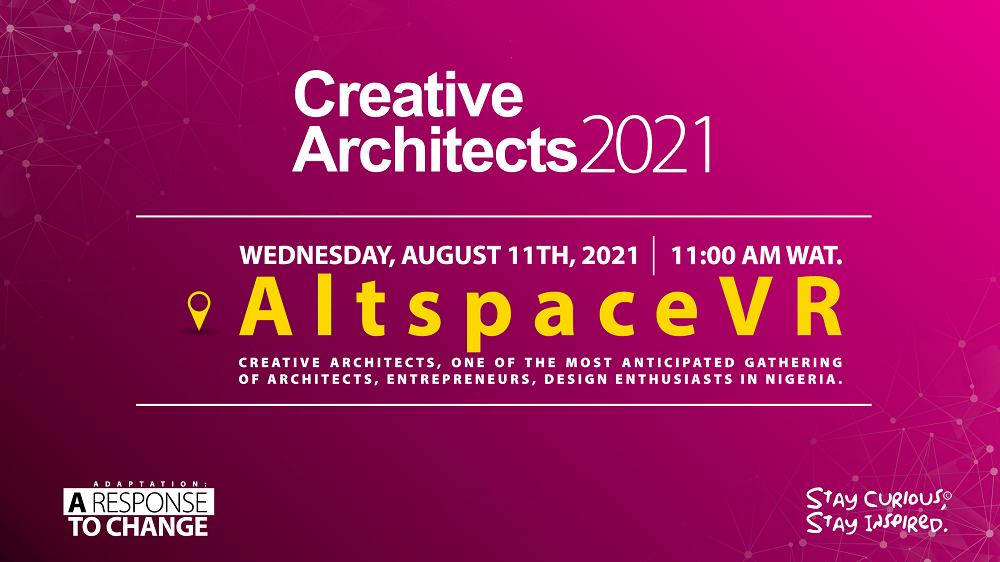 L
EARN from EXPERIENCED PROFESSIONALS
Stay inspired as you learn from the experience of our speakers. These are people who have gone through a unique journey as they progressed in the industry. You get a live account of how they started, why they made certain choices, the transforming encounters, and moments of discovery.  They also share personal mistakes you can learn from and tell you how they navigated the obstacles in their creative journey. This could be the inspiration you need to make life-changing choices.
NETWORK WITH GREAT MINDS
You get to meet like minds, ask questions, learn from experts and build lasting connections. "Creative Architects" is a single event that creates a ripple effect.  Being part of it provides a platform for strategic career relationships which could lead to collaborations that pay off in the long run.
A TIME WELL-SPENT
Creative Architects 2021 promises to be worthwhile. Our team has put things in place to ensure that you get the maximum reward for the time invested. The conversations open you up to an amazing wealth of opportunities.
LET'S GO!
You can help us spread the word. Send in helpful suggestions and feedback from the previous years.
Are you an experienced professional? Become a partner. Come work with us to make this year's event better than all the others put together. Promote your brand. Support our cause.
registration
---