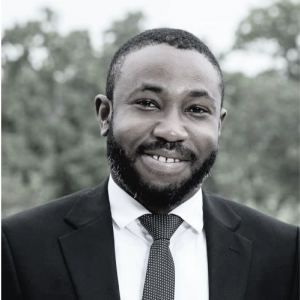 This year's line-up will have you on the edge of your seats. Guaranteed! Some of them will be appearing for the first time, others have been speakers, sponsors, jurors, partners, and attendees at previous events. We carefully picked them out for their expertise, stellar achievements, resilience and commitment to excellence and innovation. Here are their profiles:
Igbuan Okaisabor

A seasoned Engineer and frugal Entrepreneur, Igbuan has successfully grown Construction Kaiser Limited from a 5-man company carrying out minor renovation works, we have grown to become a national force in the Nigerian construction industry. He has attended several local and international courses, some of which are from the Lagos Business School and Harvard Business School Boston, MA in the United States of America.

Ade Shokunbi

Ade Shokunbi is a British-trained Architect architect with more than two decades of experience in the built environment both within and outside Nigeria. He worked for several Architectural Firms in the UK after which he set up an architectural and interior design firm called CFA Interiors. Arc. Shokunbi moved back to Nigeria in 2006, where he along with Mr Patrick Koshoni, set up Patrick Waheed Design Consultancy Ltd. (PWDC) in Lagos, Nigeria that same year. 

Dipo Davies

Winner of the 2006 Fate Alumni Model Entrepreneur Award & Founder at Realhouse Communications Limited. He is a lawyer and is the publisher of Castles, a leading Real Estate magazine (launched in 1999). He has built his business by lessons he had to learn himself and by committing to identifying problems and strategizing to keep getting publications to the right audience and consumers.

Tosin Oshinowo

Tosin Oshinowo is an architect, creative entrepreneur, public speaker, author, and award-winning amateur photographer. She is also a member of the Royal Institute of the British Architects (RIBA). She has been lead Architect at cmDesign Atelier (cmD+A) since 2012. cmD+A is an architecture design consultancy practice based in Lagos and is best known from the Maryland Mall, Ilashe beach house and Senchillo beach house. Her interests are in architectural history and socially responsive approaches in architecture design and urbanism. Arc. Oshinowo is also the founder and Chief Executive of Lifestyle furniture line, Ile Ila (House of Lines). She has been featured on ArchDaily, Genevieve and tw magazine, the BBC and quite a few others. 

Hassan Anifowose

Serial Entrepreneur, Architect and PhD Student at Texas A&M University researching BIM and Blockchain Technology. He is Co-Founder at Chronos Studeos, Chronos Stores & PrintMyDrawings.  He has, since founding Chronos Studeos, been an active contributor to the visualization industry in Nigeria on a large scale. His work "SOHO Living for Urban professionals made it to the 2nd stage of the World Architecture News (WAN) awards in December 2012.

Jacqueline Aki

Principal Interior Designer at James Cubitt Interiors responsible for the office in Lagos. She has presided over the Space Planning and Interior Design commission for Ericsson and MTN Ghana Head Offices. She joined James Cubitts in 2008 as a Building Technologist and Interior Designer. She became the Managing Director of James Cubitts Interiors in 2013 and is now a Managing Partner.

Tolulope Sanusi

She is Architect & Founder at Ruby's Polaroid, an Architectural Photography Consultancy Based in Lagos and popular for their great photographs of building interiors and exteriors. She is the winner of The Competition 2016 by Chronos Studeos.

Ushang Achu

A Chartered Architect with in-depth experience in planning, design and construction of diverse architectural projects. She is exceptional in the delivery of her vocation. Ushang is passionate about community and human capital development, hence her continuous voluntary involvement in various social impact initiatives lending her voice, skills and time to foster good causes for humanity.





Michael Temidayo Johnson

Johnson Michael Temidayo is an architect/entrepreneur who is very passionate about design and the built environment. Michael is the co-founder and content curator for www.livinspaces.net, an online architecture and design platform, and also serves as the principal creative for divinity spark, an indigenous creative services company offering brand strategy, design and implementation services.

Oba-Adenuga Adeoluwa

Architect, designer and visualizer. He holds a Master's degree in Architecture. Adeoluwa is the Art director and lead instructor at Render Like a Pro™. His passion for the visual arts drove him to study architecture and this eventually led to his Journey into Architectural Visualization. Adeoluwa loves to learn, teach and share his ideas about art; he is a mentor to several Visualizers across the globe.

---
---