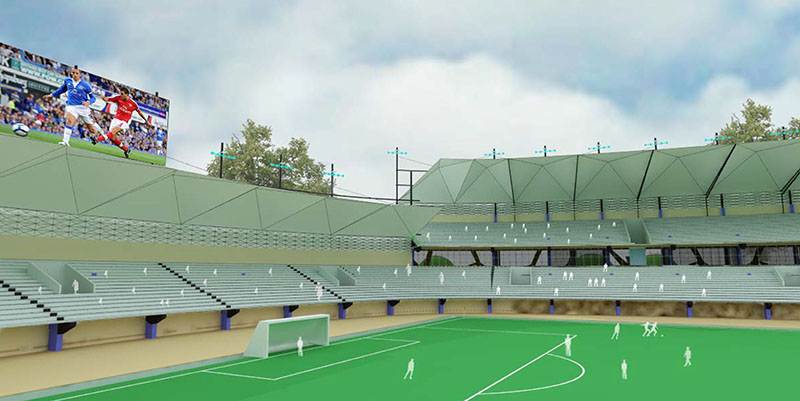 As shown by the success of the 2010 football World Cup in South Africa, the significant role stadiums can play in enriching the lives of locals once the final whistle has gone is increasingly appreciated across the African continent.
A friend of Chronos Studeos, architect Gbenga Awolere, embarked in 2011 on a university thesis in which he designed a new stadium for Crown Football Club in Ogbomosho, Nigeria.
As Gbenga explains, one of his primary objectives was to "place Nigeria on a platform where she can stand out as a formidable force, to be reckoned with in terms of organizing and hosting international sporting competitions and other related events."
Following Crown Football Club's promotion to the national Premier League, it was deemed essential that a new stadium be built. This is because the previous stadium fell below the requirements for hosting football matches, as prescribed by the Nigeria Football Federation (NFF).
With a seating capacity of 25,000, the proposed new stadium would include players changing rooms, as well as a training pitch and other necessary spaces to enrich the lives of footballers and fans alike.
In need of existing case studies, which would aid the architect's understanding of the design requirements of a stadium, his first point of call was the Teslim Balogun Stadium in Lagos (pictured above).
In addition to this, the architect explored the designs of the City of Manchester Stadium (the Etihad Stadium) and, as a keen fan of Arsenal football club, the Emirates Stadium in London.
These case studies gave him an overview of the workings of a stadium and, after thorough analysis of zoning and orientation, spectator flow, players, managers, media interactions, parking, and many other design factors, he hit the design table with a sketch design concept (pictured below).
After much careful analysis of his concept and jurors' reviews, he proceeded to the detailed design stage, producing plans, sections and elevations to convey his design.
The most fascinating part of this project was the architect's amazing attention to details. He went further to showcase the architectural design and construction features, even right up to the pitch drainage systems.
Aware of the reputation of Chronos Studeos for producing high end, quality works, we were contacted by Gbenga Awolere to produce the 3D visualizations you see below.
These sneak renderings show an amazing stadium which is truly fit for a new generation of Nigerian football stars.
And who knows? Maybe one day the work of architects such as Gbenga Awolere on stadia like this will ultimately help produce a new Nigerian football star to rival the likes of former Arsenal legend and two-times African Footballer of The Year (Nwankwo) Kanu.
CLICK FOR FULL SIZE IMAGES: Aerial shot 3D visualizations produced by the team @Chronos Studeos