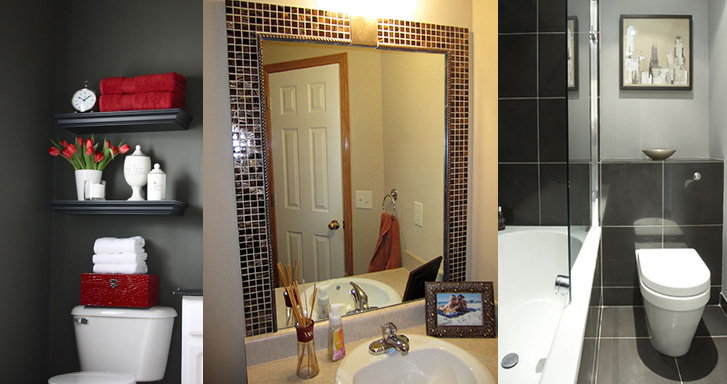 Small bathrooms are quite a challenge. However, with these five practical tips, you can make the most of it!
1. LIGHTING
Adjustable lighting: It might seem like too much trouble to include dimmer switches in your bathroom budget. However, it's worth the price and inconvenience.
The bathroom space becomes multifunctional when a dimmer switch enables an automatic mood switch; bright lights to get ready for work in the mornings, and toned down lighting for a soothing bath or shower in the evenings. Now that's worth a budget bulge. Your small bathroom just got larger!
---
2. 

FLOOR TILES
Opt for larger floor tiles in a small bathroom: When selecting floor tiles, choose larger units and patterns that are subtle rather than busy. Less breaking up of the floor lines equates to less visual chopping up of the space with your eyes.
Flooring should complement your bathroom and by using small floor tiles, you will detract from your goal of enlarging the space.
---
3. MIRRORS
… are not just for magicians!
In any small space, mirrors act as automatic space expanders since they create an illusion of visual continuity.
When using mirrors in bathrooms, consider the subject that will be reflected. Mirrors across from a window will reflect light, scenery, and also make the space grow, while a mirror across from a bathroom linen closet may not give you the impact you were looking for.
---
4. CABINETRY
Use lighter wood shades for cabinetry: Light coloured wood bounces off more light from surfaces.
If you must create a contrast, however, limit it to an object, item or accent that will not take up so much space.
Perhaps the lighting fixture, storage baskets, or elegantly moulded floating shelves such as the one displayed to the right.
Other bathroom accents:
Pink toilet paper holders? Made of powder coated aluminium, this design is totally different and utterly refreshing.
If pink isn't your colour, there's always chocolate brown.
---
5. OPEN STORAGE CABINETS
Under-sink storage goes a long way, especially when it can serve decorative purposes with storage baskets and other fancy bathroom items.
Open storage shelves allow towels, baskets and other decorative items to be stored without using up valuable space in the bathroom or, indeed, other rooms in the house.
---
Sources: www.freshome.com, www.carlaaston.com, www.sidecash.com