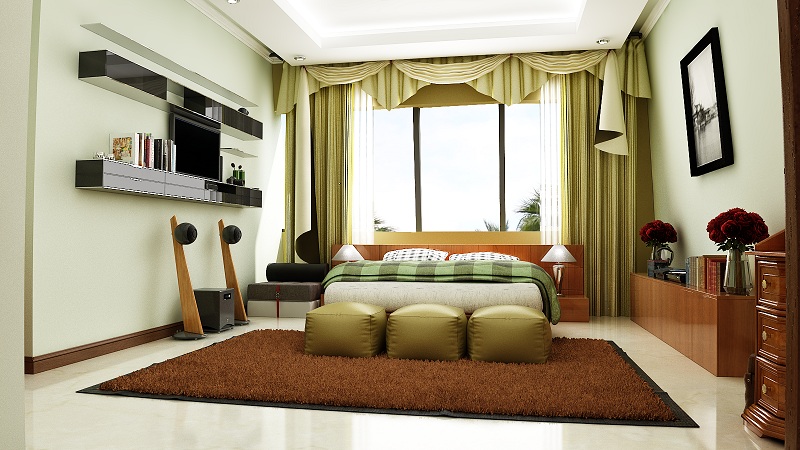 Introduction
The beginning of this project was the moment when we decided to make a warm space with a perfect blend of contemporary architecture and antique accents.
It started with a rough sketch of the space required from a luxury apartment. The aim was to design and visualize a homely space without sparing simplistic details. Views were also important to buttress the cozy atmosphere.
Design software used was Autodesk 3Dsmax and the render engine was Chaos group's Vray
Click the images to enlarge (opens a new browser tab)
The Modelling
The major modelling technique used was box modelling. The skeletal frame of the bedroom is concealed by the glazing from the exterior. The slant wall was a feature in the entire building.
The loft tool was used to make the skirting and cornice trims from profiles swept along paths. Vertices were further welded to complete the difficult ends.
Scene lighting & Camera settings
The basic types of lighting used were vray dome and vray sun lights in addition to vray cameras tweaked and test-rendered to give a warm and ambient solution. Vray planes were placed in the ceiling recesses to accentuate incident lighting. A mild sphere placed in the centre of the room was used to calculate the vray camera's white balance. See the camera and light settings below
Scene population & Material application
The scene was further populated with interior furnishing. Materials, textures and colours were toned to conform with the desired mood in response to the chosen lighting scheme.
Final image render-time: 45mins
Credits:
We wish to thank the following people for being part of this project
Anifowose Hassan (Geometry modelling), Olamidun Akinde (Scene composition), Mauricio Amado (Conceptual)
Join the discussion here https://www.facebook.com/chronosstudeos