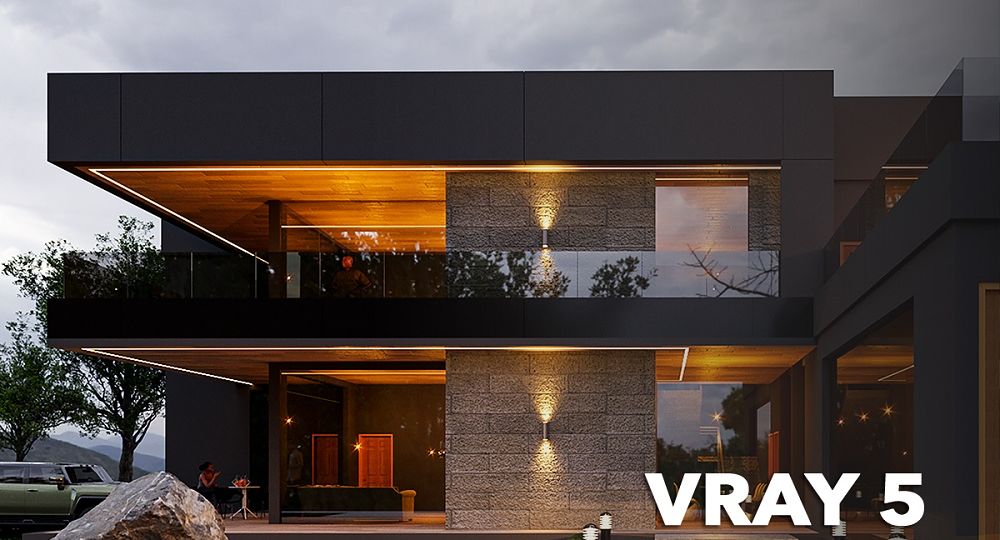 V-Ray® 5 for Revit features powerful capabilities for creating visually optimized projects. The new update allows you to easily modify the material and object preferences used in linked files within the host project. It facilitates easy interaction with your design components as you create your renders. It also features new object scattering tools that will help you modify your model.
V-Ray® 5 for Revit provides access to realistic materials like glass, plastic, and wax with control of transparency and translucency settings. Enhance your final renderings using unique effects such as blurring and sharpening visuals. The collection of assets like roofs, floors, tiles, walls, and more gives you a variety of features to enrich your renders.
Other great features of the V-ray 5 for Revit includes
IES light profiles for more realistic presentations

Grass presets for realistic terrains

Ambient light support

Improved user experience

Load and export sun animation as WebM format videos

UVW Randomization asset

Asset customization and more…
V-Ray® 5 for Revit allows you to precisely change key parameters such as light reflection and refraction, geometry, and other design components. Its interactive render feature allows you to easily modify elements such as lighting quality, camera, and material texture.
DOWNLOAD the V-Ray® 5 for Revit TUTORIAL
One major challenge Revit users face is knowing how to maximize and implement the vast array of features provided by V-ray® for Revit. With the updates to the software, the V-Ray® 5 for Revit comes with even more features and capabilities.
This is why CraftsPhile Academy presents a webinar tailored to help students and professionals get familiar with the V-Ray® 5 for Revit toolset, features, and interface.

What you'll get
This CraftsPhile Academy webinar is a 1hour 48mins guide on how to use V-Ray® 5 for Revit.

This webinar presents a quick way to learn.

It features step-by-step actionable guides to enhance the learning process.
You can access the tutorial by clicking the button below:
Great news!
The webinar is currently accessible at a discount.

This is the best price for a great tutorial you will ever find.
Revit is the most popularly used BIM software for design and architecture. Combined with the amazing features of V-Ray® 5 for Revit which is the most commonly used plugin for rendering, your designs and presentation will definitely be top-notch. No doubt, it is highly effective when it comes to producing quality results. Your mastery of its various properties will equip you to create awesome renders. Why wouldn't you take advantage of this amazing offer?
Get access to the guide here: