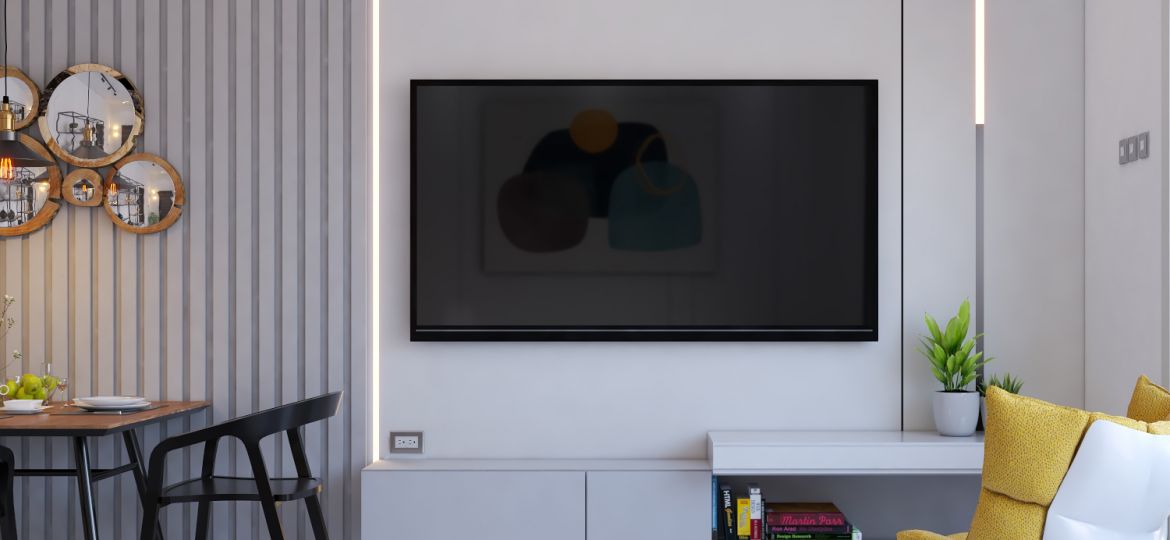 The Emerald Apartments project marks a clear distinction with its versatile building plan and structure. It provides four blocks of flats, each with its unique specifications. On this project which is owned by the reputable LandAfrique, we were tasked with creating the interior and exterior 3D visualizations from the buildings and layouts that were provided by the Architects; Economic and Technical Solutions (ETS). This is another 3D rendering project from the Chronos Studeos team in Lagos Nigeria.
Remarkable  Outdoors
The outdoor area is a host of nature, and a warm welcome surrounded by elegant trees and plants. The streets are adorned with an array of lights that illuminate the nighttime, revealing the luscious landscape. With relaxation and sitting areas strategically located at its center, Emerald Apartments boasts of a serene and homely ambience, taking on the look and feel of a resort, every day would seem like a vacation.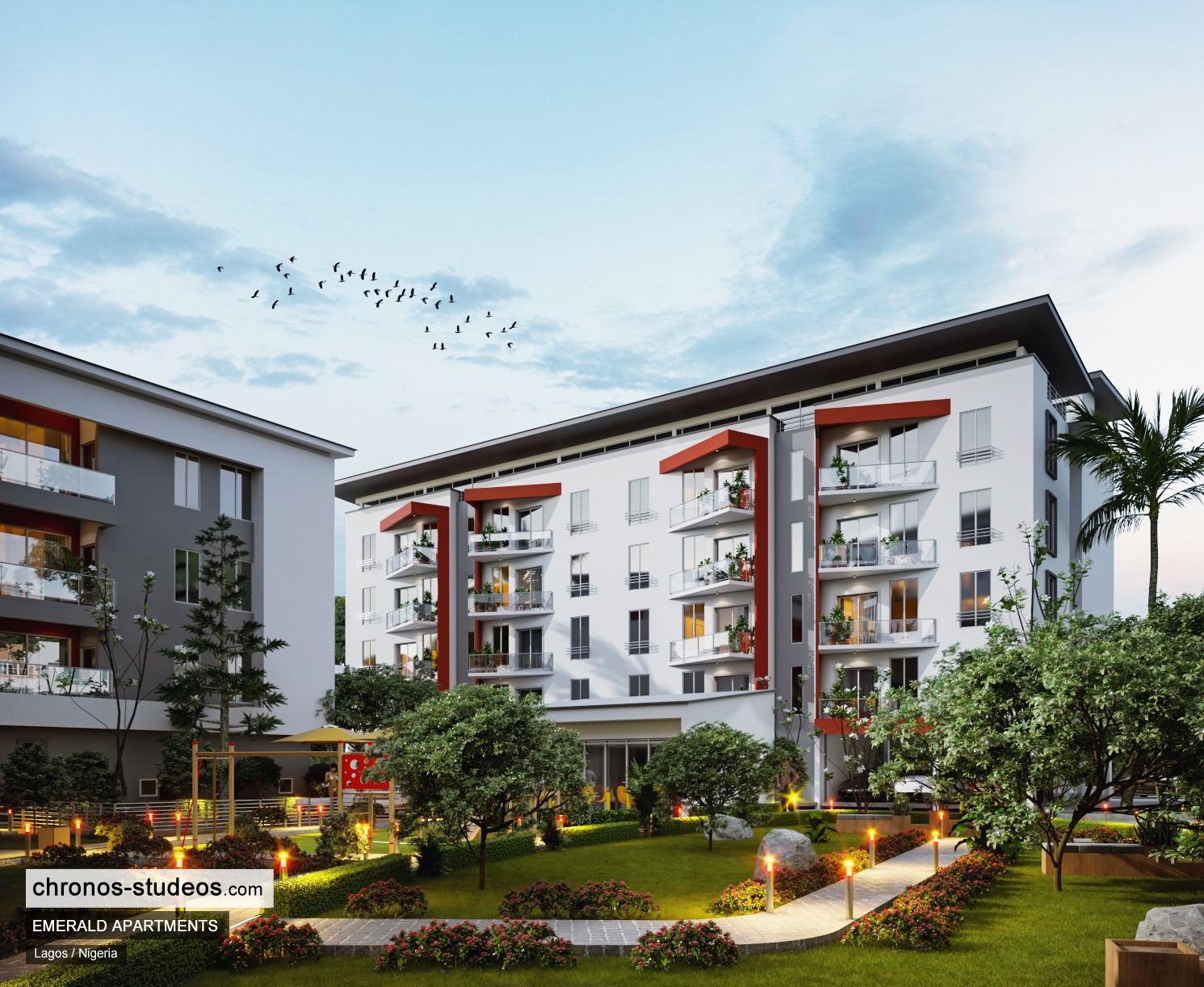 The Building Exterior
The striking combination of grey, oxblood red, and white liberally embraces the buildings' exterior which is also embellished with delicate glass windows and balconies. Each block of flats is a unique facade gracefully standing beside each other.
The First Block holds six (6) floors including a ground floor parking lot and a penthouse, with a combination of one and three-bedroom apartments.
The Second block includes a basement parking lot and two-bedroom apartments all within seven (7) floors.
The Third block comprises both two and three-bedroom apartments, a penthouse, and a ground-floor parking lot.
The Fourth block is a host of 4 floors with four-bedroom apartments and a ground-floor parking lot.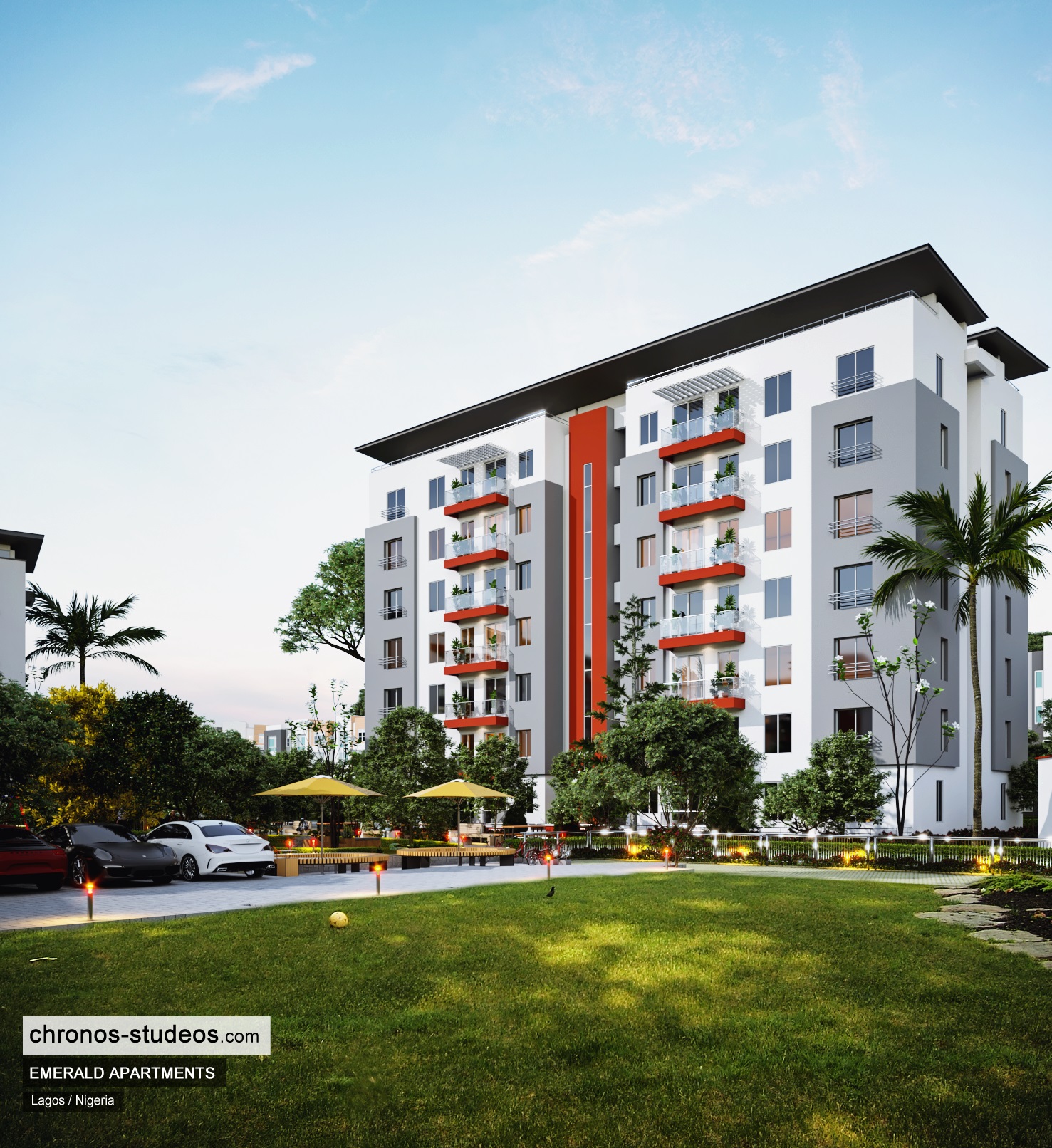 Graceful Interiors
Embracing the beauty of a neutral colour scheme, the interior design adopts a modern style with a combination of white, grey, and a touch of brown in strategic places, endowed with contemporary furnishing. We created different interior renders for the 1 and 3 bedroom apartments.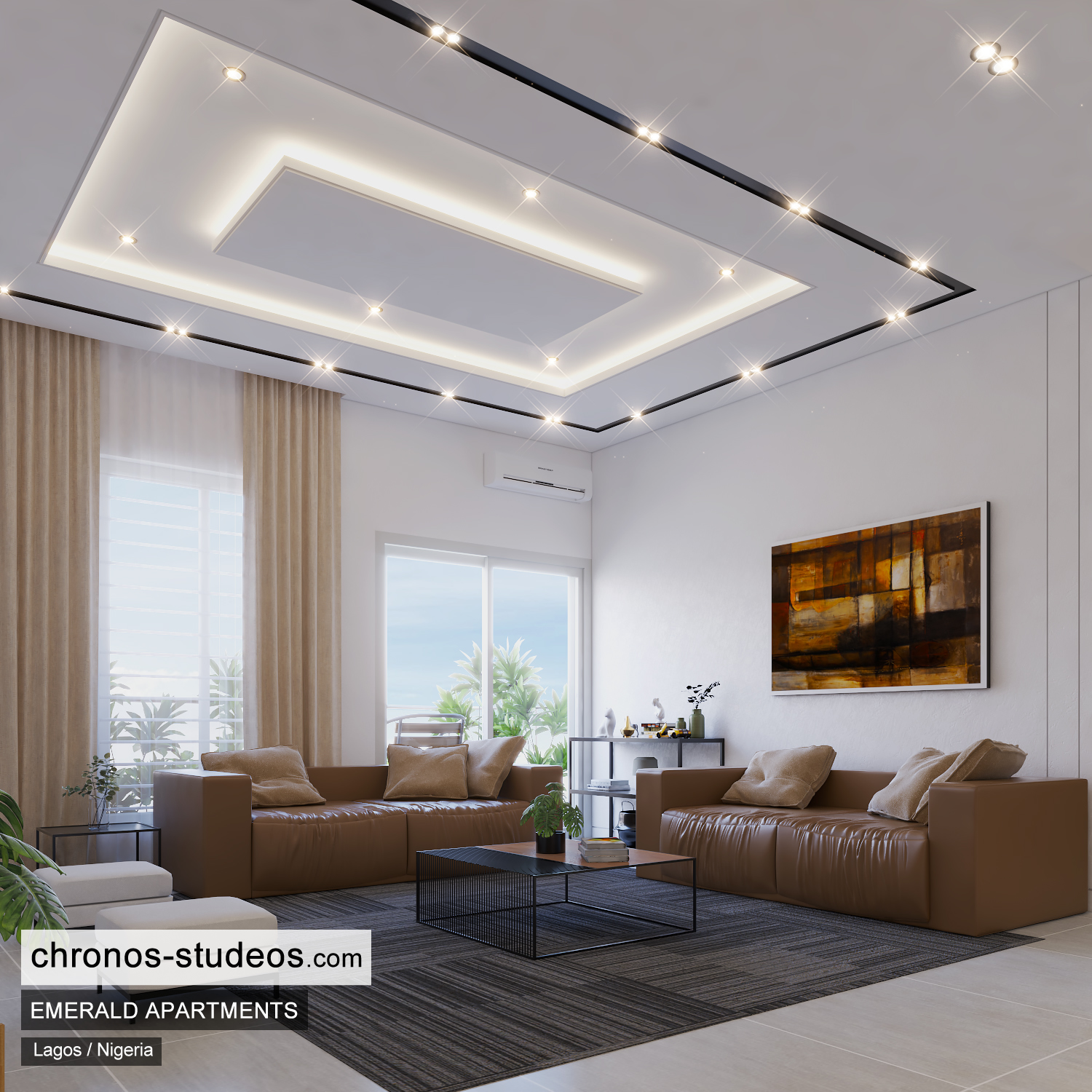 Calm Living rooms
The living rooms are highlighted by an aesthetic false ceiling arrayed with recessed lighting to create an elegant focal area centered around natural lighting and the neutral scheme for a restful ambience. The entertainment wall is another lovely feature of the living room. There's also the fine dining area, accented by beautiful drop lights; wall panels, artworks and a string of indoor plants to add a personal effect.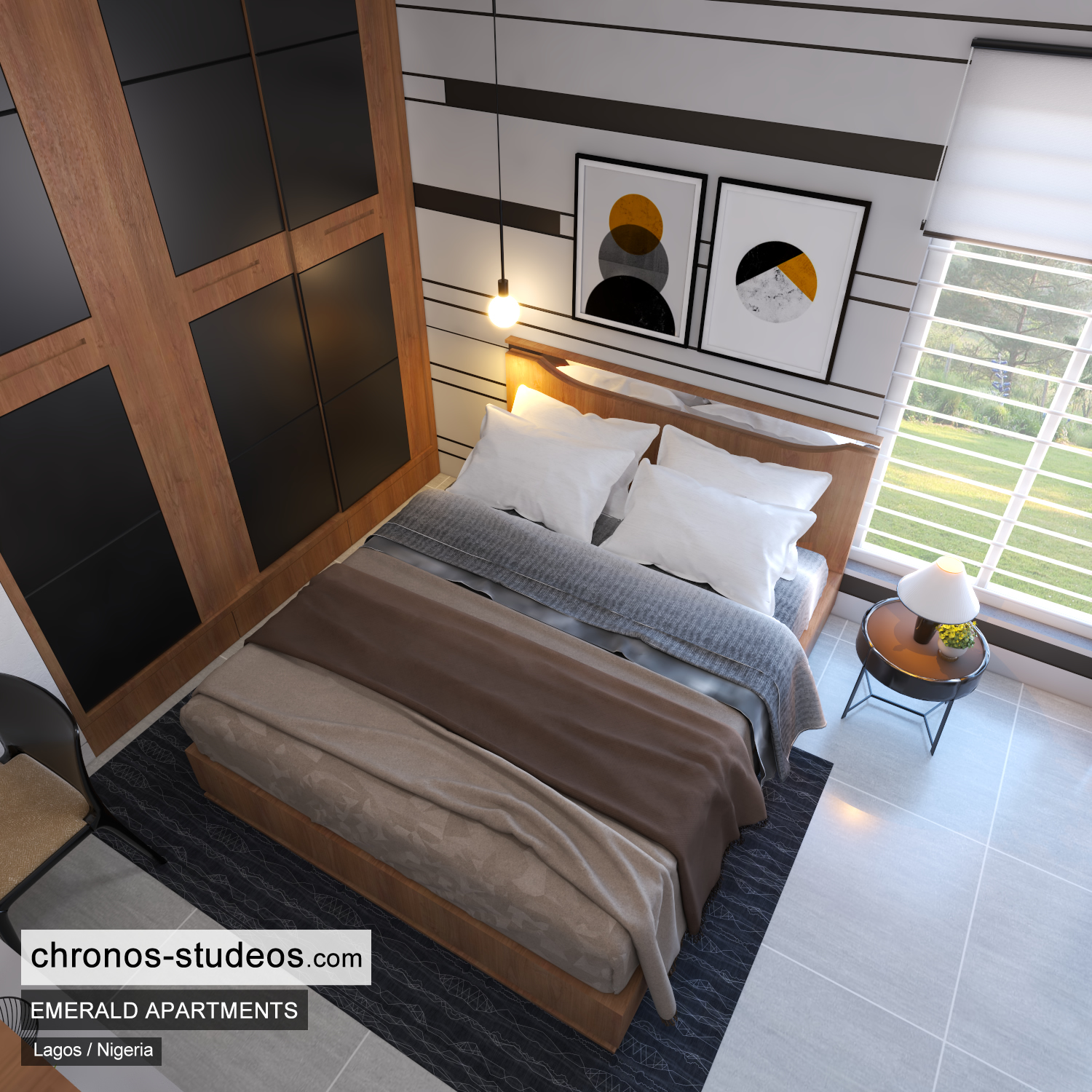 Sleek Bedrooms
The bedrooms are bold and sleek; graced with clean furniture, an entertainment wall, and a delicately patterned headboard. Lighting is featured with a single drop light and gallant windows which hold a view of the beautiful green outdoors. Similarly, the bathrooms define convenience – with solid colours,  a parquet wall, and unique hanging fixtures.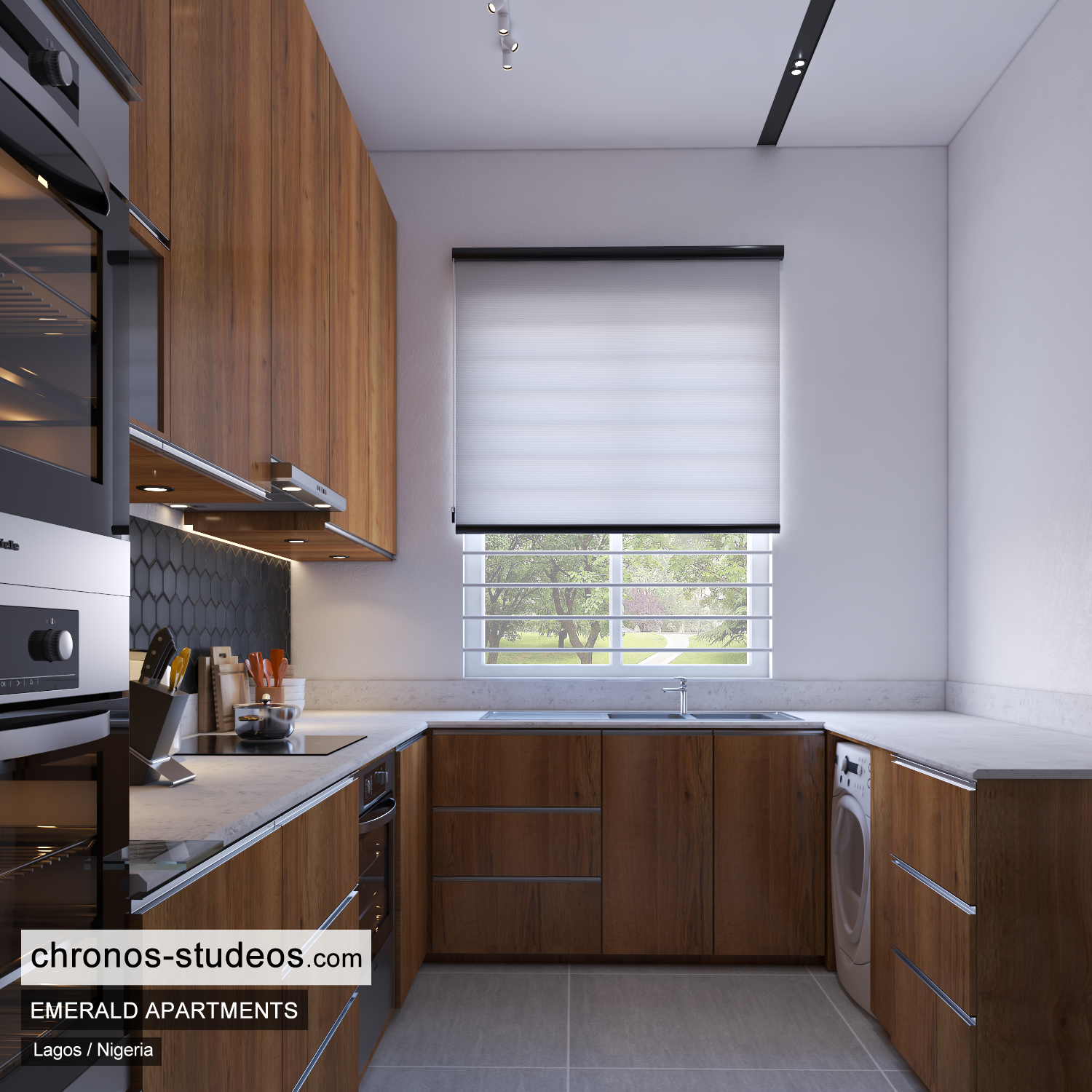 Polished Kitchens
The kitchens possess an elegant synergy of smooth wooden cabinets; an accent backsplash, and prominent lighting. The ceiling is adorned with an array of unique track lighting. Underneath the cabinets is a string of recessed task lighting for emphasis and easy performance of cooking activities. Indeed, the overall ambience leaves one in anticipation of a brilliant meal.
The Emerald defines lifestyle at its peak, and the Chronos team was pleased to be part of a project with the mission to create an atmosphere where the word "home" meant home and more.
Get powerful visualizations for your building project
here
. Got project reports to deliver to your clients?
printmydrawings.com
will help you print and deliver your construction documents and drawings anywhere in Nigeria.
More Images From The Emerald Apartments