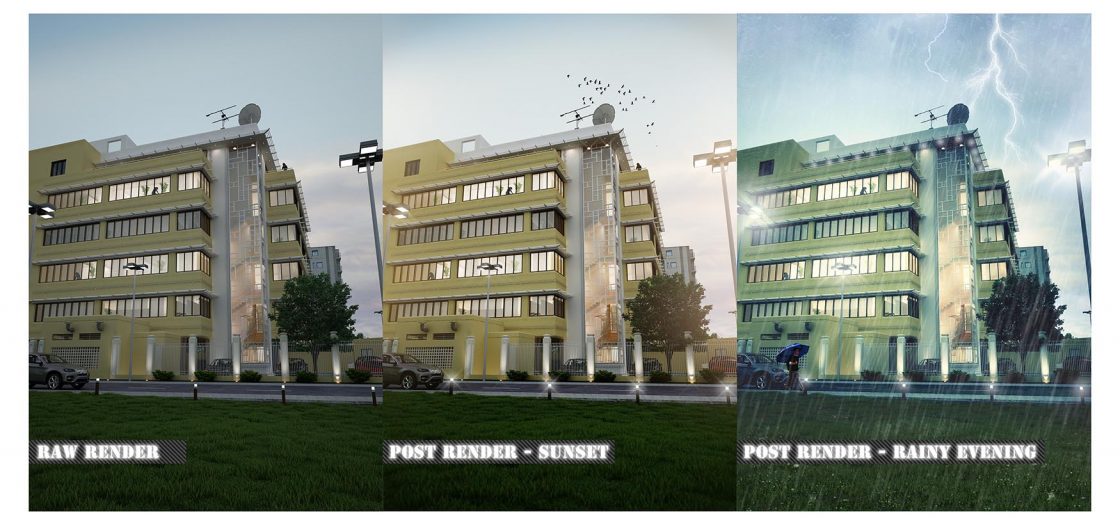 Hassan Anifowose tells the story behind 'Rainy Day in Lagos'.
Making 3D visualizations is what I do all the time, but there is something different about this particular one. I had quite a busy week as usual and it rained a lot during the weekend as I stayed indoors. This was what inspired me to create the rain version of an office building rendering (Designed by Architect Bayo); a project which we already have submitted to the client earlier in the week. Software & tools used were Autodesk 3Dsmax, Chaos Group Vray, E-on's Carbon Scatter, Adobe After Effects, Adobe Fireworks and my lovely Nikon D5100 Camera (with double lenses, short and long) was used to take the photos from my balcony while I watched the rain pour for a couple of hours.
Observing nature keenly, and a little knowledge of photography has helped increase my 3D visualization skills. In this post, I am going to share the steps in making the 3D visualization of an Office Building in Victoria Island, Lagos Nigeria.
The Process
Step 1: Modelling from 2D drawings
The office building drawings were created in 2D Autocad and was modelled in 3D by my colleague (Seyi Oyebode), with Revit (popular architectural building modelling software) and he created the first sneak renderings in 3Dsmax. See one of the images below. The client was clear about the colours he wanted, however, we wanted to make a signature with the glazed stair shaft. Once we established the major features of the building (the glazed stair shaft and sun-breakers), he passed the file to me and I went ahead to scene composition.
Step 2: Scene composition
Placing cameras in the 3d software in order to capture good shots and prepare the scene for rendering was quite easy. It wasn't a very large scene, so placing entourage (cars, trees, buildings in background) was easy to achieve as I knew what I wanted from the start. I used environment lighting in 3dsmax and boosted the overall mood with background planes. Sunlight was totally absent in the evening rain scene (as we all know this is what happens in reality i.e. the cloud blocks sunlight). At this point, I started trying to simulate what happens in real life. Grass usually will not be bright green but will be detailed, the sky is dark but with some little brightness to indicate it is dusk and not night.
Step 3: Rendering
This stage witnessed several test renders made, and going back to adjust a few things which were not satisfactory. Sometimes, the overall scene brightness must be toned down to really achieve the realism simulation. Lights inside the office building have to be scaled up or scaled down, creating lights for the walkway lamps and street lighting, giving enough room in the sky to appreciate the mood via camera aspects ratio and FOV (field of view) and the scene was ready for final renderings.
Step 4: Post rendering
I pulled in the rendered images into Adobe After Effects, and merged the different passes from 3Dsmax. The aim here was to achieve the mood i.e. dark skies, glowing lights, before proceeding to Adobe Fireworks to add the real elements that will make the render look real.. RAIN..!! I was lucky to have it raining at this time, so I grabbed my camera and stepped onto my balcony. My aim was to understand how rain droplets look when captured. So I did a few tests with the Nikon D5100 camera (using two different lenses with DOF (depth of field) and here are my results.
After understanding how rain droplets behave (blurred and in streaks) when captured in reference to a far focused object, I proceeded to simulating the puddle and water splatter grass effects, adding lightning strike effects and a slightly foggy scene which allows street lamps to glow. Here are more photos from the project.The grass was made with E-on's Carbon Scatter.
I enjoyed my experience on this project hence, decided to share. Hopefully, you might have learnt a thing or two too. Have you used similar situations to achieve your 3D renderings before? Kindly share your experience or question in the comment box below.
Looking forward to having you visit more of our posts on the blog.
Image credits: Hassan Anifowose, Animation Supervisor at Chronos Studeos. See his profile here.