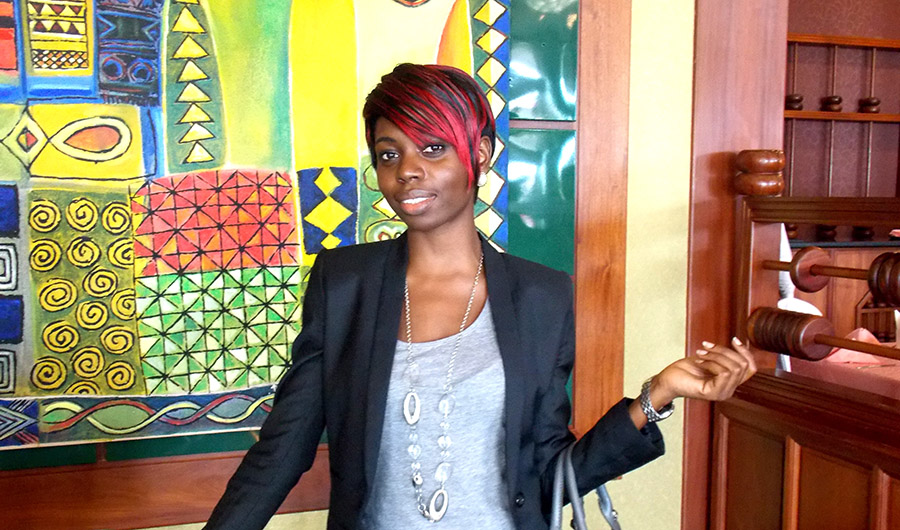 Yes, it's that time of the year again as we dust off our plans and fellow Architects join us as we embark on our journey in search of the next generation of talented Architects.
So, as we prepare to launch The Competition 2015 (stay tuned!) our media team have been enjoying a timely catch up with the winner of last year's event.
We finally caught up with Tolulope Sanusi as she shares what her victory means and why she'd encourage you to stand up and be counted by impressing our judges with your architectural presentation and visualization skills.
Maybe this time next year it will be you up here, posing for our photographer and being seen by Architects and (hopefully!) 'Starchitects' across the globe…
Enough of our self promotion! Here's the true star of The Competition 2014…
---
Chronos Studeos: Hello Tolulope. Before we start, let us just say don't worry as we promise we'll be gentle with this interview. [Laughter].
It's been a year now since we first met you as we revealed you to be the winner of The Competition 2014. What changes or opportunities have you had to make visual presentations since you won?
Tolulope: Well, I've not won anything since [laughter], but I've been contributing 3d visualizations for the projects I've had to work on and I'm now more confident and bold enough to enter, and learn from, international competitions as well.
Chronos Studeos: So, let us quickly ask. What made you want to become an Architect?
Tolulope: I'll say that was a feeling or desire I've had since I was a kid. Architecture in all its forms has always fascinated me, so naturally I picked it as a course to study when I was entering the university.
Chronos Studeos: We remember our long days in the studio and working all hours to get a submission in before the deadline, and trust us: it's the perfect training for real life at an architecture firm. But enough about us…!
What's your favourite aspect of your architectural studies & what was life like before The Competition 2014?
Tolulope: My favourite part of my architectural studies relates to the conceptualization and fleshing out of a building design, especially where the ideas now have to be put in ink, and making these practicable.
Before I won The Competition I was not bold enough to express my skills in the 3d rendition aspect of design, which to me held the only way to truly show the beauty of a proposed concept or building design. Now, I feel truly unstoppable as I don't feel held back in expressing my ideas. In fact I seem to be enjoying the boost. I actually am excited about the each new opportunity that comes my way.
Chronos Studeos: Do you think events such as The Competition are a good way in which architecture firms such as Chronos Studeos can help promote the talents, and hopes and dreams, of the next generation of architects in Nigeria? It's okay, we won't sue if you answer, "No". [Laughter]
Tolulope: [Laughter]. Yes, definitely. And I promise I'm not just saying that because I won.
As with the international community, competitions have always played an important role in bringing new talent to the fore of the profession, so I think aspiring architects should enter as many competitions and exhibitions as they can.
Chronos Studeos: What inspired you to make an Entry?
Tolulope: I wanted to see what I was capable of and if I have what it takes to enter the 3d visualization world. I was so relieved to have discovered I do. Phew! [Laughter].
Chronos Studeos: If there was one question you could ask an Architect you especially admire, what would it be? I'm glad you can't see my colleagues now as they'd be laughingly urging you to say them! [Laughter].
Tolulope: Wow, this is tough as I have so many architects I admire. At the fore would be Santiago Calatrava for his artistic buildings which, ironically, are very structurally sound because of his background in structural engineering. If I could ask him one question it would be, "How did you break through as a young architect?" Everyone can design, but not everyone gets to build their imagination.

Chronos Studeos: Are you excited at the prospect of working in the thriving architecture industry here in Nigeria, and how has winning the competition impacted on your obvious passion for architecture?
Tolulope: I am, but my sights will not rest in Nigeria for long. The Competition has helped me be bolder with my ideas. Now I believe I just have to try and put it out there for the world to see and it will only be a matter of time before I hopefully enjoy more success.
Chronos Studeos: And finally, what would your message be to anyone who's considering making a submission for The Competition 2015? Go on, you can be honest… [Laughter].
Tolulope: Firstly, do what you dreamed of. Nothing is crazy and nothing is impossible. If people around you are not encouraging, move away. After all, the most inspiring architecture of today was only dreams yesterday.
Chronos Studeos: And on that note we'll finally leave you in peace, Tolulope. [Laughter].
Thank you so much for taking time to answer our questions, and everyone at Chronos Studeos wishes you much happiness and even more success in the future. Who knows, maybe one day our Architects will find themselves working alongside you.
---
For those of you who'll be at the University of Lagos on June 17th, we hope you'll have your smiles at the ready for the people from, BezalelForce Studios whom we've commissioned as the Official Photographer for the Creative Architects event.
---