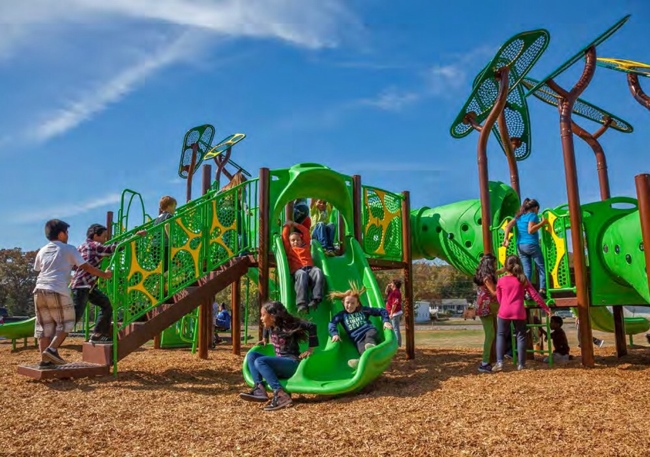 Architecture has the ability to both amaze and inspire. For everyone at SpectaPLAY, though, architecture daily generates fun,  laughter and smiles from some of the most important people in Africa and beyond: the children.
Here, Adebayo Onigbanjo [Co-founder, SpectaPLAY], tells us about the work of the company which annually installs and maintains thousands of intricate and colourful playgrounds in communities across the globe.
Adebayo, thank you so much for your time. Can you give our readers an overview of SpectaPLAY and how this subsidiary of Specta Consulting came about?
SpectaPLAY was born out of one of our consulting activities. One of our clients was interested in establishing the first Children's Museums in Nigeria and to support this effort it was important to understand the dynamics behind such an environment.
Museums are first and foremost a place of learning, a place where education and information are shared with the visitors. To make it apply to children the information and education shared has to be done in a concept that children can relate to, engage with, touch, feel and understand.
SpectaPLAY is now going into its second year of existence and we see it as a truly Pan-African playground solutions company focused on bringing an element of playback into African children's life.
We focus on designs that are innovative, engaging and incorporate an element of local culture to ensure they become an integral part of a kid's development.
The mission of SpectaPLAY is to create communities where play and learning connect. To help us offer and bring the best products to market, we have partnered with the best playground providers in the world. Today we are the authorized partners for GameTime, Dynamo Playgrounds and Rain Drop, ensuring we bring expertise, quality, standards and innovation to Africa's playgrounds.
What would you say is your core clientele? Do you primarily work with schools across Africa?
Our core market targets vary. We work with schools to design and incorporate playgrounds as part of their programs and activities. We work with property developers to design and add value to their developments by offering a structured and innovative layout for residents and their families to gather and play.
We also work with governments and non-governmental organizations to design and take advantage of public spaces and parks to offer communities a place of belonging as well as an opportunity to connect.
As an architecture firm, everyone at Chronos Studeos sees on a daily basis how architecture has the ability to both inspire and uplift the wider community. What do you think a playground brings to a local community beyond the obvious benefits of a child enjoying the outdoors?
Playgrounds today are not very different from architectural designs; clients today demand more than just the basic and now seek concepts that add context and value to their life and general welfare.
Our playground designs are focused on exactly the same principle. Traditional swings have been redesigned to offer the same experience but with different designs that allow for collaboration, multi-dimensional play and creativity from kids.
The playgrounds are also designed to enhance the community by adopting concepts from the environment and bring colour and flavour to the environment.
Our playgrounds are also built to support imaginative play, and research suggests that dramatic play can lead to enhanced cognitive, social and language skills for kids.
How long does a new project take from inception to delivery and installation of a playground?
Project times really vary depending on the type and scope of project. We have our traditional portfolio, which a client can order off our partner websites and which we can ship almost immediately, and we have the customized projects where we work with the client to design and create.
We do offer installation services but we can also work with the client if they want to do the installation themselves.
As architects, we're fascinated by all aspects of design, as are our readers. What goes into designing such amazingly intricate climbing frames and, in contrast, the beautifully simple but effective mist sprays?
Design is a key component of what our partners and we do and the other is manufacturing. Our partners have designers and user experience designers on staff that creates the various designs we bring to market.
The design process is pretty exciting and starts out with watching kids and how they play, and this is an area where SpectaPLAY has a significant role; we help bring the African element into the design concepts.
The next step is then for the designers to sketch out what play elements can enhance that play experience or re-create it.
Next, we identify what children friendly materials can be used in the creation of such a play element. Once this gets approved only then does the manufacturing process begins. For us, we work with kids which means all our raw materials and build materials have to conform to standards and are certified to go into the construction of a playground element.
After the construction is completed we then put the equipment through an exhaustive quality and assurance testing. This includes testing the structure, safety, flow, balance, angles and eliminating any potential risk to kids.
The next step then involves getting the product certified by the international children's playground bodies to ensure we are bringing to market a product that is certified and safe.
For the water projects, these are extremely different, they include what we call the visible and non-visible designs. The visible designs are the components the kids see, feel and touch. The non-visible are the water pumps and algorithms that define how the water flows and gets recycled.
With computers and technology such as iPads constantly threatening to usurp traditional forms of outdoor play for children, do you feel that architects have, in turn, perhaps underestimated the importance of such elements as playgrounds when designing residential areas?
We strongly feel the technology has an important role to play in kids' development today because we now live in an age where it is an integral part of our life. We, however, do not see that as a direct replacement of playgrounds.
The playground is where kids discover things, understand concepts and become imaginative. Kids when out in the playground also develop friendships and skills required to engage in society.
How closely do you work with architects during a project?
We see architects as a key component in our approach to market; they are responsible for creating homes, estates, schools and communities. As part of their design, they cater for road inclusion, parking and other key elements that make an area hospitable and the same applies to playgrounds and children's play areas.
We see that SpectaPLAY is partnered with an engineering company in Lagos, CKW Environment. Can you tell us more about their involvement and your apparent desire to support local businesses in Nigeria?
One of the key things that separate SpectaPLAY in the market is our focus on quality and safety. To ensure this it was important to identify and work with a local partner that has the pedigree and expertise.
Our playgrounds are easy and straightforward to install, as we and our partners provide all the detailed layout, measurements and design considerations. However, failure to comply with a simple instruction can make the difference between a safe and enjoyable experience and a very poor experience. CKW Environment is a leading construction organization that has been involved in the construction of water projects both for the World Bank and the federal government in Nigeria.
They bring to the table expertise and local knowledge that gives our clients the comfort required for children's playgrounds. Our partnership with CKW Environment includes installation and maintenance agreements that ensure our clients have the necessary team in place to ensure a seamless and error-free installation.
In a scenario where the client chooses to install the playgrounds by themselves CKW's Q &A team have to approve the construction work and quality. We aim to support our clients in the best way possible and our primary goal is to ensure kids focus on play and imaginative discovery and not on other concerns around poor construction and safety concerns.
In Lagos today, we have seen some playgrounds that have been constructed but are not in use due to safety and quality concerns. We aim to have kids play with our playgrounds and hence always ensure the construction work on SpectaPLAY playgrounds is done to perfection.
Another key reason we partnered with CKW is that a key component of what we offer clients are water element playgrounds, which require precision and expertise, which we know to be attributes of CKW Environment.
The large, colourful structures found in the SpectaPLAY brochure are amazing, especially when those of us who are still big kids at heart think back to what we had in the playgrounds of our childhood.
Would you agree that the playground industry has come a long way from the days when, as children, we would be delighted by the appearance of a simple football and makeshift goalposts?
True, we think when you look back to how kids played in the past you will realize that kids are actually very creative and even though there were no formal structures they came up with their own.
If you look at the SpectaPLAY brochure you will see three images (below) that illustrate how kids in rural Africa designed a swing from tree structures, a bicycle from sticks and improvised with old tires to get an old climber into a spinning Astor.
In today's environment, a lot of the elements/components used to build those simple ideas are not even available to kids and hence why our partners and we create them.
Every day we observe kids and learn new ideas and creativity from them and we are constantly re-designing or creating new designs to tap into these imaginative minds.
We see that your work doesn't end with the installation of a play area, that you are also involved with playground maintenance. What does this entail?
The culture of maintenance is one that seems foreign to us in Nigeria; people most times do not consider the total cost of ownership for the things they purchase. Our playgrounds are designed to last a lifetime and are built with the required durability and quality.
However, as I stated, kids get very creative and imaginative with the playgrounds and elements, so with our maintenance, we can ensure periodic checks are performed on the playgrounds to ensure continued safety, ensure that components used in the playgrounds still meet approved standards, and most of all ensure the playground is in working condition.
A non-working playground is of zero value to all parties and our joy and mission is to see kids playing, learning and connecting.
Finally, what would your message be to those in Africa and beyond who are perhaps yet to be convinced that playgrounds are as essential to a community as, say, car parks and shopping malls?
We think people in Africa and the world over understand that playgrounds are important in the communities, but like most things, better education around the value and importance is required. The early office developments and office parks lacked enough parking until people understood that having adequate parking improves the experience of the building occupants.
Similarly, architects, developers, government agencies and parents need to understand that playgrounds have a significant role to play in 'building' imaginative and creative kids. The knowledge kids acquire when they play and how they relate their discoveries to everyday activities are a significant reason to empower them with play. Kids connect and develop friendships in the playgrounds, and they broaden their horizon and creativity through activities from the playgrounds.
Lagos state has already started raising awareness around the value of playgrounds with the recently enacted law that all state schools should have a dedicated area for playgrounds. Our hope is that schools will comply with this law and teachers will discover how this improves their students and hopefully encourage parents, communities and governments to make it available in non-school environments as well.
Thank you to Adebayo and everyone at SpectaPLAY for your assistance and for allowing us to feature your work. 
If you're involved with an architectural project or company – whether as a student or an employee – which you'd like to see featured here, please contact media@chronos-studeos.com. We always reply.