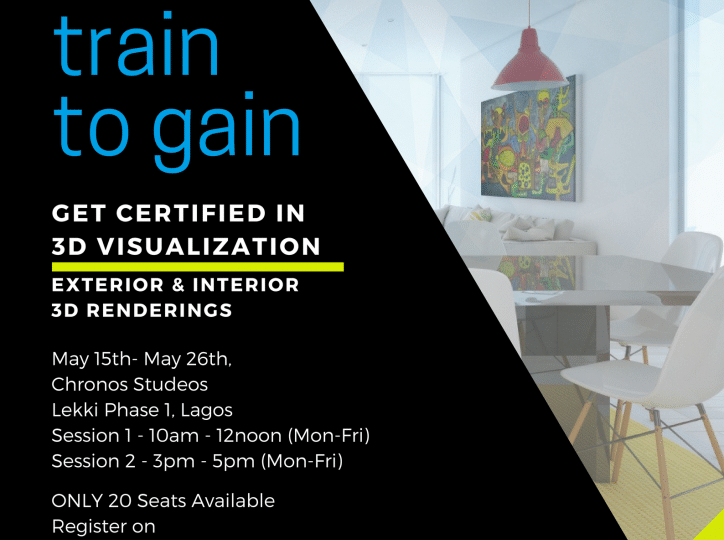 The 3D visualization training is primarily designed to benefit creative professionals at all stages of their architecture and interior design careers. Attendees will gain confidence while improving their skills in 3D visualization with the use of Google Sketchup, Revit, 3ds Max and V-ray.
The 3D Visualization training will be the first of its kind, led by the partners CHRONOS STUDEOS AND ALBEDO DESIGN SCHOOL LTD to create a design-focused training aiming to create value to the attendees.
The 3D Visualization training is your chance to hone your existing design talents as well as learn a broad range of core skills that underpin design creativity. You can be an attendee!
Venue – Chronos Studeos. No. 7, Road 12 Onikepo Akande, off Admiralty way, Lekki phase 1, Lagos 
Date – MAY 15th – 26th , 2017
Training Sessions
Session 1 – 10am – 12noon
Session 2 – 3pm – 5pm

SUITABLE FOR:
Architects, 3D Visualizers, Interior Designers and anyone in the Creative Design industry looking to develop their 3D rendering skills or to get inspired through learning and doing.
This is also a big chance for Architecture and Interior Design Companies to train their staff in 3D visualization and improve their deliveries to clients.
[/vc_column_text][/vc_column][/vc_row]