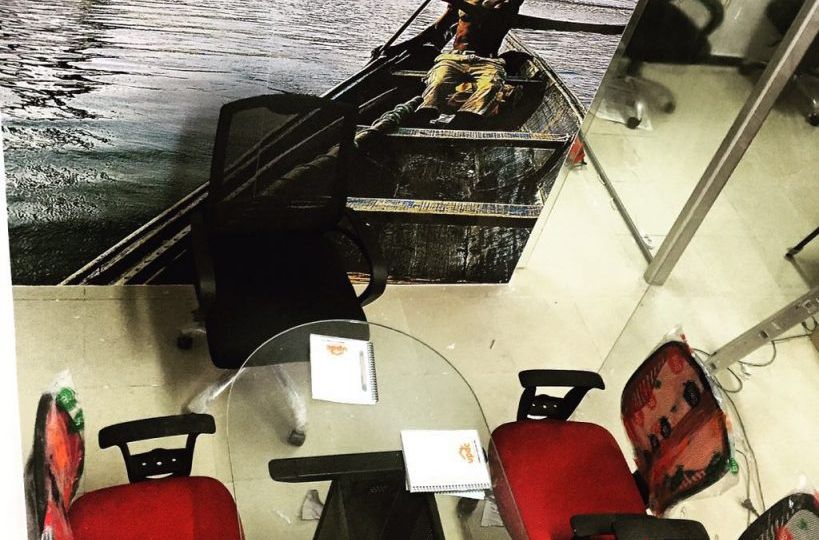 Ready to get out of the Laptop/mobile office life and into a real office? Before you strike out on your own and get locked into a lease, consider a co-working space. There's one unique space to check out @
a1_spaces
.
---
 About The Drills Man
Oladotun Olusola
is as enthusiastic as ever.  He's been putting together finishing touches for his "give back" co-shared workspace in Lagos Island and it is ready to launch.
There is a lot of buzz about the generation X which is a completely entrepreneurial clan.  It's not much but this is a quick renovation to motivate upcoming entrepreneurs who need professionally set up offices, considering Dotun was working from home as an office space designer (after confirming that he was UNEMPLOYABLE about 4 years ago)
For the last four years, its been an awesome journey comprising of an Architectural Technology Diploma, BSc Hons and a Masters Degree in Architecture all being translated into meaningful value on construction sites, the former Project Manager at B-dek Associates has been combining Managerial role as chief strategist at DOTRubik projects with being a hands-on problem solver– he prefers solving complex solutions to following steps found in a brand new IKEA furniture supply.
---
In other news, he's launching a collaborative workspace for creative Entrepreneurs & business architects with several packages to be unveiled soon. I know a lot of young creative graduates in the same stage right now who need a desk, power supply, WIFI to send out proposals as well as guidance and information on how to structure their startups to compete professionally in whatever niche they've selected.
The project is A1-spaces by
DOTRubik
and it's open to collaborators and people interested in supporting this platform. A1-spaces is more than simply a place to work. It's a community of creative, smart businesses and entrepreneurs, ranging from innovative startups to 'unicorns'. The website is
www.a1-spaces.com
---
Light and spacious, A1 Spaces leads innovation and community at their shared workspace in Lagos Island. The hub particularly encourages startups, with many designers heading there to rethink technologies and recreate the world as we know it. The office is committed to sustainability as well, so you can expect to find lots of plants, energy-saving equipment, and furniture created from recycled materials. Just three minutes away from the Tafawa Balewa Square, Slave Freedom Park and the Shell Hall Muson Centre, A1-Spaces is in a handy central location. The office offers a place to meet, work and create, within a comfortable and practical environment.
More photos are shown below
Please send a message to 
info@a1-spaces.com
or
oladotun@a1-spaces.com
for more info