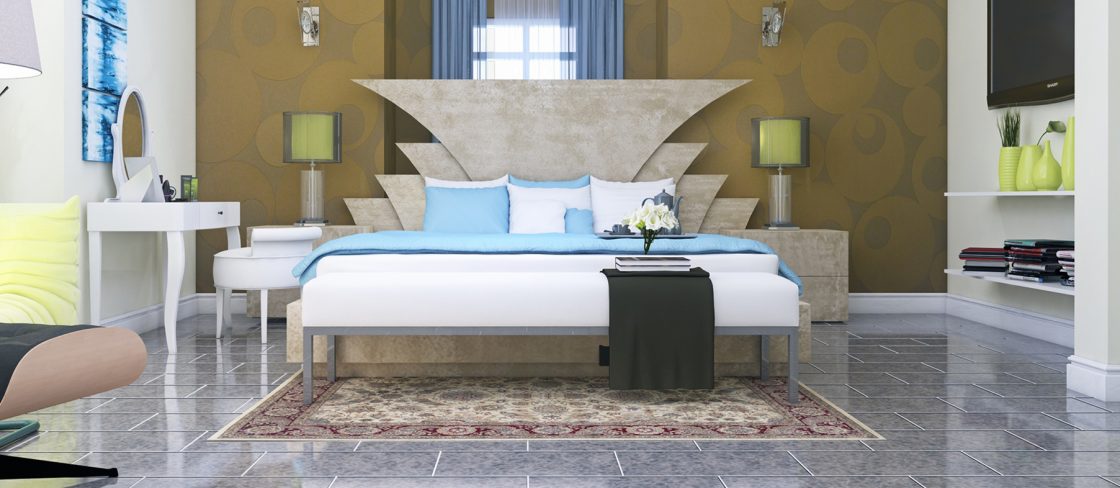 Home is our castle. While that's certainly true, it might be argued that the absolute sanctuary of most is the bedroom.
Following on from our blog post examining kitchen design, we thought we'd move to the room of the house which holds so much promise and certainly a few secrets…. we mean purely in terms of design, of course! [Laughing].
Here, Chronos Studeos Interior Designer Tosin Olufon takes a look at this most private of places.
---
INTRODUCTION
The inner chamber is the oldest living space known to man. History shows that the deepest, darkest, and also the brightest ideas of humanity sometimes originated from this most intimate space.
The bedroom symbolizes privacy, ownership, seclusion and a sense of calm.
Bedroom design has evolved over the years in a cycle of repeated trends. The nineteenth-century design idea of the bedroom is a modest-sized sleep space; however, over time larger sized bedrooms came to encompass living room furniture, to accompany grander bed sizes, hence reverting to Victorian-style bedroom design.
Influenced by personal taste and tradition, the furnishings define a bedroom.
---
A SENSE OF CALM
For this 3D visualization, Chronos Studeos' interior design team opted for a soft colour scheme that doesn't so much scream serenity as whisper it softly in your ear.
The primary colour of the natural world, green is an eternal favourite of interior designers thanks, in part, to its ability to soften (as in this visualization) the otherwise stark whites of the walls and ceiling.
INTERIOR DESIGN TIP…
The size of the bedroom in itself decides the colouring. Simply put a small bedroom should have very light colours while very large ones have the luxury of dark furnishing.
Recognised by some as an unspoken symbol of prosperity, green is simply gorgeous when contrasted (as above) with the stronger, more earthy tones of the brown doors and grey floor.
Forget fifty shades of grey! We much prefer fifty shades of green when it comes to our bedrooms.
---
BEAUTIFUL BLUE
The design of a bedroom always begins with the bed. However, it wasn't always so.
There was a time in history when wardrobes were the most prominent feature in a bedroom.
Today, though, as the name of the room implies, it is the bed that is the central focal point around which every other design element revolves.
In part, this is because of the demands of modern life. Here we have a bedroom which really is a cool, calm and simply classy bedroom which features comfy seats in which to relax away from the stresses of daily life.
There is a wardrobe neatly tucked to a corner in this blue-themed room which means we have much more space and a sense that this is a place of serene calm.
---
FROM SERENITY TO SUNSHINE…
There are two walls of interest in these 3D visualizations by my Architect colleagues – the one behind the bed, and that which displays the television (below).
The headboard wall is panelled with light birch wood veneer which beautifully sets off the ornamental elephants.
Other favoured wall coverings could include simple paintwork to complement or offset the chosen colour scheme, as well as art or wall decals. Stone tiles and bricks are also favourable options.
In some parts of the world at least, the colour scheme of a bedroom often denotes the gender of the person who resides there; light hues and pinks for the ladies, darker colours for the gents.
Here, though, we have a colour scheme to please both sexes.
Strong shades of black and grey dominate the floor area, while softer hues are incorporated for the decor and bedding. Dark floor tiles are a beautiful contrast to the lighter elements of a room.
In this design, the bed is upholstered in buttoned fresh cream coloured leather. The buttoned style fits in with any trend and shows a willingness to go a little further in design expression.
Lime coloured mattress covering and accompanying patterned light brown duvet compliment the bed structure.
Let's not forget the pillows, in white Egyptian cotton fabric to ensure the smoothest feel.
---
THE GREY BEDROOM
You've heard that saying, "Less is best"? It's a rule many interior designers choose to follow. After all, why go against a proven winner in the style stakes?
Here, then, in contrast to the earlier rooms we've studied, we have a bedroom which feels expansive and oh so cool.
This sense of space is helped by the unbroken use of white on the walls AND the super classy (and expensive!) marble flooring.
The unspoken rule here is: 'No clutter!'.
White decor famously helps exude a light and airy feel, and that's certainly the case here.
After all, while fashions come and go, white has already made its mark in the history of interior design as a timeless and constantly reliable colour around which the designer can imprint his or her tastes.
---
CONCLUSION
A lot of people might feel that since no one sees this most intimate space, then it might not deserve as much attention as say the living room.
Wrong!
This is because it is the only corner of the house that truly belongs to you.
The bedroom can and should be an extension of one's personality or subconscious, and a true expression of one's own individual sense of style.